11 Best Values in Used Cars, 2016
If you're in the market for a used car, 2016 is shaping up to be a good year to buy.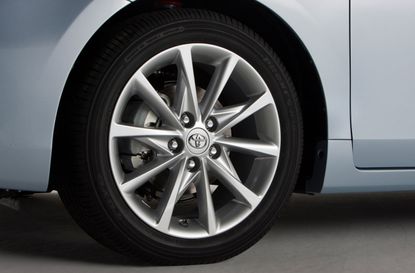 (Image credit: Courtesy Toyota)
If you're in the market for a used car, 2016 is shaping up to be a good year to buy. With lots of vehicles coming off lease, prices have been falling and are expected to continue to drop, according to Kelley Blue Book. That price trend forecast is based on an average of all used vehicles, of course: Demand for SUVs both large and small is expected to stay high, and it will be harder to cut a deal on those models.
But you need a car, not a macroeconomic trend. So we've picked vehicles between two and four years old that scored well for performance, value and safety in Kiplinger's ranking when they were new — and have proven reliable since. Check out our 11 picks:
See last slide for more about pricing and safety rankings.
1/12
2013 Toyota Prius
Price when new: $22,374 (Two)
Certified used price: $16,316
Dealer used price: $15,366
Private-party price: $12,916
MPG (city/highway): 51/48
IIHS Rating: Top Safety Pick
It's hard to go wrong putting a Toyota anywhere on a best-cars list, so allow us to start with the Prius, which helped the hybrid go mainstream.
Even when lower fuel prices erode the cost advantage of its superb fuel economy, the Prius's quiet competence makes it an excellent all-around car. It is, in effect, Toyota's "halo model," with the cutting-edge design and technology that filter down to the brand's other offerings.
Lower gasoline prices have another benefit: They have helped push down the price of the Prius, as well as many of its hybrid brethren. So you can pick up a quality small car on the cheap and, if gas prices do pick up again, you'll be ahead. It's like you're trading in oil futures — but you get a car to drive along the way.
It's also worth noting, now that the Prius has been on the market for nearly two decades, that worries that the battery packs wouldn't last or would cost a fortune to replace have proven overblown. (The hybrid battery has a warranty of eight years or 100,000 miles, or 10 years or 150,000 in a handful of states that include California and New York.) So go electric-ish with confidence.
2/12
2014 Mazda 3
Price when new: $19,166 (Touring, 2.5 liter)
Certified used price: $17,900
Dealer used price: $17,050
Private-party price: $14,837
MPG (city/highway): 28/38
IIHS Rating: Top Safety Pick Plus
Mazda has retired the "Zoom-zoom" campaign, but you'll still find that sporty edge across the brand. The 3, which we ranked one of the Best New Cars at its 2014 introduction, boasts active safety with nimble, responsive handling as well as a suite of (available) electronic safety systems more typically found in luxury cars — blind-spot monitoring, forward-collision warning, lane-departure warning, and city-braking assist (which helps prevent rear-end collisions), helping earn it a Top Safety Pick Plus award from the Insurance Institute for Highway Safety.
We've priced it here with the 2.5-liter engine, which we think best pairs with the automatic transmission that most will want. But if you really want the sporty edge, the 3 is one of the few cars that you can get with an honest-to-god manual transmission — though only with the 2.0-liter motor.
3/12
2014 Toyota Camry
Price when new: $21,734 (SE)
Certified used price: $16,533
Dealer used price: $16,033
Private-party price: $13,471
MPG (city/highway): 25/35
IIHS Rating: Top Safety Pick
The midsize sedan category is ultracompetitive, and that has produced some really, really good cars. If you're looking for four doors and a trunk, give a close look to the Ford Fusion and Hyundai Sonata as well. Resale prices for the Camry, Fusion and Sonata are very close, but the nod goes to the Toyota for its stellar reliability record. We picked the SE model for the sporty edge it lends to a car that often gets dubbed an "appliance." The extra bling should also help keep you from getting flagged as an Uber driver.
Between lease returns and the popularity of the Camry, Fusion and Sonata as rental cars, you should have plenty to choose from. (That's right, consider buying a used rental; it can be a good deal.)
Though we've called out the Camry Hybrid as both a Best in Class and Best New Car in years past, it's harder to recommend it as a good value now that gas prices have fallen. The hybrid is still a fine car, but assuming you drive 15,000 miles a year, it will take you about two additional years of ownership to recover the price premium with savings at the gas pump.
4/12
2014 Kia Soul
Price when new: $17,120 (Plus)
Certified used price: $14,880
Dealer used price: $14,880
Private-party price: $12,265
MPG (city/highway): 23/31
IIHS Rating: Top Safety Pick
You know, the hamster car? You don't have to appreciate the enduring ad campaign to recognize the value inherent in taking a small-car platform and raising the roof so that passengers can ride without their knees in their noses. A 2014 redesign gave it greater refinement – it's quieter, with a smoother ride — and helped it earn a Top Safety Pick designation from the IIHS.
This Kiplinger's favorite is a good car for both young drivers (it included Bluetooth and USB integration back when those were rare on a cheap car) and older drivers (upright seating position, decent visibility). Highway mileage is only so-so, partly as a consequence of having to push that brick-like shape through the air. We recommend the Plus trim level to get the 2.0-liter engine, which offers an extra 35 horsepower over the base 1.6-liter mill.
5/12
2014 Mazda CX-5
Price when new: $23,790 (Touring, FWD)
Certified used price: $21,973
Dealer used price: $21,123
Private-party price: $18,146
MPG (city/highway): 25/32
IIHS Rating: Top Safety Pick Plus
SEE ALSO: 11 Smart Ways to Boost Your Gas Mileage
Manufacturers are falling all over themselves to meet customer demand for small crossovers, the market sector pioneered by the Toyota RAV-4 and Honda CR-V. And that demand is also keeping prices for used crossovers high, according to KBB senior analyst Sean Foyvil.
So the Mazda CX-5 may be a great pick, but you're going to pay a premium. The CX-5, especially if you opt for front-wheel drive only, is mechanically similar to the hatchback/sedan Mazda 3, but it costs almost 25% more.
What do you get for that? The higher driving position of a crossover, more cargo space and a better ride over our crumbling infrastructure — but also less-nimble handling and lower fuel economy.
6/12
2014 Audi Q5
Price when new: $35,046 (Touring, FWD)Certified used price: $32,228
Dealer used price: $30,828
Private-party price: $26,970
MPG (city/highway):: 20/28
IIHS Rating: Top Safety Pick
Audi has wooed car buyers for years with stellar interior design (and nice exterior looks, too). Reliability has been the bugbear. But time has smiled on the Q5, which Consumer Reports ranks as "better than average" for overall reliability for the 2014 model year. The Q5 is in a crowded market segment (luxury crossovers with two rows of seating, which includes the Lexus RX 350), but it stands out with its taut handling and high-tech, turbocharged, direct-injected 2.0-liter 4-cylinder engine.
7/12
2013 Lexus RX 350
Price when new: $36,428 (FWD)
Certified used price: $30,537
Dealer used price: $29,037
Private-party price: $25,497
MPG (city/highway): 18/25
IIHS Rating: Top Safety Pick
In the RX you get a sleek package with a silky smooth ride. Plus, it's a technological tour de force.
Taken together, these features made it one of our Greatest Cars of the 21st Century. Ten airbags, Bluetooth and a nine-speaker sound system are standard. Out in the marketplace you'll find models with options such as smart headlights (adaptive front headlights, which let you see around curves, plus automatic high beams), collision-warning systems with adaptive cruise control (maintaining a safe driving distance from the car in front of you), and a head-up display (to see your speed, GPS directions and other data without looking down at the dash).
Lexus also sells a hybrid version, the RX 450h (dealer price for the 2013 model: $35,964), with better mileage and more horsepower than the gas-only version. But even more so than the Camry, you'll be hard-pressed to earn back the hybrid's steep price premium at the gas pump.
8/12
2013 Mercedes E-Class
Price when new: $43,790 (E350)
Certified used price: $28,395
Dealer used price: $27,395
Private-party price: $23,514
MPG (city/highway): 20/30
IIHS Rating: Top Safety Pick
SEE ALSO: How to Make Your Car Last Longer
Mercedes is still a master of making cars that feel solid and safe, with the features and ratings to back up that tell-tale "thunk" you hear when you shut the door.
The 2010 E-Class redesign brought to the lineup standard Attention Assist, which monitors the driver via steering inputs for signs of drowsiness and alerts you if you need a break. Other features available in the 2013 models include lane-departure warning, blind-spot assist and a collision-warning system that will brake automatically if the warnings are not heeded. Nine airbags come standard, and some models have rear-seat side airbags as well.
But there's power, too: If the 302 horses of the V6 E350 aren't enough, check out the E550 (402 hp), or the E63 AMG (518 hp!). Want to go ridiculous distances on the highway without stopping for fuel? Pick the fuel-efficient E350 BlueTec diesel, one of our favorite cars for long road trips.
9/12
2013 Acura MDX
Price when new: $43,352 (Premium)
Certified used price: $30,211
Dealer used price: $29,511
Private-party price: $25,905
MPG (city/highway): 16/21
IIHS Rating: Top Safety Pick
With seating for seven, a standard rearview camera and tri-zone climate control, it's tough to beat Acura's crossover for the combination of safety, roominess and luxury. The 3.7-liter V6 has plenty of power, and Acura's standard Super Handling All-Wheel Drive does an exceptional job of keeping it firmly planted.
The system can split torque not just between the front and rear wheels but also between the left and right rear wheels. Normally, the system sends almost all the power to the front wheels for efficiency's sake. But say you're going around a corner with a heavy foot on the gas. In that case, the outside rear wheel will get an extra dose of power, helping push you around the turn without the car's nose drifting wide.
For extra safety, look for a model with adaptive cruise control, a collision-warning system and blind-spot monitoring.
10/12
2014 Chevrolet Tahoe
Price when new: $41,204 (LS, AWD)
Certified used price: $31,894
Dealer used price: $31,294
Private-party price: $27,658
MPG (city/highway): 15/21
IIHS Rating: Not rated
With the optional front-row bench, the Tahoe can transport an entire baseball team, plus carry the bats, balls and other equipment in the 16.9 cubic feet behind the third row (60 cubic feet when you remove the third row). If hauling a trailer or boat is your thing, it can tow up to 8,500 pounds, and the all-wheel-drive system is a traditional one that you can manually lock up for maximum traction on, say, a slippery launching ramp. All models come with Bluetooth. Look for passenger-friendly perks such as the power fold-and-tumble second row, and such driver-friendly features as rear park assist, a rearview camera and a blind-spot monitoring system.
Also consider the GMC Yukon, which is mechanically identical but has slight design variations. Similarly, the Chevrolet Suburban is essentially a longer version of the Tahoe. The IIHS didn't test-crash the Tahoe or these sister models. However, in the less-stringent testing performed by the National Highway Safety Administration, the 2014 model earned 4 out of 5 stars.
11/12
2014 Ford Mustang GT Convertible
Price when new: $37,000 (Premium)
Certified used price: $26,680
Dealer used price: $25,880
Private-party price: $22,563
MPG (city/highway): 18/25
IIHS Rating: good
Goes fast, has an engine that rumbles, drinks lots of gas. How did the Mustang GT get in here? Because the only pony car in production for over half a century, one of Kiplinger's Greatest Cars of the 21st Century, keeps getting better, and with fuel prices low, it's a little easier to justify. Plus, for better or worse, the 2014 is selling at a big discount from new. Chances are good the depreciation curve will flatten out a bit now.
If you're going old school like this, might as well get the convertible, the better to put wind in your hair and hear the guttural sound of the V-8.
The Mustang convertible was rated "good" on IIHS's applicable crash tests but can't earn a top safety pick, lacking a top to be tested in the organization's roof crush test. Note also that it lacks the active rollover protection (such as pop-up roll bars) that much of its convertible brethren have adopted. Reliability remains so-so.
12/12
About Our Information
Prices listed are "Fair Market Value" from Kelley Blue Book, reflecting what consumers are typically paying for vehicles — not asking prices. The certified used price is for vehicles that have gone through a manufacturer's program to select top-grade used cars with relatively low mileage and are backed by an extended warranty.
Safety rankings come from the Insurance Institute for Highway Safety, whose crash-test standards change between model years. For 2013 models, to be a Top Safety Pick, vehicles must have earned good ratings in the moderate overlap front, side, roof strength and head restraint tests. For 2014 models, reaching that standard also required a good or acceptable rating in the small overlap front test, and Top Safety Pick Plus winners must also have optional front crash prevention technology (such as automatic braking).
Senior Online Editor, Kiplinger.com
In his current role as Senior Online Editor, David edits and writes a wide range of content for Kiplinger.com. With more than 20 years of experience with Kiplinger, he has worked on and written for a range of its publications, including The Kiplinger Letter and Kiplinger's Personal Finance magazine. He is a co-host of Your Money's Worth, Kiplinger's podcast and has helped develop the Economic Forecasts feature.