Economic Pain at a Food Pantry
The manager of this Boston-area nonprofit has had to scramble to find affordable food.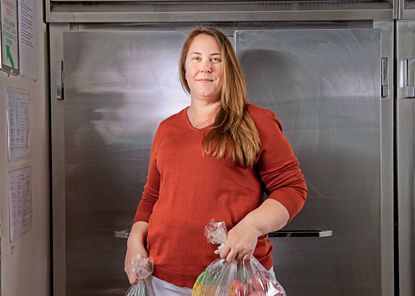 (Image credit: Photo by Webb Chappell)
Who: Carissa Phillips, 40
What: Executive Director of Hebron Food Pantry
Where: Attleboro, Mass.
Subscribe to Kiplinger's Personal Finance
Be a smarter, better informed investor.
Save up to 74%
Sign up for Kiplinger's Free E-Newsletters
Profit and prosper with the best of expert advice on investing, taxes, retirement, personal finance and more - straight to your e-mail.
Profit and prosper with the best of expert advice - straight to your e-mail.
Who uses your pantry? The clients we serve are seniors and families. We're open three times a week and have a specific shopping day for the seniors in an effort to cut down waiting times, and then we have two open pantries for individuals and families of all ages. We don't serve meals; we are a shop-by-choice pantry. So people are able to come in and grab what they need. For access, the only requirement is that you live within one of the seven cities and towns that we serve.
Have you seen a change in demand for food since before the pandemic? Yes. Before the pandemic, my understanding is that we were serving about 200 to maybe 250 households. That has increased to a steady 300 households that come through, and we're growing every week. This week I've had 30 new people. I'm not sure if it's the end of the school year, if food stamp benefits or the COVID benefits for food stamps are starting to taper off a little bit, or if people are trying to prepare for summer.
How have supply-chain issues and inflation affected your operation? We were getting about 8,500 pounds of food each week from the Greater Boston Food Bank, but they have cut us back by 1,500 pounds a week because they are having staffing shortages in the operation that makes the pallets of food. And then they cut our frozen foods, which means all of our meats. That is challenging, too. We're trying to work around those things and reach out to other wholesalers that offer produce or frozen meats for us to order. We've been able to get produce, but we have to spend more money on it. Frozen meat is a little harder to find.
How have you dealt with these challenges? We placed limits on our clients on how much they can take. But those limits went from maybe three cans of tuna to one can of tuna. Or instead of two containers of juice, now you can only have one. They're normally able to take what they need for the week, even with the limits.
How is your operation funded? It's mostly donations and grants. Some are through other local organizations, some are memorials, and then there are random acts of kindness. We also have donations from local food drives from churches, day cares and schools. We have about 50 volunteers. I don't have all 50 every day. It depends on the day and everybody's schedule.
How did you end up at Hebron? I kind of fell into this position. I don't have much of a background in the food industry or even the community. I worked at the YMCA for about six years, and then COVID hit and I was out of a job for a while. I happened to be coming here as a client, and they knew me from the YMCA, so they asked if I would want to be the assistant director, and I accepted. The executive director got sick, and I was asked to take her place. There have been lots of different twists and turns, but I'm doing the best I can.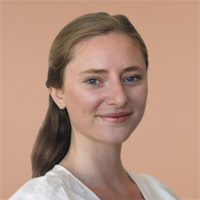 Staff Writer, Kiplinger's Personal Finance
Emma Patch joined Kiplinger in 2020. She previously interned for Kiplinger's Retirement Report and before that, for a boutique investment firm in New York City. She served as editor-at-large and features editor for Middlebury College's student newspaper, The Campus. She specializes in travel, student debt and a number of other personal finance topics. Born in London, Emma grew up in Connecticut and now lives in Washington, D.C.