Smart Strategies for Couples Who Run a Business Together
Starting an enterprise with a spouse requires balancing two partnerships: the marriage and the business. And the stakes are never higher.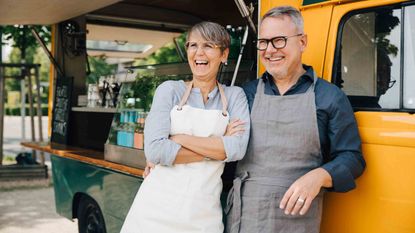 (Image credit: Getty Images)
Gail Nott was a marketing consultant and her husband, Cory, a tech consultant, when they joined forces in 2018 to help other consulting and coaching businesses expand. Married since 2005, Gail, 46, and Cory, 53, of Nicasio, Calif., found it tough going at first. "I would have all these initiatives in mind, how we were going to market and expand our business, and it didn't feel like he agreed with me," she says. "We weren't getting anything done."
Six months in, a friend suggested the obvious solution -- a business coach to help them work together as spouses. They invested a few weekends working with the coach and followed up with monthly calls for the next year. Now, almost four years later, their online company, Take Wing Coaching, is going strong.
Starting an enterprise with a spouse requires balancing two partnerships, the marriage and the business. All that togetherness can be exhilarating and exhausting, with the financial stakes never higher. There are about 5 million family-owned business in the U.S., according to the Census Bureau. In a 2019 Census Bureau survey with a roughly 50% response rate, 22% were jointly owned and operated by spouses, almost 8% jointly owned but mostly operated by the husband, and 3% jointly owned but mostly operated by the wife.
Subscribe to Kiplinger's Personal Finance
Be a smarter, better informed investor.
Save up to 74%
Sign up for Kiplinger's Free E-Newsletters
Profit and prosper with the best of expert advice on investing, taxes, retirement, personal finance and more - straight to your e-mail.
Profit and prosper with the best of expert advice - straight to your e-mail.
Anecdotally, financial planners and wealth advisers say they are seeing more couples choosing to work together, something the pandemic may have spurred. "People have spent a lot of time thinking about what they want to do. They're looking for an escape from the old responsibilities of putting on a suit or going on an airplane," says Brian Parker, co-founder and managing director of EP Wealth Advisors in Torrance, Calif. In addition, he says, the pandemic heightened everyone's awareness that life is short.
A Shared Vision
No business, especially one with a marriage at stake, should be launched without hammering out the financial and legal details first with a CPA or attorney. At a minimum, you'll want to discuss how to set up the business (see "4 Ways to Structure Your Company" below), but couples also should consider their long-term vision for the business. One of the first things Parker looks for when advising couples starting a business is if they have the same expectations. How do they envision the business growing? Do they want to attract investors, hire employees or start a franchise? "One couple I work with, who are still fine-tuning their roles, realized they were willing to scale back so they didn't have to hire people," he says. "They said, 'We're OK making less money and just doing it ourselves.'"
Gregory Cole, 58, and Michael Perris, 60, of Bernardsville, N.J., who have been together since 1995, for 20 years ran a successful marketing firm for luxury goods before the pandemic shuttered the business. Last year, they started a perfume business, The Bubble Collection, building on lessons learned from working together on their first startup. They recognized they needed separate hobbies and time away from each other. "We really had to cultivate our personalities outside of our role as business partner," Perris says.
They also understood how important it was to accommodate their different working styles. So this time, they consulted a lawyer, and the couple plans to formalize in writing their specific company titles and roles, something they wish they had done for their last business, Cole says. They also defined what would happen if one of them leaves the business. "This isn't just a hobby," Perris says. Contracts and clear boundaries "are really important for a healthy dynamic between partners in life and business."
Know the strengths and weaknesses of both you and your partner, says Kyle Whipple, a partner with Custom Wealth Solutions in Plymouth, Mich., who has advised couples on joint business ventures. If neither of you is good at, say, accounting, "then you need to bring in a third party."
On Board With the Risks
Launching a business is always chancy, and couples should be on board with the risks. "I start with a worst-case scenario," Parker says. For example, if you're drawing money from retirement or investment portfolios, how much longer will you have to work if the business is less profitable than anticipated? Will the house need to be sold? Both spouses should understand what's at stake financially and how they define success. If both are okay with breaking even or losing a little money, that still can be a successful business, he adds. "There's nothing wrong with owning a winery because you love to make wine. There just needs to be a clarity of what's intended."
For Kasey Thompson-Agee, 50, and her husband, Cleveland Agee, 51, the motivation was twofold: to make money and create the kind of restaurant they wanted but couldn't find in their hometown of Big Rapids, Mich. After giving it a lot of thought, Thompson-Agee, a former director of global menu strategy at McDonald's and currently a business professor at Ferris State University, and her husband, who owned a construction company, decided to open a casual restaurant that they hoped would become a community hub. In May 2021, Fatty C's Dog House, which sells hot dogs with a plethora of different toppings, opened.
It hasn't been easy, especially during the pandemic. They liquidated most of their savings to start the restaurant rather than take out loans and are now seeking investors. "When the pressure hits, you question why did you make that decision, why didn't you consult with me," she says, adding, we've had "doozies of conversations." She tends to be an optimist, her husband more a realist, but they've learned to not "overmanage things," Thompson-Agee says. Most restaurants aren't profitable the first year, but she says they hit their goal for January and are building a customer base. "With everything we've learned, I would not choose anyone else to do this with," she says.
Sometimes, however, couples face a stark choice: Either the business partnership goes or the marriage will. Take Ravi Davda, 33, who worked with his wife of three years in their startup health and fitness business. He liked being his own boss, but his wife Sheena, 33, didn't enjoy being self-employed. She wanted to go to work and switch off at home, while Davda immersed himself in the business in both places. "I felt I had to manage her a lot, which wasn't what I wanted to do," he says. "It didn't work for us." After a six-month effort, they decided Davda would continue running the business, based in England, while his wife found work as a recruitment manager. Three years later, they're no longer business partners, but they are still married.
For some couples, running a business together strengthens a marriage. Jillian Cohan Martin, 44, and Jeffrey Martin, 47, of Portland, Ore., are both former journalists who have been married 13 years. In 2018, they began Clarity Content, a writing, editing and media outreach firm. They also produce a podcast, "Managing Partners," about couples who work together. "People think it's a huge risk to blend work, life and love," when the opposite is true, says Cohan Martin. "It actually allows you to take more risks because you have foundational trust and shared values."
4 Ways to Structure Your Company
Sole proprietorship. With this most common type of business structure, you are automatically a sole proprietorship if you don't register as another kind of business. Your business and personal assets are not separate, you can't sell stock, and you fill out your profits and losses on Schedule C of your personal income tax.
Sole proprietorships are a good choice for low-risk businesses and those testing their business ideas. But as the name implies, only one person can be the owner; a spouse or domestic partner can be an employee.
Qualified joint venture. This is the best option when both spouses want to be owners, says Cindy Goldstein, a New York-based tax attorney and CPA, at least in the early stages. The couple files taxes jointly but fills out separate Schedule Cs.
Limited liability company. An LLC is a legal entity. You can file taxes as a sole proprietor and LLC, and depending on the state's community property laws, you may be able to file taxes as both a qualified joint venture and an LLC. The main advantage of an LLC is that your personal assets are protected if the business goes bankrupt or is sued.
S corporation. Also a legal entity, an S-corp has more rigid requirements and is typically used for bigger businesses with shareholders.
Contributing Writer, Kiplinger's Personal Finance
Alina Tugend is a long-time journalist who has worked in Southern California, Rhode Island, Washington, D.C., London and New York. From 2005 to 2015, she wrote the biweekly Shortcuts column for The New York Times business section, which received the Best in Business Award for personal finance by the Society of American Business Editors and Writers. Her work has appeared in numerous publications, including The Times, The Atlantic, O, the Oprah Magazine, Family Circle and Inc. magazine. In 2011, Riverhead published Tugend's first book, Better by Mistake: The Unexpected Benefits of Being Wrong.