Is Relief from Shipping Woes Finally in Sight?
After years of supply chain snags, freight shipping is finally returning to something more like normal.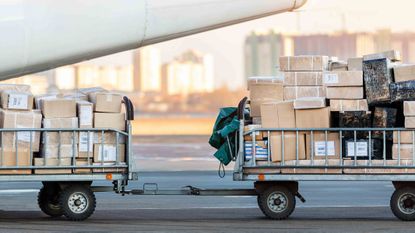 (Image credit: Getty Images)
After two years of shipping delays and rising delivery costs, relief is in sight. By the end of the year, a marked improvement will be seen compared with a year ago.
The numbers of new drivers and trucks have picked up, easing constraints, though chassis shortages will likely continue into 2023. Spot market rates for trucks, excluding fuel surcharges, have dropped 30% from their peak earlier this year. They should decline a bit more, ending 2023 about 5% above their prepandemic level, according to Avery Vise, Vice President of Trucking at FTR Transportation Intelligence. Contract rates are typically slower to respond, and should ease to 17% above their prepandemic level by the end of 2023. Also, diesel prices are still 65% above prepandemic, so fuel surcharges will continue to be higher than normal. However, if a recession happens next year, then both volumes and rates will tumble.
Congestion at East Coast ports should ease in the next few months as a new labor contract is likely to be signed for West Coast dockworkers, allowing more vessels to return to using West Coast ports. Ship traffic from Asia is easing as 70% of retailers shipped early this year ahead of the holiday season, after getting burned last year, according to Ken Hoexter, a managing director at Bank of America. Ocean freight rates from China to the West Coast have fallen to $3,900 per 40-foot container, though that is still $2,500 more than the prepandemic average.
Subscribe to Kiplinger's Personal Finance
Be a smarter, better informed investor.
Save up to 74%
Sign up for Kiplinger's Free E-Newsletters
Profit and prosper with the best of expert advice on investing, taxes, retirement, personal finance and more - straight to your e-mail.
Profit and prosper with the best of expert advice - straight to your e-mail.
Rail freight is the problem child, according to Todd Tranausky, vice president of rail & intermodal at FTR. Freight has been moving at slower than normal speeds this year because of crew staffing shortages. Prior to the pandemic, the railroads embarked on a cost-cutting and labor-saving spree, reducing the workforce from 60,000 to 52,000. During the pandemic, that number dropped further and has only partially rebounded to 48,000 currently. This staffing level was inadequate for the greater demands of the past two years, and intermodal loadings have been stuck at a fixed level of capacity. Reduced demand may help the railroads return to an average speed level, but the system is still fragile and subject to shocks. Intermodal rates rose 15% last year, and should rise a further 2% to 3% on a year/year basis, according to Tranausky. Carload rates should rise 4% to 6%.

Staff Economist, The Kiplinger Letter
David is both staff economist and reporter for The Kiplinger Letter, overseeing Kiplinger forecasts for the U.S. and world economies. Previously, he was senior principal economist in the Center for Forecasting and Modeling at IHS/GlobalInsight, and an economist in the Chief Economist's Office of the U.S. Department of Commerce. David has co-written weekly reports on economic conditions since 1992, and has forecasted GDP and its components since 1995, beating the Blue Chip Indicators forecasts two-thirds of the time. David is a Certified Business Economist as recognized by the National Association for Business Economics. He has two master's degrees and is ABD in economics from the University of North Carolina at Chapel Hill.