Memorial Day Sales 2018: What to Buy (and What to Skip)
Memorial Day not only signals the unofficial start of summer, but it's also the first of the major holiday shopping weekends to occur during the warm-weather months.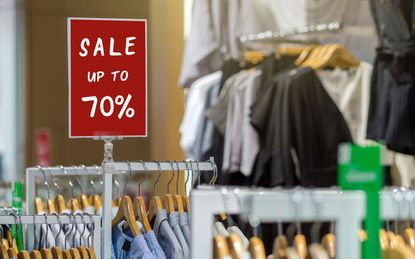 (Image credit: Getty Images)
Memorial Day not only signals the unofficial start of summer, but it's also the first of the major holiday shopping weekends to occur during the warm-weather months. (Independence Day and Labor Day are the other biggies.) Shoppers who plan to take advantage of Memorial Day sales will want to make sure they've signed up for deal alerts from their favorite retailers so they don't miss out on coveted items, recommends smart shopping expert Trae Bodge of TrueTrae.com (opens in new tab).
And while the deals will be plentiful -- on everything from mattresses to appliances -- there are some items you'll want to avoid. A big reason: Many of the items will be even cheaper later in the year, Bodge notes. We talked with savings experts to find out which products are worth buying over Memorial Day Weekend and which you should keep on your shopping wishlist for now. Here's what we found.
1/10
What to Buy: Travel Deals
If you've been procrastinating on locking in your summer travel plans, because you were waiting for airfare prices to drop, smart move. "Memorial Day Weekend is a good time to book travel for early- or mid-summer [dates]," says Julie Ramhold, a consumer analyst for DealNews.com (opens in new tab). Travelers can expect to see discounts of as much as 50% off on airfare, hotels or vacation bundles, she notes.
Those with families should keep in mind that travel deals will be scarce once the kids are out of school for the summer, says Sarah Hollenbeck, a shopping and savings expert for deal site Offers.com (opens in new tab). Be strategic and use Memorial Day Weekend to comparison shop and book travel through sites such as Travelocity.com (opens in new tab), Expedia.com (opens in new tab) or CheapOAir.com (opens in new tab), she adds.
2/10
What to Buy: Party Supplies
Memorial Day Weekend kicks off cookout season. If you plan on hosting cookouts this summer, you'll want to stock up on party supplies including disposable tablecloths, plastic ware and paper plates now. "Retailers will be offering BOGO (buy one, get one) deals as well as discounts on traditional party supplies," Hollenbeck says.
If you miss out during Memorial Day Weekend, expect to see prices on party supplies rise. Retailers will be looking to profit over the summer off last-minute shoppers, she warns.
3/10
What to Buy: Mattresses and Bedding
Budget-conscious shoppers who regularly track sales over holiday shopping weekends know that you can find some of the biggest deals on mattresses at this time of year.
Consumers will see mattress savings ranging in the hundreds of dollars at department stores such as J.C. Penney and Sears, says Courtney Jespersen, a consumer savings expert for NerdWallet.com (opens in new tab). For example, J.C. Penney (opens in new tab)'s 2018 Memorial Day promotion includes a Simmons Beautyrest Silver Snowhaven pillowtop luxury mattress on sale for $646 that comes with a free gift card. It normally retails for $1,800.
Also, expect prices on bedding -- sheets, pillows and comforter sets -- to drop significantly. While many consumers tend to look for "White Sales" at the start of the year, you'll find a broader product selection during Memorial Day sales, says Casey Runyan, managing editor of BradsDeals.com (opens in new tab).
4/10
What to Buy: Appliances
For consumers on the hunt for household appliances, you'll get the most bang for your buck this season during Memorial Day sales. Everything from coffee makers to refrigerators will be marked down by as much as 40%, Offers.com's Hollenbeck says. Retailers that have previously offered deep discounts on both small and large appliances include Best Buy (opens in new tab), Lowe's (opens in new tab) and Sears (opens in new tab), she notes.
However, before visiting a particular store, do some comparison shopping first. Hollenback reminds shoppers that in an effort to keep your business, many retailers will offer price-matching. Make sure you confirm beforehand the store you're interested in buying from has such a policy in place. If it does, present the competitor's ad at checkout to receive the lower price. Best Buy, Lowe's and Sears all have price-matching policies.
5/10
What to Buy: Home Goods
If you're looking to give your home's decor a much-needed makeover for the warm-weather season, Memorial Day Weekend is a smart time to shop for decorative furnishings. This includes throw pillows, area rugs and lamps.
For consumers who prefer to shop online, Overstock.com (opens in new tab) is another option for finding deals on home goods, Hollenback adds. Last year, the e-commerce site offered 20% off on similar items.
6/10
What to Skip: Back-to-School Supplies
While you'll see sales on back-to-school supplies, such as calculators, notebooks and backpacks, eager bargain hunters looking to get an early start should hold off until later in the summer to buy them. School supplies will see even further discounts in August right before the new school year starts. If you live in a state with a sales tax holiday, which typically occurs in late July or early August, you'll score even bigger savings, NerdWallet's Jespersen says.
Keep in mind that by waiting until later in the season, you probably won't have as wide a variety of products to choose from. So, for example, if your daughter has her heart set on a popular backpack style, it might not be available toward the end of summer.
7/10
What to Skip: Automobiles
You'll see plenty of ads from car dealers touting blowout sales over the Memorial Day Weekend, but don't be fooled. The best time to buy a new car is during a model changeover, which typically occurs near the end of the year, Jespersen says. By late fall, car dealers are looking to make room for the next year's models, so they'll slash prices on their current inventory to entice potential customers and clear out their showrooms.
For example, last year a Nissan Rogue with a starting price of around $24,550 saw discounts in the $6,000 range during Memorial Day Weekend, Edmunds.com (opens in new tab) reports. By the time year-end sales hit, the discounts jumped to about $8,400.
8/10
What to Skip: Apple Products (and Other Electronics)
Although retailers such as Target and Best Buy will likely offer discounts on hot items from tech giant Apple (opens in new tab) (think: iPads and Macbooks), you should be able to find Apple products priced even lower in a few more weeks. Apple's Worldwide Developer Conference (opens in new tab) takes place from June 4-8 and that's where the company unveils new products to be released in the coming months. After the big reveal, you'll see retailers gradually drop prices on older product models to make room for new inventory, Offers.com's Hollenbeck says.
If you have a bit more patience and can wait until the Black Friday in November, you'll really be able to score big on Apple products and other electronic items. "You'll find discounts on Macbooks and up to $300 in gift cards with the purchase of a new phone," she adds.
But if you're itching to snag a deal on a new TV, digital camera or gaming console sooner rather than later, Amazon Prime Day (which occurs in July) may be your best bet this summer, says Nerd Wallet's Jespersen. The only caveat: You need to be an Amazon Prime member to gain access to the sale. Last year, we highlighted can't-miss deals on television sets and related Amazon-branded accessories, such as Fire Sticks.
9/10
What to Skip: Outdoor Grills and Patio Furniture
With the first major holiday of barbeque season just days away, you might be tempted to head to Home Depot (opens in new tab) or Lowe's (opens in new tab) to pick up a new grill that's on sale, but that's a costly mistake if you can afford to wait.
"While you'll run into deals of up to 20% off over the Memorial Day Weekend, the biggest savings won't appear until the end of the season," Hollenbeck notes. Wait to buy grills and patio furniture until after Labor Day when you can get as much 80% off the original price.
10/10
What to Skip: Summer Apparel
When it comes to clothing deals, you'll find the deepest discounts on spring -- not summer -- apparel during Memorial Day sales. This includes items such as lightweight jackets, fine knit blouses and khaki pants. Last year, BradsDeals.com noted that major department stores such as Macy's (opens in new tab) and J.C. Penney had deals of as much as 30% off.
Summer inventory -- sundresses, shorts, swimwear and the like -- is just hitting store shelves, so it won't be significantly discounted right now, if at all, suggests Runyan, BradsDeals.com's managing editor. Keep an eye out for end-of-season sales in late August and early September to stock up on summer clothing. Shoppers can expect deals then ranging from 50% to 70% off.
Online Editor, Kiplinger.com
Browne Taylor joined Kiplinger in 2011 and is a channel editor for Kiplinger.com covering living and family finance topics. She previously worked at the Washington Post as a Web producer in the Style section and prior to that covered the Jobs, Cars and Real Estate sections. She earned a BA in journalism from Howard University in Washington, D.C.