A Guide to Amazon Prime Deal Days — How to Bag the Best Deals
Our guide to Amazon Prime Deal Days. From finding the best deals and whether it is worth the hype.
One of the most hyped summer sales, Amazon Prime Day gives members access to exclusive deals across the site — and each year the lower prices get even more tempting, as inflation and the high cost of living take their toll. Amazon is hosting a second round of deals in October under the banner of Prime Big Deal Days.
Prime Big Deal Days spans two days in 2023. The event launched this morning at 12 PT and continues through Wednesday, October11. Amazon will host Prime Big Deal Days in 19 countries, including the U.S.
Here's everything you need to know about Amazon Prime Deal Days: how to bag the best deals and whether it's worth the hype.
What is Amazon Prime Day?
Amazon Prime Day started in 2015 on Amazon's 20th birthday and now takes place annually — adding value to your Amazon Prime membership and encouraging big purchases outside of seasonal holidays.
The event gives members exclusive deals during the two-day sale period on big and small brands, electronics, beauty products, home appliances and toys.
The only catch is that you must have an Amazon Prime account to participate. If you don't, you can sign up for the 30-day free trial as long as you haven't been a member within the past 12 months.
You can sign up any time before October10 to ensure you gain access to Prime Deal Days offers. If you don't want to renew your membership after 30 days, remember to cancel before it auto-renews.
During Prime Deal Days, Amazon plans on offering new deals every five minutes in select time periods and will help Prime members not miss any deals by offering suggestions based on prior purchases and items saved to their Lists.
How to find the best Prime Day deals?
If you're thinking of taking part in Amazon Prime Deal Days, here's the lowdown on how to snag the best deals.
Amazon Invitations
Amazon has announced a new "invite-only deals" program where members can request an invitation to some of the most popular deals that are likely to sell out. It's a good way to prepare beforehand, but not all invite requests will be granted. If you do get an invite, you will be told on Prime Deal Day, so keep checking your email or your phone for notifications.
Deal Alerts
Alternatively, you can set up personalized deal alerts for your recent searches and recently viewed items. During Prime Deal Days you will receive notifications of any offers available on those items, which will save you from having to search through long lists of offers.
Alexa
If you use Alexa, this is a great way to get your notifications on the day. Alexa can notify you of deals you've set up alerts for, or you can even set up a reminder for Prime Deal Days itself.
Amazon has already announced Prime members can sign up for invite-only deals on select products expected to sell out. These deals include up to 55% off Jabra Elite 7 Active True Wireless Earbuds, up to 60% off Blink smart home security and up to 50% off Sony Dolby Atmos/DTS:X Soundbar-HTX8500 2.1ch.
Amazon.com Pre-sale Offers
There are already deals available on Prime Video, Amazon Music and Amazon Music Unlimited. Prime Video has 50% off buying or renting selected movies or TV shows, and selected channels for $2.99 for up to three months. Amazon Music Unlimited is offering 4-month free trials for Prime members but you'll need to snap them up before the Prime Day sales are over.
Members can get an early look at Prime Day deals by going to Amazon's Prime members deals page. Prime members also have exclusive access on Prime Day to "Lightning Deals," deep discounts that are time-sensitive — when they're gone, they're gone. You can see them on Amazon's Today's Deals page or the Prime Day page.
Is it worth the wait?
During Prime Deal Days, Amazon offers discounts on thousands of products. Some of them will represent big bargains, while others will not.
When you're notified of a deal, always double-check to confirm it's a good one. Google the item you're looking to buy and see if it's the same price or cheaper elsewhere. If Amazon has the best price, go ahead and add it to your Amazon basket. But if it is cheaper somewhere else, then skip the Amazon deal. Remember to factor in the delivery costs. Free delivery is a famous Amazon Prime benefit but many other sites also offer free delivery, sometimes after you spend a set amount.
As with any sale, set yourself a budget — it's easy to get carried away and spend more than you should because something looks like a bargain. Deals experts note the worst things to buy are items bought under pressure. Nathan Burrows of The New York Times' Wirecutter points out that "things like countdown clocks [and] flash sales drive a sense of urgency that can lead us to buy before asking ourselves how this item fits into our lives, or even whether the product in question is worth our time or money at all."
Alternatives to Amazon Prime Deal Days
Retailers including Walmart and Best Buy have stepped up their game against Amazon in recent years during Amazon Prime Day. What about Prime Deals Days? They'll have the big guns out again this year. So will a lot of other retailers.
Walmart Deals — Holiday Kickoff started on Monday, October 9 at 7 p.m. ET, with deals running through October 12. Unlike Walmart's sale in July, you don't need to be a Walmart+ member to take part in this sale. Best Buy has a 48-Hour Flash Sale today and Wednesday, October 11. They plan to offer hundreds of deals on TVs and laptops, headphones and smartwatches. Electric transportation items, such as scooters and e-bikes, will also be part of the sale.
"While comparing prices between sites is easier," he said, "you can make this even more seamless by downloading a tool like PriceBlink to your browser which will automatically scan competitor sites to see if you can find the same product for less elsewhere."
Read more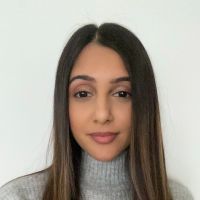 Vaishali graduated in journalism from Leeds University, UK. She has worked for her local news outlet, the Leicester Mercury as well as writing personal finance stories for digital publications, The Money Edit, MoneyWeek and GoodToKnow. When she is not writing about money-saving, deals, finance hacks and other personal finance topics, Vaishali likes to travel and she's a foodie.