6 Money-Saving Car Accessories Everybody Should Have – Yes, Even You
It's okay, we get it: There are plenty of people for whom the car is simply a conveyance of necessity—a vessel, not a ride.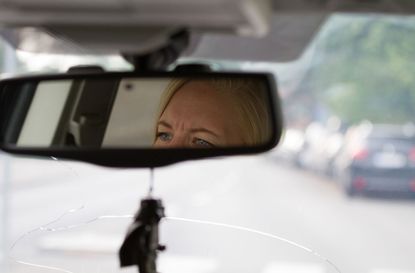 (Image credit: Getty Images)
It's okay, we get it: There are plenty of people for whom the car is simply a conveyance of necessity—a vessel, not a ride. Yours will not be pimped (and only begrudgingly washed), and the car-parts store is terra incognita.
But cars are expensive pieces of equipment—a constant drain on your wallet. And precisely because you don't dote on your car, you don't want to spend any more than is necessary.
So why buy these six items that everybody should have? Because they'll save you a heap of money in the long run.
1/6
License-Plate Frame
Unless you've got vanity tags, you probably don't give a darn about the condition of your license plate. It's just a piece of aluminum, made by a convict, for which you paid the government more than you really wanted to.
Don't worry: This isn't about the tag itself. It's about keeping your car insurance as cheap as possible. There are a variety of license-plate frames designed not to be decorative, but to provide a layer of cushioning. Made of rubber or foam, they're a bumper for your bumper, in essence. And they go on the front of the car. (Are you in one of the 19 states that don't require a front tag? This may not work for you.)
Let's say someone who drives your car (maybe even you?) lightly rear-ends someone. Without the frame, there's a good chance the hardware holding your tag on will punch two screw-size divots in the bumper cover of the car in front of you. Claim time! But with a soft plate frame to absorb the impact (and cover the screws), chances are good you won't leave a mark. With luck, your victim will shrug, give you the stink-eye, and get back in his car and go about their business.
Depending on your deductible and previous claims, this could save you hundreds, if not thousands, of dollars in premiums in years to come. Installation of the license-plate frame requires only a screwdriver and a few minutes of your time. Bump Tek and flexyframe are a couple of brands to look for.
2/6
Tire Gauge
"But," you say, "there's a light on the dash if a tire's low. I don't need to fuss with checking my tires anymore." Sorry, nope. All cars built since 2007 have what's called Tire Pressure Monitoring Systems (TPMS). These do what the name says: monitor that your tires have air pressure.
The hitch is this: That light won't come on until a tire is more than 25% lower than the recommended pressure. And if you wait for that, you're potentially endangering yourself (an underinflated tire can compromise your car's handling or even lead to a tire blowout) and wasting money (underinflated tires reduce your gas mileage by roughly 0.2% per pound that they're low). Doesn't sound like much, but try this math: If your recommended inflation pressure is 40 psi, and you're 25% low on air, that's a 2% hit to your gas mileage. Plus, underinflated tires wear more quickly and unevenly, reducing your tire life.
There's just no substitute for buying a decent-quality tire gauge (between $5 and $15) and using it at least once a month. Even if you can figure out how to get your TPMS to show each tire's actual pressure on your dashboard screen, we'd still backstop with a handheld gauge.
3/6
Headlight Covers
Today's vehicles come with ever-more-complex and expensive headlamps (high-intensity-discharge bulbs, headlamps that point around turns, etc.). At the same time, we're keeping our cars longer than ever, with the average age now around 11 years.
Notice those yellowed-out, hazy headlamps on older cars? It's not just an aesthetic problem—headlights like that just don't produce as much light (as proven in testing by AAA).
That deterioration won't happen if you drop $50 or so on a set of headlight film covers. These are a thick, clear plastic film with an adhesive backing. You put them on once and leave them on for the life of your car. In addition to preventing the yellow hazing, they also offer protection from, say, a flying rock that could crack a headlamp bucket worth hundreds of dollars. That could make it worthwhile even if your car is on a lease.
Installation requires only a hairdryer, a spray bottle, and some patience.
4/6
LED Interior Light Bulbs
The curse of dead batteries from leaving your headlights on has been lifted, thanks to systems that either turn them off automatically or beep at you until you act.
Nonetheless, the horror of hearing nothing when you push the ignition button or turn the key can still happen. The culprit(s)? In my case, it was my dear children, who left interior reading lights on overnight. Draining your battery completely isn't just a hassle in the near term: It shortens the life of the battery itself.
Sure, a stern word is in order, but a switch to LED-based bulbs that use much less power is a quick and cheap solution. Newer cars often come with these, but if your family truckster has incandescent bulbs, a retrofit is cheap and easy. You can tell if you have the old-school incandescents if the lamps feel warm when they're on; LEDs give off much less heat. And they could be left on for days without draining your battery.
A guide at the car-parts store or this one online will tell you what to buy, and installing them is usually a no-tools operation outlined in your owner's manual.
5/6
Molded Floor Mats
This accessory—specifically, plastic floor mats designed especially for your car—is for people who own rather than lease, and who trade in their cars rather than driving them until the wheels fall off.
The idea of something as prosaic as a floor mat carrying a triple-digit price tag might give some folks pause. Mats from Weathertech fit so nicely, though, that when it comes time to put that car back on the market, your factory carpets should look like new, which could recoup the cost of the mats. In the meantime, your own car will look neater and be easier to clean up—you can just pull the mat out and empty the collected dirt into the trash can.
6/6
Car Polish
Okay, okay—now we're flirting with aesthetics. If you can barely be bothered to wash your car, you're not going to wax it, right?
But here's the thing: With an hour of your time (or, maybe, your teenager's) once a year, your car could be worth substantially more at trade-in time. Even if you're leasing, the protection the wax affords could, for example, avoid the damage that bird droppings can do to car paint—the sort of telltale marks that make a lease adjuster shake his or her head and make expensive tut-tut noises.
The world of car detailing is full of pricey magic potions and exotic waxes. Never mind all that. One $10 bottle of a polymer sealant and some old towels are all you need to get decent results. What's more, products such as NuPolish and Mothers California Gold Synthetic Wax are easy to apply and remove. You won't strain your forearms.
If you're thinking Ah, I'll just get it detailed before I sell it, we would argue you'll be hard-pressed to get back the hundreds of dollars that will cost you, except on high-dollar cars. Plus, protecting the paint all along will mean less damage to try to cover up at the last minute.
Former Senior Online Editor
In his former role as Senior Online Editor, David edited and wrote a wide range of content for Kiplinger.com. With more than 20 years of experience with Kiplinger, David worked on numerous Kiplinger publications, including The Kiplinger Letter and Kiplinger's Personal Finance magazine. He co-hosted Your Money's Worth, Kiplinger's podcast and helped develop the Economic Forecasts feature.