14 Best Things to Buy at Dollar Stores for the Holidays
If you want to save a few bucks getting festive preparing for the holidays this year, learn to cut corners at the dollar store.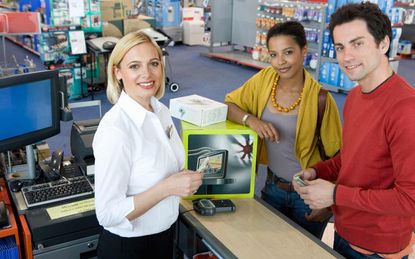 (Image credit: Getty Images)
If you want to save a few bucks getting festive preparing for the holidays this year, learn to cut corners at the dollar store. It's a boots-on-the-ground savings tactic many large families learned out of necessity long ago. Good thing, too, since Americans expect to spend an average $1,048 shopping for the holidays in 2019, up about 4% from 2018, according to a National Retail Federation survey. The majority of the spending ($659) will go toward gifts, naturally. But a big chunk ($389) will be devoted to decorations, greeting cards, flowers, food and other non-gift purchases.
"You don't want to break the bank for home decor that's only on display for one month each year. Dollar stores have everything from large-scale, light-up lawn decorations to festive knick-knacks and wall decor," says Kelsey Sheehy, personal finance expert at NerdWallet (opens in new tab).
So whether decking your halls, prepping the holiday meal or ho-ho-hosting a seasonal party, see how your budget has a friend at the dollar store.
1/14
Holiday Cards
Join the crowd if you're one of those who just can't get a jump on getting your holiday greeting cards out the door and in the mail. Or if you cringe at the prices on the back of the major label cards you find at Target or the supermarket (each card is typically over $6). Head to the dollar store. You'll be surprised at the quality and the $1 (or two for $1) sticker price.
A Dollar Tree store I roamed for holiday items in Northern Virginia offered a healthy selection of individual holiday cards for everyone on your send list. They were name brand, too. Expressions from Hallmark were $1 each, but I found some really well-designed cards in the Heartline cards from Hallmark. They were 50 cents each. A nearby Walmart, meanwhile, was selling American Greetings holiday cards for $1.97 to $2.97.
2/14
Holiday Decorations
Sure, you probably have boxes and boxes of holiday decorations you've accumulated over the years. But if you have some gaps to fill in, some updating to do, or if you're just starting out, you can stock up at bargain prices at the dollar store.
"Some of the decorations are cheaply made and won't last but the dollar store is the perfect place to pick up basic decorations for decking your halls during the holidays," says budgeting expert Andrea Woroch (opens in new tab).
You can find just about everything you need to deck your halls. We spotted Christmas House-brand tree ornaments, door covers, stockings, boxes of Christmas tree balls, 10-inch tabletop Christmas trees and more, each and all for $1. At a nearby Walmart, boxes of Christmas tree bulbs started at $4.98 and stockings started at $6.98.
Some bargain hunters even score their full-size Christmas tree on the cheap at Dollar General, especially in 2019, when real, cut Christmas trees come with more sticker shock than usual. Even reusable, pre-lit fake Christmas trees are over the top.
"You could easily shell out $100 or more for an artificial Christmas tree, but Dollar General has a four-foot pre-lit tree for just $15," says NerdWallet's Sheehy. "Want something bigger? The discount retailer also has a six-foot tree for just $20. You can also stock up on all your tree-trimming essentials, including skirts, toppers, ornaments and lights."
3/14
Holiday Attire and Accessories
Hey, someone has to wear that Santa hat, elf skirt, Christmas tree light necklace or flashing reindeer antlers to the holiday office party, am I right? Otherwise, why would the dollar store stock them?
We found those items and more at Dollar Tree, all for, yes, a dollar. Those included said antler headband (and a flashing antler headband), and LED light-up Christmas tree-style bulb necklace, beaded holiday-themed neckties, and the Santa hats and elf skirts, as well.
Walmart's Santa hats were $2.98, the Christmas tree bulb necklace was $5.98 and "Merry Christmas" or unicorn-themed ties were $3.98 and $4.98.
4/14
Gift Wrap
What gets lovingly swaddled around a holiday gift only to be brutally torn off and cast aside in mere seconds. Alas, the fate of decorative holiday gift wrap, gift wrap you spent good money on -- unless you bargain-hunted at the dollar store.
"Gift wrap is one of those necessary evils over the holidays but if you purchase wrapping paper, bows and ribbon from regular retailers, this extra can add a tremendous amount to your overall shopping bill," says Woroch "I'd rather cut back on gift wrap and spend the money saved on gifts!"
Smart shopper expert Trae Bodge of TrueTrae.com (opens in new tab), agrees.
"You can sometimes get lucky with wrapping paper at the dollar store. Be mindful of the square footage," says Bodge. "If it looks like the roll holds a lot of paper, go for it. But the roll seems thin, it may not get you very far. If you can enlist your kids to draw on the wrapping paper, look for a roll of white or craft paper."
We're seeing Dollar Tree step up its game with quality wrapping paper this year. It offered 20-square-foot rolls of Expressions by Hallmark holiday wrap for $1 each. Walmart was selling 25-square-foot rolls of American Greetings holiday wrap for $3.98.
5/14
Gift Bags and Boxes
Clumsy gift wrappers like me are ever thankful for gift bags and boxes. They're perfect for re-use and inexpensive to purchase at a dollar store, recommends Julie Ramhold, consumer analyst at DealNews.com (opens in new tab).
We found a wide array of holiday-themed gift bags in many sizes at Dollar Tree, all for $1, no matter the size or shape. Gift boxes in various sizes were sold in sets of three for $1. Walmart's holiday-themed gift bags started at 77 cents, but only for the very small, and topped out at $3.98 for the larger bags. Holiday gift boxes were also sold in packs, from $1.98 to $9.98.
6/14
Transparent Tape and Reading Glasses
It's Scotch-brand transparent tape Dollar Tree offers at two-packs for $1. Note that it's not a lot of tape, 500 inches between the two rolls, but it should get you by in a pinch.
The reading glasses were Bodge's idea, "just in case one of your guests forgot theirs. These are one of the best dollar store buys." They're also good if you need a close look at where that tape is going...
Indeed, a pair of +1.75-power reading glasses at Dollar Tree were $1. A pair at Walmart were $5.88.
7/14
Candy
It just wouldn't be the holidays without candy canes and chocolate, and the dollar store has you covered. And don't fall for the rumor it's all off-brand sweets. We found several name-brand candies at Dollar Tree, perfect for stocking stuffers or holiday-shopping sugar boosts. And there's a pretty wide selection.
Candy canes? Have at it: Brach's Select hot cocoa-flavored or Lemondhead candy canes in boxes of six small candy canes were $1 each. You have your traditional milk chocolate gold coins, Palmer 4-ounce peppermint bark, box of three Palmer peanut butter chocolate Santas or Caramel Claus, Tootsie Roll banks, Hershey's chocolate Santas, and more, all for $1.
If you're going for larger quantities, Walmart matches or edges out Dollar Tree. For example, it was selling 12 Hershey's or Starburst candy canes, $2-$2.24. Walmart also had similar three-packs of Palmer Kris Kringle double-crisp chocolate Santas for $1.
8/14
Stocking Stuffers
There's no shortage of stocking stuffers at the dollar store, and yes, at bargain prices. The toy section offers plenty (but beware of choking hazards as some bargain toys have small parts). There's the big-pack of classic green Army men, card games, activities and much more, all for $1. Even small tubes of toothpaste, if you want to drop hints and a name-brand toothbrush (Colgate, Reach), too, typically packages of two or three for $1. (Walmart sells a single Colgate toothbrush for 94 cents.) And don't forget stuffers for your partner's Christmas stocking.
Said Woroch, "One year, my husband stuffed my stocking with a few items from the dollar store and I was pleasantly surprised. And this is a great place to pick up small toys and craft packs for your kid's stocking, especially. You can find small action figures or cars, Disney-themed coloring packs."
Those coloring books are great to have around for the holidays to help keep the kids occupied, says Bodge.
"These can be a good buy and you'll be glad to have them on hand when the kids get bored," says Bodge. "Skip the crayons, though. Unless they are a name brand, they will probably be of poor quality."
9/14
Holiday Mugs
Those holiday coffee or tea mugs have a short shelf life of just a few weeks max each year. So why spend $5 or more at Target when you can pick up holiday-themed mugs at Dollar Tree for $1? Your party guests will never know the difference.
Alternatively, a $1 holiday mug filled with some of that dollar store candy makes for a festive but inexpensive gift for teachers, co-workers and others on your shopping list.
10/14
Picture Frames
Speaking of inexpensive holiday gifts, why not put all those selfies to use by gifting them to friends and family analog-style. If you're not picky about picture frames, you've got a wide selection at Dollar Tree. The good part: It doesn't matter what size you need; they're all $1. The bad part: The quality isn't so hot. But, hey, if people are just putting it on a shelf or nightstand, what's the big deal?
Picture frames at Target started at $2.
11/14
Disposable Platters and Bakeware
Why mess with the mess in the after party? Because those silver serving platters a well-intentioned relative gave you as a wedding present are a bear to polish – and expensive to replace if they get lost or damaged. So whether you're hosting a big family gathering at home or going to a holiday party at someone else's abode, think disposable – or recyclable.
They also come in handy "if you're heading to several holiday parties this year and afraid of losing a dish, these aluminum disposable pans are worth stocking up on," says Ramhold of DealNews.com.
Mom's famous baked lasagna (45 minutes at 375 degrees covered, then uncover and bake for 10 more minutes) is delish, but that pan is a pain to clean. Choose the dollar store option. There you can find various sizes of foil pans for $1, sometimes two for $1, including, yes, lasagna pans. Walmart undercut that $1 price point on mini loaf pans, at 98 cents, but E-Z Foil lasagna pans were $2.78 for a two-pack.
Says Woroch, "If you plan to bake and pass out your famous Christmas cookies, you can find a selection of holiday tins and large plastic platters with festive prints for cheap at the dollar store."
You might need aluminum foil to cover leftovers. You can pick it up inexpensively at the dollar store, scoring 40-square foot or 27-square foot no-name aluminum foil rolls, or Reynolds pre-cut foil sheets (25) for leftovers, or 15 or 18-square-foot rolls of Reynolds foil, all for $1 each. Note that's a small size of Reynolds. Walmart was selling 75-square-foot Great Value aluminum foil for $2.23, 50 Reynolds pre-cut foil sheets for $3.16 and 50-square-foot rolls of Reynolds foil for $3.48.
12/14
Disposable Dinnerware
The household dishwasher has indigestion and just can't handle all of those dirty dishes and utensils after the madcap family holiday party at your house. Disposable kitchenware may be the easier route this holiday season.
"Paper plates, plastic cups, and plastic cutlery are all great buys from the dollar stores," says Ramhold. "The quality might not be as high as more expensive brands from the likes of Target or Walmart, but they should be good enough for holiday parties you're throwing."
At Dollar Tree, we found 48-piece cutlery sets, 20 9-inch paper plates or 10-count 10-inch Designer or Ultra paper plates, all for $1. Walmart was selling a Great Value 48-piece cutlery assortment for $2.48 and packs of Solo 20 10-inch plates for $2.50.
13/14
Cleaning Supplies
Guests are nice, but try as they might, they're messy. You have to clean before they arrive and after they leave.
Bodge sees good deals for cleaning supplies sold at Dollar Tree, but she cautions shoppers to stock with the name brands.
To that end, we found 25-28-ounce containers of Comet or Ajax cleaners with bleach for $1; a bottle of Spic and Span antibacterial spray cleaner and a box of 15 Lysol disinfecting wipes, all for $1. If you happen to be going to Walmart, you'll find that Comet and Ajax a bit cheaper, 88 cents each.
14/14
Bonus Worst Buy: Batteries
Sure, you need those little power sources available when toys and gadgets start getting unwrapped, but don't put your faith in batteries from dollar stores. Shopping experts have long been warning people off buying batteries at dollar stores, especially carbon-zinc batteries. They don't last as long as name-brand alkaline batteries, and they can damage devices if they leak.
We were also fended off by the brand-we-never-heard-of batteries Dollar Tree was selling: e-Circuit.
QUIZ: Who Should You Tip for the Holidays?
Online Editor, Kiplinger.com
Bob is a Senior Online Editor at Kiplinger.com. He has more than 40 years of experience in online, print and visual journalism. Bob has worked as an award-winning writer and editor in the Washington, D.C., market as well as at news organizations in New York, Michigan and California. Bob joined Kiplinger in 2016, bringing a wealth of expertise covering retail, entertainment, and money-saving trends and topics. He was one of the first journalists at a daily news organization to aggressively cover retail as a specialty, and has been lauded in the retail industry for his expertise. Bob has also been an adjunct and associate professor of print, online and visual journalism at Syracuse University and Ithaca College. He has a master's degree from Syracuse University's S.I. Newhouse School of Public Communications and a bachelor's degree in communications and theater from Hope College.