9 Tech Stocks With Must-Win 2018 Holiday Season Launches
November and December typically are important months for many gadget-focused tech stocks.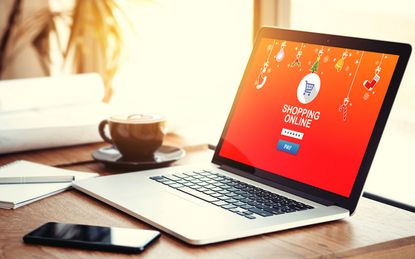 (Image credit: Getty Images)
November and December typically are important months for many gadget-focused tech stocks. But the 2018 holiday shopping season will prove especially critical. Not only is this the time when consumers go on a gift-buying spree, but many technology companies are getting bludgeoned in a sector-wide rout that's leading the whole market lower.
The good news? The economy and consumers are fine. A poll by advertising-tech firm OpenX shows that Americans broadly plan to spend more on gifts this holiday season (an average of $819) compared to last, and 37% of people expect to buy something tech-related. That could reshape the tech landscape in numerous ways. For instance, Alphabet's (GOOGL) Google division closed the gap with Amazon.com (AMZN) last year by moving some 6.8 million Google Home smart speakers during that crucial three-month period.
Here are nine tech stocks that are putting together key product releases for the 2018 holiday season. Some of these will be a continuation of a battle among giants for market share. Some will be make-or-break releases for struggling companies.
Data is as of Nov. 19, 2018.
1/10
GoPro
Product release: Hero 7
GoPro (GPRO, $5.40) needed a strong 2017 holiday shopping season but ran into walls. Going into the quarter, the company cancelled its Karma drone, laid off hundreds of employees and failed to discount its existing action camera lineup when it introduced new models. The result was a 38% year-over-year drop in fourth-quarter revenues.
The result? GoPro – while at least somewhat recovered from its all-time low of $4.53 hit on April 2 – still is off nearly 30% year-to-date. And it's still worth just a fraction of its Oct. 3, 2014, peak of $86.97, reached just months after its initial public offering.
The company's current turnaround hopes mostly rest on a new lineup of GoPro action cameras – the Hero 7 – announced in September. Priced at $199, $299 and $399 for the flagship Hero 7 Black, GoPro is betting the market for action cameras isn't dead. It's also hoping the Hero 7 Black's adoption of Smart HDR and in-camera digital stabilization will persuade existing GoPro camera owners to put it on their Christmas wish list.
Analysts already expect annual revenues to shrink a little bit in 2018, and expect a net loss – albeit smaller than last year. A strong season for these cameras could help GoPro cut into these negative projections – a bad season likely would trigger even more panic, and perhaps a return to those April lows.
2/10
Fitbit
Product release: Charge 3
The company's Versa smartwatch has helped it to gain ground to become the second-place smartwatch seller, behind Apple (AAPL). However, the Versa is going into the holiday shopping season against the new Apple Watch Series 4, which offers new health capabilities and has been in short supply since its launch — an ominous sign for Apple competitors.
That makes the new Charge 3 an important release for Fitbit. The Charge series has been the company's best-selling product, with lifetime sales of 35 million units. Fitbit is now going upscale with the Charge 3. The new fitness tracker ditches plastic and buttons for an aluminum case and a Gorilla Glass-covered OLED touch display. It has seven-day battery life, sleep tracking, oxygen-level tracking and an improved heart-rate sensor, and it supports smartphone notifications.
In other words, this $149.95 fitness tracker does much of what many people want from a smartwatch, in a much less expensive package with far better battery life.
FIT shares, at 7% losses YTD, have actually held up decently despite a broadly down market for tech stocks. Any sign that the Charge 3 is winning over consumers could help Fitbit stock pare those losses by year's end.
3/10
Apple
Product release: iPhone XR
Apple (AAPL, $185.86) became a trillion-dollar company by selling iPhones. The challenge over the past year has been how to keep up revenue growth in a mature market – one in which smartphones suffered their first-ever quarterly drop in global sales (the fourth quarter of 2017).
Apple found the answer last year in the $999 iPhone X, which boosted its average sale price per device. For 2018, the company doubled down on that strategy, adding the $1,099 iPhone XS Max.
But the most important iPhone release of 2018 may well be the iPhone XR.
The iPhone XR, which was delayed until Oct. 19, packs the key features of the iPhone XS line — Face ID, an edge-to-edge display and the A12 Bionic CPU — in a $749 package. The display is LCD instead of OLED, but make no mistake: this still is a premium smartphone. It also has a larger screen than the iPhone XS, better battery life than the iPhone XS Max and comes in a variety of bright colors.
The $999 iPhone X failed to kick off an upgrade super cycle last year. But the $749 iPhone XR could well be the one that convinces tens of millions of older iPhone users to finally upgrade.
AAPL shareholders certainly hope so. While the stock still is up 11.5% this year against a flat Standard & Poor's 500-stock index, Apple has officially entered bear-market territory by falling more than 20% from its Oct. 3 peak.
4/10
Roku
Product release: Premiere
Roku (ROKU, $42.67) is in the business of selling streaming video devices and monetizing free video content on those devices by selling ads.
And business doesn't look great.
ROKU plunged in early November after the company reported strong third-quarter results but offered up disappointing holiday-quarter guidance. That will make it all the more important that the company sell a ton of its new Premiere video streamers over the next few months.
Announced at the end of September, the Premier is a $40 stick with 4K, HDR support and a remote. For $50, the Premier+ adds a Wi-Fi remote with voice control and Google Assistant.
The device faces a battle going into the holiday shopping season – against Amazon and its new Fire TV Stick. Amazon's device released on Oct. 31, retails at the same price as the Roku Premier+ and also offers 4K and HDR support, along with voice control (via Alexa). In addition, Amazon's streamer has Dolby Atmos support. And, no surprise, Amazon is discounting it for Black Friday sales.
Making matters worse for Roku is the rumor that Amazon is considering its own free, ad-supported video tier for Fire TV owners. The Premier and Premier+ may help to keep Roku's lead in the video streaming market, but if Amazon snaps up impulse streamer buyers in big numbers over the holiday shopping season, that's bad news for Roku.
5/10
Amazon
Product release: New Echo Smart Speakers
Amazon.com (AMZN, $1,512.29) kicked off the smart speaker category in 2014 with its Alexa-powered Echo. For several years, Amazon dominated the market, as smart speakers took off in popularity. As recently as Q3 2016, the Echo held a 94% market share.
However, Google and Apple have entered the game, and the former is really cutting into Amazon's lead. In Q2 2018, Google's Home Mini was the top-selling smart speaker, selling 2.3 million units globally. Though to be fair, Amazon's Echo and Echo Dot took up more combined share than Google Home Mini and Google Home.
Consumers snapped up 11 million smart speakers last holiday season, and Q4 2018 is expected to be another big quarter. Amazon is determined to grow its lead this year, and made a move toward that on Sept. 20 when it announced a wide range of new Echo smart speakers. They feature more aesthetically pleasing designs and improved audio compared to previous versions. Amazon even added a subwoofer option and stereo components for the audiophile crowd.
Amazon has its strongest smart speaker lineup ever, with an Echo for every budget thanks to prices ranging from under $50 to $300. It can beat back Apple and Google. The question remains whether it will.
6/10
Microsoft
Product release: Xbox All Access
Microsoft (MSFT, $104.62) saw its gaming revenue become a $10 billion business last year. That's at least a noticeable chunk of the company's $110 billion in sales. The company — and its shareholders — would love to see that grow even more, but there is a problem. Gamers prefer Sony's (SNE) PlayStation 4, which has been outselling the Xbox One by a roughly 2-to-1 margin since the two consoles were released.
Microsoft has come up with a new strategy, however.
The purchase price of a console is a big barrier, as are the cost of games and additional fees for online access. Microsoft is gambling that combining all of these in a low monthly payment will boost Xbox One sales, and provide a stream of steady revenue. Xbox All Access starts at $21.99 per month (for 24 months) and includes an Xbox console, Xbox Live Gold and Xbox Game Pass.
If Xbox All Access can boost the rate of Xbox One adoption over the holiday shopping season, that helps the company now – and gives the company a better chance of attracting developers to make launch titles for its next-gen Xbox console, expected sometime in 2020.
7/10
Microsoft (Again)
Product release: New Surface Lineup
Another Microsoft division will be in the spotlight during the 2018 holiday season: Surface. The division has performed well in 2018, including a 25% year-over-year improvement in revenue during the most recent fiscal quarter.
Microsoft announced new versions of its Surface Laptop, Surface Pro 2-in-1 and Surface Studio desktop PC at the start of October, and the timing couldn't be better. After six years of decline, the PC business has begun showing signs of life. The company also will enter the holiday shopping season with the Surface Go, an affordable tablet aimed at the consumer market.
Microsoft also announced Surface headphones with Cortana built-in. Wireless headphones are a popular gift; the smart, noise-cancelling Surface headphones are out this month.
8/10
Sony
Product release: PlayStation Classic
While Microsoft is trying to catch the PS4 in sales, Sony (SNE, $50.99) is dealing with its own issues on the game console front despite an impressive lead in this generation of consoles. Driven in part by PlayStation revenue, Sony stock briefly topped $60 in September — levels not seen since 2001. However, it's since pulled back to the $50 level.
However, with its own new console on the horizon, Sony has warned that PlayStation 4 sales will likely flatten and decline.
The company is taking a page out of Nintendo's (NTDOY) playbook, however, to offset any revenue hit from slowing PS4 sales. That is, it's cashing in on the retro gaming craze by releasing the PlayStation Classic on Dec. 3.
This $99 miniaturized version of the original Sony PlayStation comes with two wired controllers and 20 classic games. It will be going up against the re-released Nintendo NES Classic ($59.99) and Super NES Classic ($79.99) for the attention of nostalgic gamers and parents looking for affordable gifts.
9/10
Walmart
Product release: Kobo Rakuten e-readers and e-books
Amazon is the undisputed leader in eBooks, and its Kindle lineup dominates the market for e-readers. However, Kobo — owned by Japan's Rakuten — remains a competitive alternative, with its own eBookstore, mobile app and line of e-readers.
Walmart (WMT, $96.78) partnered with Rakuten on a new Walmart e-books venture this year, thumbing its nose at Amazon. The agreement saw Walmart carry Kobo e-readers in stores, the stocking of digital book cards in stores, and Walmart co-branding on Kobo mobile apps.
Walmart eBooks by Kobo Rakuten launched in August, and this holiday shopping season will be the first big test of the venture. Will Walmart be able to break Amazon's lock on the e-reader market (estimated at over 83% in the U.S.)? Will having best-selling digital books available for sale in more than 3,500 Walmart stores be an advantage over Amazon's online-only approach? Will wading into the eBook market help Walmart in its fight to grow online sales?
This is a high-tech experiment that's well worth watching over the holiday shopping season.
10/10
Nintendo
Product release: Super Smash Bros. Ultimate
Nintendo (NTDOY, $36.14) doesn't actually have a big console release coming up this holiday season. Still, investors will be closely watching the Nintendo Switch's performance to see if it follows up on a successful 2017. The company is launching key new game – Super Smash Bros. Ultimate – on Dec. 7 in the hope of keeping that momentum going.
Naturally, that will include a special edition Super Smash Bros. Ultimate Switch bundle …
In the lead-up to the 2017 Christmas season, the Nintendo Switch frequently sold out. While sales on the Xbox One and PS4 were plentiful, consumers had to pay full retail price for Nintendo's console. Switch sales helped propel Nintendo stock to roughly decade highs earlier this year.
But Switch sales have slowed, and Nintendo stock is slumping with the rest of the market. It'll need help from Switch and Smash Bros. to stage a recovery.