15 New Products Apple Might Release in 2019
Apple (AAPL, $183.73) is expected to release a glut of new products this year.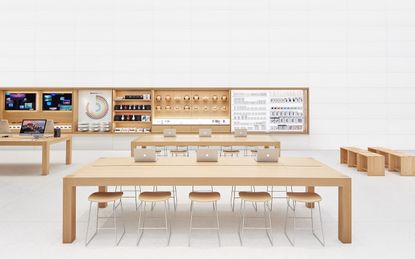 (Image credit: Courtesy Apple)
Apple (AAPL, $183.73) is expected to release a glut of new products this year. And for the company's sake, it should.
Apple ran into the brick wall of a slowing global smartphone market last year; smartphone shipments have logged five consecutive quarters of year-over-year declines. The trend is clear, and Apple isn't immune. In fact, Apple has more to lose than many of its smartphone competitors because the iPhone is its primary revenue generator. It was a decade of record-breaking iPhone sales that pushed Apple to become a trillion-dollar company in 2018.
Apple responded to slowing demand by increasing the price of its flagship iPhones, leveraging the higher average sale price to buoy revenue, even as iPhone unit sales fell. That helped to plaster over the problem for a while, but in January the company reported that quarterly iPhone revenues had declined a whopping 15% from the previous year.
Clearly Apple must count on other products and services to take up the iPhone revenue slack. So look for 2019 to be a busy one for Apple CEO Tim Cook as his company cranks up the product releases.
Here are 15 new products we expect Apple to announce at various events throughout 2019.
Disclaimer
Data is as of March 14.
1/13
Apple News Paid Subscriptions
Apple is increasingly focused on its Services division as a revenue stream. Margins are high, the company can leverage more than 1.4 billion active Apple devices to promote its services, and subscription revenue isn't affected by yearly hardware release schedules.
Apple Music is a perfect example of how the company has been successful with this strategy. AAPL broke into the industry to quickly become the world's second-largest streaming-music service by putting Apple Music front-and-center on every iPhone. Just under four years after launch, Apple Music has 56 million subscribers paying $9.99 monthly.
The company's first special event of 2019 will take place March 25. And the big product announcement is expected to be a subscription version of Apple News. The Wall Street Journal refers to the new services as "Netflix for news." Available through the News app on iPhones, iPads and Mac computers, Apple reportedly is planning to charge subscribers the same $9.99 monthly fee it charges for Apple Music; it'll keep half and give the other half to publishers.
2/13
Streaming Video Service, Apple TV Dongle
Apple's second big service launch for 2019 is expected to be its biggest yet. Instead of a "Netflix for (blank)"-style service, this one is actually going to take on Netflix (NFLX).
Apple has been working on its streaming video service for years. In addition to ongoing negotiations with studios and networks, in 2018 the company began ramping up spending to produce its own original content. Apple's streaming video service is expected to launch as early as this spring — and could even be announced as part of the March special event.
Multiple tech sites have speculated that the company also might announce an Apple TV dongle to boost adoption of its streaming video service. The least expensive Apple TV streamer is currently $149 (and that version doesn't even offer 4K support), while market leader Roku (ROKU) sells a 4K streaming stick for $40. A more affordable and compact Apple TV has been on many wish lists for years, and the new Apple video streaming service may just be the catalyst that finally sees the company give in to demand.
3/13
iPhone 11
The iPhone's days of ever-increasing sales may be over, but the smartphone remains critical to Apple's success.
It's a given that Apple will unveil a successor to the iPhone XS this year, likely in September. Whatever it ends up being called (iPhone 11 or iPhone XI are the leaders in the clubhouse), it will face a market where folding and 5G smartphones from the likes of Samsung and Huawei are the new flagships. Apple is highly unlikely to offer either feature in 2019.
But early rumors say the iPhone 11 will be equipped with triple rear cameras, new Face ID cameras that support AR functionality, and a smaller notch. USB-C connectivity is a possibility, especially after the iPad Pro gained USB-C support last year.
Very likely features include a new A13 processor, regular and plus sizes, OLED displays (along with a lower-cost LCD version to replace the iPhone XR) … and another price hike.
4/13
iPhone SE 2
The iPhone SE received little attention, but it quietly became an important product for Apple. The $349 iPhone SE launched in 2016 was a truly affordable iPhone option; consider that the "low-cost" iPhone XR still starts at $749. Its 4-inch Retina display meant the iPhone SE also was the last of Apple's smartphones that people with smaller hands could comfortably use. And it still had a headphone jack.
Why all the past-tense references? Apple discontinued the iPhone SE last fall. However, the little smartphone has since made repeated appearances in Apple's online clearance store at $249, quickly selling out each time.
The demand is there. Apple is struggling in markets like China and India, where its flagship iPhones are too expensive for many potential buyers. Rumors have been flying that Apple could release an iPhone SE 2 in 2019 — one that keeps the current compact design and affordable price, but includes an updated processor and camera to keep it competitive.
5/13
iPad Refreshes, New iPad Mini 5
Speaking of small iOS products that are popular despite outdated specs, Apple is expected to release a new iPad Mini 5 in 2019. The current iPad Mini hasn't been updated since 2015 but still carries a $399 starting price. That makes it $70 more than the latest full-sized iPad, which has a processor that's two generations newer.
Some felt that the iPhone XS Max, with its 6.5-inch display, left no place for a small iPad with a 7.9-inch display. But it increasingly looks likely that Apple will release an iPad Mini 5 in 2019, as soon as spring. Look for the same form factor, an updated A10 processor, Touch ID and a lower-cost display similar to the one used in the current 9.7-inch iPad. The less-expensive display would let Apple drop the price of the iPad Mini 5 to be more competitive.
Apple has been paying more attention to the iPad in the past few years, and as a result, it ended a 13-quarter sales decline. Expect to see the entire iPad and iPad Pro lineup to get a refresh in 2019 as the company tries to keep that momentum going. While most models are likely to make do with processor upgrades, the 9.7-inch iPad may lose some bezels and get a screen bump to 10.2 inches.
6/13
MacBook Refreshes, New 16-Inch MacBook Pro
Apple finally released a new version of the popular MacBook Air, its best-selling laptop, late last year.
However, the 12-inch MacBook is now falling seriously behind the competition, with hardware dating to 2017. Now that Intel's (INTC) Amber Lake mobile processors are available, look for Apple to update the 12-inch MacBook in 2019.
MacBook Pro laptops received processor and display updates in late 2018, so they might not be refreshed this year. However, at least one prominent Apple analyst is expecting the company to release something interesting this year with particular appeal to creative professionals. Apple ditched "big" laptops when it discontinued the 17-inch MacBook Pro in 2012. But TF International Securities' Ming Chi Kuo is predicting Apple will release a new MacBook Pro model this year that features a screen in the 16-to-16.5-inch range and an "all-new" design.
7/13
New Mac Pro, Apple 6K Display
Apple has been working hard at winning back professional users, who had felt abandoned by the company's focus on thin designer laptops. The effort to win back these customers started with revised MacBook Pro laptops and the iMac Pro, but Apple also promised a new Mac Pro desktop computer in 2019.
The previous Mac Pro was an attractive but expensive misfire. Its cylinder design looked great but made upgrades difficult, it was incredibly pricey compared to the competition, and Apple hasn't updated it since 2013. That's right: A computer that is using processors and video cards from 2013 currently starts at $2,999. However, Apple will release a new Mac Pro in 2019, and this time the company publicly pledged to put customer requirements first, with a modular design that can be easily upgraded.
Apple executives also have said the company is working on a new display to go along with the Mac Pro. That has been a hole in Apple's lineup since the company discontinued its Thunderbolt display in 2016, with no replacement. Expect Apple to introduce a premium 31.6-inch Apple 6K Display this year to go along with that new Mac Pro.
8/13
All-Screen Seventh-Generation iPod Touch
For all intents and purposes, the iPod — once Apple's most important product — is dead. So says the conventional wisdom. All iPod models except the iPod Touch have been discontinued, and that sole holdout was last updated in 2015.
But references within iOS coding point to a new seventh-generation iPod Touch. The move would make sense. The iPod Touch doesn't take meaningful sales from the iPhone. In fact, by offering an affordable and compact (compared to an iPad) device that runs iOS and iOS apps, the company provides a starting point for kids to get hooked on the whole Apple ecosystem, making them ripe for an upgrade to an iPhone as they get older.
Like the iPad Mini 5, a seventh-generation iPod Touch is expected to look pretty much the same as the existing model but receive a new processor so it can run the latest version of iOS and current apps.
9/13
iPhone-Powered AR Glasses
For the past several years, Apple has been shuffling around the pieces needed to make a big play in augmented reality (AR). The company released ARKit to support AR apps in iOS in 2017, then updated it to ARKit 2 last year. in the meantime, Apple has been snapping up companies that specialize in AR technology, including lenses for AR glasses.
These moves may all come together by the end of 2019 with the release of iPhone-powered AR glasses. Using the iPhone — with its powerful and customized A-Series processor — to drive the glasses instead of trying to pack everything in a self-contained headset has several advantages. It would let the AR glasses be less obvious, would keep the cost down and (by pairing the two) could help to boost iPhone sales.
The key to success will be ensuring there are "killer" AR apps to drive demand – an area in which competitors have failed in the past. App Store developers have been experimenting with titles such as Pokemon GO over the past several years and the ARKit 2 framework is in place.
10/13
AirPods 2
Critics blasted Apple for eliminating the headphone jack in smartphones. However, that move appears to have paid off because the company has been very successful in the wireless headphone market. Despite early mocking about the design with its prominent stems that stick out of the ears, Apple's AirPods have been a runaway success. At one point, the AirPods accounted for 85% of the U.S. market for wireless headphones.
Given that success (and increased competition from companies such as Samsung), it should come as no surprise that Apple is expected to launch AirPods 2 in 2019. The second generation of Apple's wireless earbuds are expected to get hands-free Siri activation, noise cancellation, water resistance and a case that supports wireless charging. They may also get a price increase, given the current popularity and Apple's push to boost revenue.
11/13
StudioPods Wireless Headphones
With the proven success of the AirPods and the popularity of Apple-owned Beats headphones, the company is expected to expand its wireless headphones lineup in 2019.
Look for new premium, over-ear wireless headphones bearing the Apple logo, possibly called StudioPods. These are expected to be pricier than headphones such as Beats Studio 3 ($349.95) and would compete against leaders in the high-end audio market including Bose and Sennheiser. Features likely would include noise cancellation, Siri voice control, easy wireless connectivity (thanks to the W-series chip found in the AirPods and Apple Watch), wireless charging, studio-quality audio and a discrete modern design.
The StudioPods would be distinguished from Beats wireless headphones by studio tuning (as opposed to Beats' bass-heavy sound), the premium design (Beats tend to use flashy colors and shiny plastics), extra features such as Siri integration … and price.
12/13
AirPower Charge Mat
If there's one new Apple product that must be released in 2019, it's the AirPower Charge Mat wireless charger.
Why is this accessory so critical? For one thing, the company announced the AirPower in 2017, alongside the iPhone X and iPhone 8. The wireless charger was prominently displayed as "coming soon" on Apple's website, until it mysteriously disappeared last year amid rumors Apple was having technical issues with the device. If Apple doesn't release the AirPower in 2019, the company rightfully will be belittled for being the company that couldn't figure out how to do wireless charging.
Even more important than avoiding more egg on its face is the fact that all of Apple's current iPhones, the Apple Watch and expected 2019 releases (including AirPods 2) support wireless charging. Without its own wireless charger, Apple is leaving money on the table that third-party accessory makers are happy to collect.
13/13
Apple Watch Series 5
While the iPhone has been struggling, the Apple Watch has been surging. Apple doesn't release sales numbers, but research firm Strategy Analytics pegged Apple Watch shipments for 2018 at 22.5 million units, including 9.2 million in the fourth quarter (up 18% year-over-year). That's despite the fact that the cheapest Apple Watch Series 4 was $70 more expensive than the model it replaced.
2019's Apple Watch Series 5 might be the most important since the original. Apple wants its smartwatch to help replace that flagging iPhone revenue. It's still the top selling smartwatch in the world by a wide margin, but Samsung and Fitbit (FIT) have figured out the market, too, and both are gaining on Apple. Fitbit tripled its shipments in Q4 on the strength of the Versa. With the newly announced Samsung Galaxy Watch Active and Versa Lite Edition ($199 and $159.95, respectively), the Nos. 2 and 3 smartwatch makers are now seriously undercutting the Apple Watch on price.
The 2019 Apple Watch is expected to get the choice of a premium ceramic case (an option that was dropped last year) and a performance boost, but don't expect radical changes. The biggest factor this year may well be whether the competition from Samsung and Fitbit will force Apple to hold the line on the Series 5's price to keep from sending smartwatch buyers fleeing to the competition.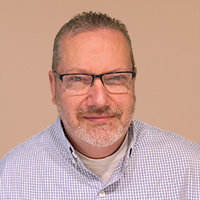 Contributing Writer, Kiplinger.com
Brad Moon is a tech industry veteran who contributes to a range of publications including Forbes, InvestorPlace and MSN Money and is an original member of the award-winning GeekDad blog. Over the past decade, he has also written about technology for Wired, Gizmodo, Shaw Media, About.com, The Winnipeg Free Press and others.