The 5 Best Stocks to Buy for Trump's Tax Cuts
It has been a long time coming, but a corporate tax overhaul may finally be here.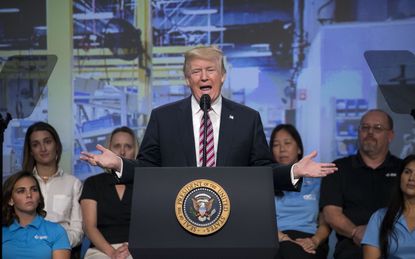 (Image credit: Getty Images)
It has been a long time coming, but a corporate tax overhaul may finally be here. In late September, President Donald Trump gave a rough outline of the changes he would like to see implemented. The details are a little sketchy, and Congress still must hash it out and formally craft legislation. But broadly, these are the details of the president's corporate tax cuts:
The corporate tax rate will be lowered from the current 35% to a more internationally competitive 20%.
Many corporate deductions would be eliminated.
There would be a one-time repatriation tax on untaxed overseas assets; in other words, assets held overseas will be taxed as if they had been brought home. The precise tax rate wasn't specified; the number is rumored to be about 10%.
Again, this is a rough outline, and Congress undoubtedly will do what Congress does and muddle it up. But the bill that eventually makes it to President Trump's desk probably will look like the outline you see above.
And while there will be winners and losers, they won't necessarily be who you think.
Despite partisan cries to the contrary, it's really not a gift to "big business." America's largest multinationals already employ armies of tax lawyers, lobby for specific deductions and keep most of their foreign income offshore. Big boys like Apple (AAPL (opens in new tab)) and Alphabet (GOOGL (opens in new tab)) don't pay anything close to the standard 35% rate. It's small- and midsize businesses that can't afford Apple's or Alphabet's attorneys that get stuck paying the full rate and thus stand to potentially benefit the most.
This is not to say that the large multinationals won't benefit, of course. While the repatriation tax smells like a cash grab by the government, it's great news for shareholders. Money that effectively has been dormant overseas likely will be brought home, and a fair bit of it is likely to get paid out as dividends and share buybacks.
Today, I'm going to highlight five companies that stand to benefit from Trump's tax cuts. Each would benefit in slightly different ways, but all will potentially enjoy windfalls. Shareholders, take note!
Data and stock prices are as of Oct. 2, 2017, unless otherwise indicated. Click on symbol links in each slide for current share prices and more.
Contributing Writer, Kiplinger.com
Charles Lewis Sizemore, CFA is the Chief Investment Officer of Sizemore Capital Management LLC, a registered investment advisor based in Dallas, Texas, where he specializes in dividend-focused portfolios and in building alternative allocations with minimal correlation to the stock market.