5 Stock Picks for America's Everlasting Trade War
With a "Tariff Man" in office, investors have been buffeted by volatility and uncertainty.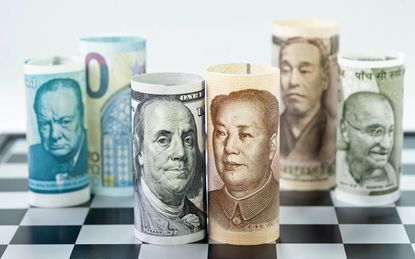 (Image credit: Getty Images)
With a "Tariff Man" in office, investors have been buffeted by volatility and uncertainty. Where will President Donald Trump's tariffs land next? Sure, Mexico is off the list for now – but it's clear that Trump favors the use of tariffs for more than just trade imbalances, which means anywhere on the map (including countries we've reached agreements with) is fair game for future trade wars.
Which means it's important to consider stock picks not just based on the current tariff situation, but on the possibility that Europe, Mexico and other regions could become more problematic in the future.
Finding insulation from the tariff effect is trickier than it sounds. For instance, most publicly traded casual dining restaurants operate most of their restaurants in the U.S. Thus, catering to primarily American consumers insulates them, right? Unfortunately, no. A University of California at Davis study shows 43% of fruit and vegetables – everything from strawberries and watermelons to avocados and onions – come from Mexico.
Autos? More than 1,000 Chinese companies export parts to the U.S.; some U.S. firms already are switching their suppliers. Apparel? A lot of that textile work in China is going to, um, come out in the wash. Even utilities are tricky. Sure, their customers are almost entirely domestic. But many are converting to wind and solar power, and while those natural resources are American, many of the solar panels and wind turbines are not.
Tariffs have far more impact than just the products themselves, too. The U.S. has slid from the fifth-most popular destination for Chinese tourists to 10th, thus losing some share of the estimated $315 billion they spend overseas. When considering the trade war, the warnings were about industrial companies and semiconductor firms. Few were thinking about the lodging industry.
Here, then, are five stock picks with trade war safety in mind. They come from a handful of disparate industries that provide more insulation from current and future trade salvos than most.
Data is as of July 24. Dividend yields are calculated by annualizing the most recent payout and dividing by the share price.
0
Contributing Writer, Kiplinger.com
Email: ken.berman@gorillatrades.com
Website:
gorillatrades.com
(opens in new tab)
LinkedIn:
Gorilla Trades
(opens in new tab)
Phone: (866) 222-6639
Ken Berman has been buying and selling stocks since he was a teenager and met with early success trading then-fledgling biotech stocks like Amgen, Biogen and Immunex. He later became a broker and worked for two wire houses, where he developed a proprietary system for buying and selling equities. In 1999, Mr. Berman formalized his method under the Gorilla Trades name and now has subscribers in the U.S. and 55 other countries around the world.