10 Cancer-Fighting Health Care Stocks to Buy
Cancer.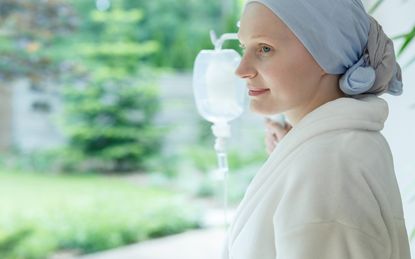 (Image credit: Getty Images)
Cancer. The mere mention of the word can drudge up discomfort, as most everyone knows it's second only to heart disease when it comes to claiming lives. Unlike heart disease, though, cancer is difficult to prevent and similarly difficult to fight.
The battle against the myriad forms of cancer, however, also is an opportunity for investors – namely, in health care stocks.
Sales of drugs used to fight the disease are expected to exceed $160 billion by 2021. But because there are so many different types of cancer, that revenue has been and will continue to be widely distributed among the pharmaceutical makers of superior cancer-fighting solutions.
Here's a rundown of the market's top cancer-fighting health care stocks. They come in all shapes and sizes. Some are tightly focused – perhaps only making one drug – while some are arguably overly diversified. In all cases, however, a cancer treatment has the potential to be a game-changer – not just for investors, but for cancer patients as well.
Data is as of July 19, 2018.
1/10
Incyte
The past 12 months have been nothing less than miserable for Incyte (INCY, $70.11) shareholders. Shares have fallen roughly 50% from their July 2017 peak, and the stock's suffered a couple of downgrades just recently. RBC Capital Markets analyst Brian Abrahams downgraded Incyte in June, for instance, lamenting the lack of near-term revenue clarity.
Don't let the stock's poor performance or downgrades mislead you. Incyte has a powerful cancer-fighting drug called Jakafi in its portfolio, and it's growing quite nicely, even if not growing at breakneck speed.
Jakafi, in simplest terms, regulates the production of red blood cells in bone marrow. It's a treatment for polycythemia vera, which is the production of too many red blood cells. Yet it's also a treatment for myelofibrosis, which is a form of cancer that prevents enough red blood cells from being made. They're both relatively uncommon forms of cancer, but that has worked to Incyte's advantage because competition is minimal.
The numbers speak for themselves. Last quarter, Jakafi's net revenue of $313.7 million was 25% better than the year-ago figure. And the company has only scratched the surface with this drug; Jakafi still is in three more unfinished trials.
Bolstering the bullish argument is a pipeline that will not only deepen its oncology bench, but widen its reach to rheumatology, immunology and dermatology markets. All told, Incyte has 17 molecular targets in the hopper, and this year's expected swing to a profit on the back of Jakafi's sales means the company can afford to keep that pipeline moving.
2/10
AbbVie
Pharmaceutical giant AbbVie (ABBV, $89.95) recently was forced to dish out some disappointing news. Its oncology drug Imbruvica, when combined with ibrutinib as a therapy for large B-cell lymphoma (DLBCL), didn't perform well enough to continue its trials.
Don't read the headline in a vacuum. Imbruvica still is approved in the United States as a treatment for five other forms of blood cancer and has earned the FDA's green light for a total of eight specific ailments. Marc Lichtenfeld, Chief Income Strategist for the Oxford Club, points out that "AbbVie's Imbruvica is being studied in more than 130 clinical trials," which includes some testing as a treatment for solid tumors.
Point being, AbbVie's future hardly hinged on that one trial.
Imbruvica sales still were up 38.5% year-over-year last quarter, reaching $762 million. Annualized, that's still not close to the peak yearly sales of $7 billion that AbbVie expects the drug to eventually reach once more trials start to pan out.
"All that plus a robust pipeline and a 4% dividend yield make AbbVie not only my top cancer stock but my top pick in the healthcare sector," Lichtenfeld says.
3/10
Seattle Genetics
Seattle Genetics (SGEN, $70.52) may be a one-trick pony among cancer stocks, but the cancer-treating platform Adcetris is a pretty solid trick.
Adcetris is an antibody-drug conjugate, meaning it attaches to another chemotherapy and then helps guide that drug to specific kinds of cancer cells. In this case, Seattle Genetics is targeting CD30, which is a protein found only on the cell membrane of cancerous cells, and then introducing anti-cancer agent monomethyl auristatin to those diseased cells. The drug has been approved as a means of treating Hodgkin lymphoma as well as several types of non-Hodgkin lymphoma.
The one-two-punch combination works well enough to drive a 36% increase in sales of the drug during the first quarter of 2018.
Seattle Genetics is hardly resting on Adcetris' laurels. Not only is the company working on new uses of Adcetris, but it's also developing other drugs including enfortumab vedotin, tisotumab vedotin, tucatinib and ladiratuzumab vedotin. Don't let the tongue-tying names intimidate you. They're all like Adcetris in that they "find" proteins unique to cancerous cells and deliver a cancer-fighting payload to them. The potential of this drug-delivery approach is virtually unlimited.
4/10
Celgene
Pharmaceutical outfit Celgene (CELG, $85.34) does a little of everything, from psoriasis to multiple sclerosis to beta thalassemia, a disorder that prevents a body from producing enough hemoglobin.
Its heavy hitter, however, is cancer, on the back of Revlimid.
Revlimid is a therapy for myelodysplastic syndrome, multiple myeloma, and mantle cell lymphoma, and it takes a multi-pronged approach at combatting each. Not only does it tweak the immune system and reduce the blood flow to cancerous cells, it helps reprogram myeloma cells to die on their own. The company sold $2.2 billion worth of the drug in the first quarter alone, as Revlimid has proven a potent option. It's by far Celgene's biggest seller.
Those who know the Celgene story well will know Revlimid's patent protection is nearing an end (by drug standards, anyway). The end begins in 2022, and the end of the end – assuming it can't extend its patent protection – arrives in 2027. Argus analyst David Toung explained of his downgrade in May, "While (Celgene's) pipeline assets are promising, their combined potential revenue is not enough to completely replace Revlimid, in our view."
That's still plenty of time for Celgene to develop or acquire something else, as most good biopharma names are always doing. Indeed, the company bought Juno Therapeutics earlier this year to bolster its oncology portfolio. Meanwhile, drug development partnerships with outfits like Acceleron (XLRN) and Bluebird Bio (BLUE) look quite promising as potential profit centers.
5/10
Bluebird Bio
If you think its partnership with Celgene is the only reason Bluebird Bio (BLUE, $178.95) is one of the noteworthy healthcare stocks with a strong cancer bent, think again. While partnerships are a key part of its business strategy and it's looking well beyond oncology drugs, its immuno-oncology program is the one turning heads.
Bluebird Bio is building a cancer pipeline largely on the potential of CAR-T, or chimeric antigen receptor T-cells. This essentially is a means of tweaking a patient's own immune system in a way that makes it more capable of fighting cancer for itself. In short, T-cells are genetically altered to find a protein that's unique to cancer cells.
Its lead CAR-T drug, bb2121, is being co-developed with Celgene as a treatment for relapsed/refractory multiple myeloma. Although it's only in phase 1 trials right now, it holds great promise. Last month, an update on that trial indicated patients involved in the test were able to stave off progression of the disease for a median timeframe of 11.8 months.
That's only the beginning. The approach could be used to address all sort of cancers and is ready to be tapped by new partners.The company's other pipeline items could help keep it afloat, or attract a suitor. Evercore ISI analyst Josh Schimmer recently lauded the company's commercialization potential of not just bb2121, but also Bluebird's investigational sickle cell disease drug LentiGlobin.
6/10
Merck & Co.
Merck & Co. (MRK, $62.51) may be one of the world's most, if not the most, prolific healthcare stocks. It has been around forever and does a little bit of everything.
That diversity can be a two-edged sword. It takes the rough edges off the inherently volatile results of pharmaceutical sales, but it dampens the positive impact of a true blockbuster drug.
It's a double-edged sword, but one that doesn't appear to be cutting Merck this time around. Its Keytruda has proven revolutionary … despite almost being dumped back in 2009 as a prospect not even worth developing. By a subtle stroke of luck, the drug's cultivation got just enough funding. The rest, as they say, is history. Keytruda is the company's best-selling drug, driving nearly $1.5 billion worth of revenue during the first quarter. That was 142% better than the year-earlier tally, with that sales explosion reflecting incredible efficacy and a string of new approved uses.
Citi analyst Andrew Baum raised the bar on Keytruda last year, writing, "Merck's success with Keytruda has clearly outperformed our initial expectations which were based on Merck's historic absence as a major oncology player." That optimism was underscored by Baum's much-improved peak annual sales outlook for the oncology drug, from $9 billion to $16 billion.
7/10
Clovis Oncology
With a name like Clovis Oncology (CLVS, $47.04), it's difficult to argue it's worthy of a spot on a list of cancer stocks. But the merits of Clovis' portfolio – regardless of the company's moniker – would have earned a spot on the list anyway.
Like Seattle Genetics, Clovis is currently a one-trick pony … but what a pony! Its rucaparib is a polymerase (PARP) 1, 2 and 3 and inhibitor in trials as a narrowly focused treatment for ovarian cancer as well as prostate cancer. Both arenas are competitive, but neither disease has a proverbial show-stopper that oncologists regard as a one-stop solution. The drug also is in trials as a treatment for breast, gastroesophageal, pancreatic, lung and bladder cancers.
In the meantime, the drug is driving some revenue. Rucaparib generated $18.5 million in sales during the first quarter as a third-line therapy for BRCA-mutant ovarian cancer, up from a top line of $7 million in the comparable quarter a year earlier.
That particular usage of the drug points to a nuanced but important detail about Clovis Oncology: It's not trying to save the world from all types of cancer. It's taking a low-risk, low-cost approach to developing drugs that address relatively narrow categories of cancer, where it can dominate a niche market.
By picking battles it knows it has good odds of winning, Clovis is serving investors better in the long run.
8/10
Tesaro
Most investors likely haven't heard of Tesaro (TSRO, $40.23), and most investors probably haven't heard of Zejula.Both are worthy of a closer look.
The latter is a cancer drug made by the latter. And the $49 million in first-quarter sales is a great start for the newly approved ovarian cancer therapy. Zejula was only given the FDA's green light early last year.
The presence of PARP in healthy cells can be a good thing, as it causes broken or damaged DNA to repair itself. PARP, however, also can cause cancerous cells to repair their DNA, allowing the disease to continue spreading. Zejula is an inhibitor of certain kinds of PARP, aiming at cancerous cells' DNA. If that errant DNA can't be repaired, that cell is programmed to die on its own, thus ridding the body of the diseased cell (and preventing it from replicating).
Tesaro has been and will continue to lose money for the foreseeable future. But this year's expected sales growth of more than 35% followed by next year's projected top-line growth of more than 50% may be more than enough to draw a bullish crowd.
The company continues to develop a promising pipeline. Niraparib, for instance, is in several anti-cancer trials. Tesaro believes niraparib's annual revenue could reach $5 billion, once all of its potential applications are confirmed and approved.
9/10
Bristol-Myers Squibb
Empliciti, Yervoy and Sprycel are all cancer drugs made by Bristol-Myers Squibb (BMY, $56.54). Its leading oncology treatment and best-selling drug, however, is a much more familiar name: Opdivo. Its $1.5 billion in first-quarter revenues was up 34% from Q1 2017's tally and accounted for nearly 29% of overall sales.
Both numbers (Opdivo's total sales and its importance to Bristol-Myers) still are growing.
Opdivo is another immunology drug. It works by inducing a patient's own cancer-fighting T cells to recognize and then attack diseased cells by inhibiting the activity of a protein called PD-1. The presence of this particular protein can "trick" the immune system into thinking a cancerous cell is a normal, healthy cell that can be ignored, so by suppressing PD-1's function a patient's immune system can effectively fight the disease on its own.
So far the drug is approved to treat several forms of melanoma, lung cancer and carcinoma, as well as certain Hodgkin lymphoma cases, but new indications are being approved on a regular basis.
It's also long-lasting. In March, for instance, Opdivo was given the FDA's green light as the only PD-1 inhibitor that can be administered as infrequently as once every four weeks, underscoring its efficacy.
10/10
AstraZeneca
Last but not least among the top healthcare stocks that would make for good cancer plays, AstraZeneca (AZN, $37.03) hasn't historically been a name that comes to mind.
But this isn't your father's AstraZeneca.
The cancer road taken by relatively new CEO Pascal Soriot hasn't been easy. Last July, AZN shares plunged after a ballyhooed lung cancer trial didn't drive the hoped-for results, calling into question the company's new and sweeping oncology ambitions. But cancer research is a hit-or-miss business, and it only takes one or two hits to turn a normal biopharma company into an oncology powerhouse.
Tagrisso, a recently approved first-line lung cancer treatment, may well be that kind of drug for AstraZeneca. The company had been suggesting potential annual sales on the order of $3 billion, but some analysts see much more in store. UBS analyst Jack Scannell recently wrote, "It has relatively low incremental selling costs given Astra's other lung cancer products, use in a very well defined patient population, and low competitive intensity plus good efficacy and tolerability among eligible patients," leading Scannell to estimate peak annual sales of $5.8 billion.
AstraZeneca's pipeline isn't too shabby either. Lynparza – co-developed with Merck and approved for some second-line cases of ovarian cancer, also shows strong results as a first-option therapy. Meanwhile, its moxetumomab pasudotox is showing promise as a first-line treatment for certain leukaemias (HCL) in its phase 3 trial.
It's not always been pretty, but AstraZeneca us undeniably back in the oncology game, and ranks among the market's most compelling cancer stocks.
Contributing Writer, Kiplinger.com
James Brumley is a former stock broker, registered investment adviser and Director of Research for an options-focused newsletter. He's now primarily a freelance writer, tapping more than a decade's worth of broad experience to help investors get more out of the market. With a background in technical analysis as well as fundamental analysis, James touts stock-picking strategies that combine the importance of company performance with the power of stock-trade timing. He believes this dual approach is the only way an investor has a shot at consistently beating the market. James' work has appeared at several websites including Street Authority, Motley Fool, Kapitall and Investopedia. When not writing as a journalist, James works on his book explaining his multi-pronged approach to investing.