10 Products in Short Supply Due to the Coronavirus
Certain consumer goods are getting scarce, and we don't just mean hand sanitizer and toilet paper.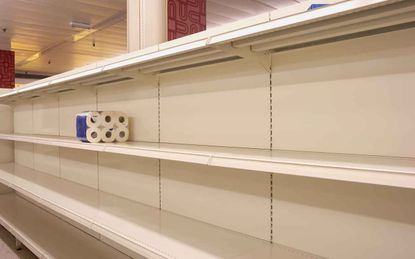 (Image credit: Getty Images)
Certain consumer goods are getting scarce, and we don't just mean hand sanitizer and toilet paper. Expect a number of products to be in short supply this spring. Many imports from China didn't make it onto cargo ships in January or February.
Inventories are falling because of delayed shipments of raw materials and components sourced from Asia, but supply-chain breakdowns go beyond China. Businesses that import parts or materials from Southeast Asia are finding out that many of those suppliers depend on China for raw materials. One-third of Cambodia's garment factories have shut down for lack of Chinese fabrics. Myanmar, Bangladesh, Thailand, Pakistan and other countries are experiencing similar China-related shortages.
China's factories should be humming again by the end of this month, but it'll take longer than that to make up for lost production and restock inventories.
TOOL: Stimulus Check Calculator (Find Out How Much You Will Get)
1/10
Medicines
Some medicines and prescription drugs -- such as generics, some antibiotics, the heart drug heparin, acetaminophen, and others -- may soon be in short supply. India manufactures many of these, but the ingredients tend to come from China. The FDA is monitoring the situation and maintains a list of drug shortages. If you rely on a generic drug, consider reaching out to your doctor to check on name-brand alternatives or getting a prescription for a longer supply.
2/10
Consumer Electronics
Smartphones, such as the iPhone11 and phones by Xiaomi and Realme, the Apple Watch, televisions from TCL and Xiaomi, and most notebook computers will be harder to find or will see higher prices. If you're in the market for a gadget such as a new phone or virtual-reality headset, you might want to buy now. Tablets are OK, since their production was less disrupted.
3/10
Garlic
70% of the garlic consumed in the U.S. comes from China. Garlic prices are up 30%, according to the U.S. Department of Agriculture. You might want to set some aside to keep enough zest in your cooking.
4/10
Vaping Devices
Shenzen, China, near Hong Kong, is referred to as "the vaping capital of the world" for all of the vape manufacturers located there. Most of this production was disrupted when China restricted worker movement in February. A shortage of coils and vaping hardware in the U.S. is expected to last into April.
5/10
Auto Parts
There may be spot shortages of certain auto parts in the U.S. That's because 12% of U.S. imports of auto parts come from China, more than any other country except for Mexico.
China is also an important supplier for other countries' car companies, and so the shortage of auto parts may in turn lead to minor shortages of new car models at U.S. dealerships. Honda, Nissan, and Mazda have all had to curtail production a bit.
6/10
Solar Panels
There is a shortage of wafers and solar glass from China. Prices of these panels are rising.
7/10
Toys and Games
Baby Yoda -- along with other toys and games produced in China -- is in danger. Retailers may not be able to restock supplies for mid-summer sales.
8/10
T-shirts and Socks
The apparel industry has been reliant on China for fabrics and clothing. Retailers generally keep a low inventory of standard items such as t-shirts and socks, so these items will likely run out first before other apparel.
9/10
Air Conditioners
China makes 80% of the world's air conditioners. Gree and Chigo are two of its well-known brands that have had production interruptions.
10/10
New Movies on the Big Screen
The coronavirus will have a damaging impact on the U.S. movie box office. MGM's next major Bond film, No Time to Die, recently shifted its release from April 10 to Thanksgiving. Mulan and New Mutants have not set new release dates yet. F9, the ninth Fast and Furious movie, has been delayed a full year to April 2021, bumping back even further the planned 10th F&F movie.
More major films will delay opening days. Box office sales aren't down yet this year versus 2019, but studios won't want to risk it for certain films. The closure of theaters throughout the U.S. and skittish consumers could hurt sales for months. 2021 could bounce back strongly as delayed blockbusters finally get released.

Staff Economist, The Kiplinger Letter
David is both staff economist and reporter for The Kiplinger Letter, overseeing Kiplinger forecasts for the U.S. and world economies. Previously, he was senior principal economist in the Center for Forecasting and Modeling at IHS/GlobalInsight, and an economist in the Chief Economist's Office of the U.S. Department of Commerce. David has co-written weekly reports on economic conditions since 1992, and has forecasted GDP and its components since 1995, beating the Blue Chip Indicators forecasts two-thirds of the time. David is a Certified Business Economist as recognized by the National Association for Business Economics. He has two master's degrees and is ABD in economics from the University of North Carolina at Chapel Hill.