Spring Home Maintenance Checklist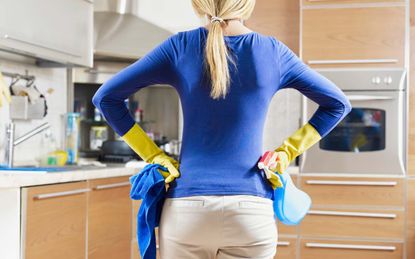 (Image credit: Thinkstock)
As you go about your annual spring-cleaning ritual, take a few additional steps to save money on energy bills this summer, improve your home's appearance and ward off big-ticket repairs later.
Here are 18 things for you (or the handyman) to tackle now to help prepare your home for the warmer months and keep it in top shape.
1/18
Inspect the AC, Part 1
For about $75 to $200, a technician will tune up your cooling system to manufacturer-rated efficiency -- and you won't sweat the first hot weekend with an out-of-commission air conditioner.
Look for a heating and air conditioning contractor that belongs to the Air Conditioning Contractors of America (opens in new tab), employs technicians certified by the North American Technician Excellence (NATE) program and follows the protocol for the ACCA's national standard for residential maintenance. Call your electric utility to see whether it offers incentives.
Note: Dirty filters make your air conditioner work harder, increasing energy costs and possibly damaging your equipment. Check them monthly and replace as needed, or at least every three months.
2/18
Inspect the AC, Part 2
Air conditioners draw moisture from interior air, called condensate, which must run off outside. If sediment and algae clog the drains, water may back up, making your home more humid or creating water damage. Technicians will check the drains during a tune-up. If they come for an emergency clean-out, it could cost up to $150.
If you live in a humid climate, you may want to check and clean the drains yourself periodically. For an oddly riveting demonstration, watch this YouTube clip (opens in new tab) as the video's star suctions gobs of algae from a drain with a wet vac.
3/18
Put the Temperature on Autopilot
With an initial investment of $20 to $250 for a programmable thermostat, Energy Star says you can save about $180 annually on cooling and heating bills -- if you can live with higher indoor temperatures in summer (and cooler temperatures in winter). Set the "hold" or "vacation" feature for a constant, efficient temperature when you're away for the weekend or on vacation, or if you have a Wifi-enabled version, reset the temperature from your smart phone.
In summer, you can make those settings more tolerable if you install ceiling fans. Just remember that a ceiling fan cools people, not a room, so turn it off when you leave the room.
4/18
Re-Install AC Window Units
Before you heft units to the window sills, check out this YouTube video (opens in new tab) for practical tips that will help you maximize energy efficiency -- and keep out burglars and bugs, too.
Also, take a moment to clean them. Remove a unit's front grill, then its air filter, and clean dust and dirt from the filter. Check the filter monthly throughout the cooling season.
5/18
Clean the Swamp Cooler
If you live in a hot, dry climate and cool your home with an evaporative, or "swamp," cooler, you must drain and clean the cooler seasonally to remove built-up of sediment and minerals.
Energysavers.gov (opens in new tab) says that the more a cooler runs, the more maintenance it will need, requiring that you look at the pads, filters, reservoir and pump at least monthly. For more information on evaporative coolers, especially tips for saving water when using it in drought conditions, visit www.h2ouse.org (opens in new tab).
6/18
Caulk the Cracks
If the gap around a door or window is wider than a nickel, you need to reapply exterior caulk, says Bill Richardson, past president of the American Society of Home Inspectors. Check window-glazing putty, too, which seals glass into the window frame.
Add weatherstripping around doors, making sure that you can't see any daylight from inside your home. You'll save money on air conditioning and you won't have to repeat this task in the fall.
7/18
Clean Out the Gutters
Nature's detritus -- decomposed leaves, twigs, and spring petals and seeds (think maple-tree "helicopters") -- may be worse in spring than in fall. Gutter cleaning generally costs $90 to $225 for a 2,000-square-foot home (with about 180 linear feet of gutter).
Add extensions to downspouts to carry water at least 3 to 4 feet away from your home's foundation. You can use 4-inch corrugated plastic pipe (about $10 for 6 feet
8/18
Repair Your Roof
An easy way to inspect the roof to find damaged, loose or missing shingles without risking life and limb is to use a pair of binoculars. If need be, hire a handyman to repair a few shingles ($95 to $125 for asphalt shingles, according to www.costhelper.com (opens in new tab)). If the damaged section is more extensive, you'll need a roofer (who will charge $100 to $350 to replace a 10-by-10-square-foot area). Check and repair breaks in the flashing seals around vent stacks and chimneys, too.
If your home has a flat roof with a parapet (a short wall around the perimeter), look for wear and tear in the roof surface. Check the flashing that seals the joint between the parapet and roof. Heavy snow can split the flashing, resulting in leaks. If you need repairs, look for a roofer at the Web site of the National Roofing Contractors Association (opens in new tab).
Clean out any roof drains or scuppers (openings in the parapet that allow water to drain) to avoid ponding, which could damage your roof and cause leaks below. A "roof repair" or "sewer and pipe cleaning" company can help.
9/18
Remove Stains From Your Roof
If dark streaks and stains blight your roof, it has an algae problem. Moss is not only an aesthetic problem, but it can cause asphalt shingles to curl or lift and blow off in high winds.You can get rid of both problems by using a garden sprayer to apply a 50/50 solution of water and bleach, which you rinse after 10 to 15 minutes. (Before you start, wet down or cover plants below.) Don't scrub or pressure wash lest you damage shingles.
You can hire a professional roof cleaner for about 20 to 30 cents per square foot, according to www.costowl.com (opens in new tab). Roof cleaning can also restore cedar-shake and tile roofs to their original brightness.
10/18
Pressure Wash Your Home
Spring-clean your home's exterior to remove accumulated dirt, mold, stains and the like from the siding, deck, sidewalks, driveway and garage floor, fences, and lawn furniture. You can rent a pressure washer for $40 to $75 a day or hire help for 8 to 80 cents per square foot, according to CostHelper.com, depending on the amount and type of crud. However, used incorrectly pressure washers can harm your home. Before you start see this advice from Tim Carter of Ask the Builder (opens in new tab).
11/18
Wash the Windows
It's only when the windows are clean and the spring sun shines in that you'll realize how dirty they were. If this task isn't on your DIY list, you'll generally pay $2 to $7 per pane for a pro to do the job. And don't forget the screens (50 cents to $5 per screen, depending on size). You may have to pay more for cleaning on a third or fourth story.
Before washing the glass, clean out the sills and window tracks with a soft brush or vacuum attachment. Pour a small amount of water into the sill to ensure that weep holes, which drain rainwater to the exterior, aren't clogged up. If the water doesn't exit, use a piece of thin wire to gently clear the hole. Window washers may charge extra to do this.
12/18
Repair Sidewalks and Driveways
Fix any breakdown in concrete or asphalt before it worsens. You can patch or fill surface cracks, chips or flaking in concrete yourself using cement-repair products, such as those made by Quikrete (to learn how, fill concrete cracks (opens in new tab) at YouTube.com). For deeper cracks, settling or sunken concrete, or frost heaves (when moisture beneath the concrete has frozen and jacked up the slab), call a pro, whether a handyman or a concrete contractor (www.concretenetwork.com (opens in new tab)). For approximate costs by project, visit CostHelper.com and search for Concrete Repair Cost (opens in new tab).
Asphalt is harder to work with, so call a pro. Look for a member of the >National Asphalt Pavement Association (opens in new tab) or look under "paving contractors" in the Yellow Pages.
To increase the longevity of your driveway, have asphalt resealed every two to five years, depending on climate and wear patterns, and have concrete resealed every one to three years (you can probably do the concrete job yourself). A sealing contractor may charge $244 to seal a typical 20-by-50-foot driveway in good condition, according to DIYorNot.com.
13/18
Keep Your Basement Dry
An informal survey of homeowners reveals that the vast majority would rather have multiple root canals than cope with a basement that periodically gets wet. Simple steps to prevent flooding are outlined in How Not to Get Soaked. If you have a sump pump, make sure it's operating properly (see the discussion of sump pumps at www.statefarm.com (opens in new tab), or call a plumber).
If water seeps through the foundation walls (does your basement smell musty? are the walls stained?), the best solution is probably to excavate the exterior wall and apply a waterproofing sealant (about $30 per square foot of below-grade wall), and install a wall and footing drainage system, says professional engineer Kenneth Fraine, of Leesburg, Va. Fraine says that if your home is on a slope, an exterior drain pipe leading away from the foundation (about $1,000) is better than a sump pump. "Gravity never fails," he says.
14/18
Check Your Deck
Resealing is always a good idea to protect the wood. But more important, before you invite the clan for a reunion, make sure your deck can handle the load. The North American Deck and Railing Association says that deck components inevitably age, but that salt air can hasten deterioration and heavy snow can cause stress damage.
At a minimum, test several areas of the deck for decay, especially those that tend to stay damp. Two signs: The wood is soft and spongy, and it doesn't splinter if you poke it with an ice pick or screwdriver. (For a complete checklist, visit www.nadra.org (opens in new tab), or find a home inspector at www.homeinspector.org (opens in new tab).)
15/18
Call a Chimney Sweep
At the end of the heating season you'll have no problem getting an appointment. Look for chimney sweeps certified by the Chimney Safety Institute of America (opens in new tab) and ask for a "level 1 chimney inspection and sweeping." The sweep will make sure that the chimney caps are in place and the damper is working properly. With a wood-burning fireplace, you can close the damper whenever the fireplace is not in use. In summer, you'll save energy and reduce unpleasant odors carried by the inflow of air and aggravated by humidity.
For the greatest energy savings, insert a fireplace "draft stopper" in the flue, preferably after you've had the chimney cleaned.
16/18
Prepare to Mow
A dull lawn mower blade doesn't slice, but instead tears grass, leaving it vulnerable to disease, sun damage and insects. A blade typically needs sharpening once or twice a year, or more often depending on how big your yard is, how frequently you mow and the type of grass you have, according to the University of Florida.
You should also tune up your lawn mower every three months or after every 25 hours of use to increase its efficiency and reduce polluting emissions. Follow the manufacturer's instructions to change the spark plug(s), oil and oil filter (or clean it). A pro tune up will cost an average of $75, but you can do the job yourself for about $15 -- the cost of oil and parts. Do-it-yourselfers should check out the video tutorials (opens in new tab) by Lowe's Home Improvement.
17/18
Reset an Irrigation System
If you have an irrigation system, you may be overwatering (and wasting money on water bills) because a controller isn't properly set for your yard's needs or because of broken or leaky components. A certified irrigation auditor (to find one visit www.irrigation.org (opens in new tab)) will charge from $150 to $300 for a visual assessment of your system, and an in-depth audit (that tests water application) will run $400 to $700. You water utility may provide an audit for free. For tips on getting an irrigation audit and other ways to use less water on your yard, see Tips for Watering Wisely (opens in new tab)from the EPA's WaterSense program.
18/18
Lose the Lint
Even if you clean your clothes dryer's lint trap before every use, the vent accumulates lint over time, like plaque in your arteries, says Richardson. That's especially likely if snow covered the exterior backdraft damper for a while last winter.
A clogged vent can reduce your dryer's efficiency and create a fire hazard. If you're up for doing it yourself, check out this how-to guide to dryer-vent cleaning (opens in new tab) from About.com.
Contributing Writer, Kiplinger's Personal Finance
Esswein joined Kiplinger in May 1984 as director of special publications and managing editor of Kiplinger Books. In 2004, she began covering real estate for Kiplinger's Personal Finance, writing about the housing market, buying and selling a home, getting a mortgage, and home improvement. Prior to joining Kiplinger, Esswein wrote and edited for Empire Sports, a monthly magazine covering sports and recreation in upstate New York. She holds a BA degree from Gustavus Adolphus College, in St. Peter, Minn., and an MA in magazine journalism from the S.I. Newhouse School at Syracuse University.