9 Small Home Improvements with Big Impact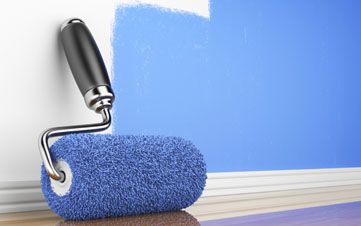 (Image credit: Thinkstock)
These home improvement projects, each costing less than $1,600, will enhance your home's appearance and boost its value.
Take a look.
Costs for these projects assume midrange materials for a typical-size home. Labor costs are based on estimates from DIYorNot.com and ClearEstimates.com.
1/9
Upgrade Your Front Door
A new front door can improve your home's curb appeal, energy efficiency and security.
Cost: $1,360 (pro), $880 (do-it-yourself)
Details: Install a prehung wood door (about $400), replacing the door threshold and adding new trim. Wood delivers an authentic, handcrafted look, but it will wear best if it's under a protective overhang, and it will require regular painting or varnishing. Doors made of steel or fiberglass are also affordable, as well as durable and easy to maintain even if exposed to the elements. You'll also need a new lockset (door handle, knob and lock); locksets run about $100 to $190 at home centers.
If your current door frame is in good condition, you could save money by buying a door slab without a frame. But a prehung unit, with the door hinged to a frame, will be precisely fitted and weather-stripped. Look for Energy Star–qualified models to help you save on heating and cooling bills.
The federal tax credit for installing energy-efficient doors and windows ended last year, but check with your local utility to see if it offers incentives. Local building codes in high-wind areas (such as the coastal areas of Texas and Florida) may require doors to have high-impact glass.
2/9
Replace Porch Columns
If posts or columns are deteriorating or at odds with your home's style (say, turned Colonial posts on a bungalow), consider a redo.
Cost: $635 (pro), $450 (DIY) for two columns
Details: Replace old posts or columns framing the front entrance of your home with columns made of fiberglass, which support the weight of the porch roof, resist the weather and insects, and come in many sizes and styles.
If posts are in good condition, you could change their look more easily with column covers (fiberglass columns split in half and rejoined with adhesive) or wraps made of vinyl. A split version of an 8-inch column costs about $360. Vinyl wrap for a 4-by-4-inch post costs about $290.
3/9
Light Up Your Yard
Give your home's exterior a welcoming glow with energy-efficient exterior lighting.
Cost: $1,460 (pro), $895 (DIY)
Details: Add a lamppost to your front yard and bury the wire that connects the light to a circuit inside your home. Update your front-porch light in the same style. Look for Energy Star–qualified models (about $500 for a post and fixture plus a front-porch light).
Low-voltage path lights create steppingstones of light along your front walk that can accent landscaping features. You don't have to bury the wiring for these lights; you can hide it under mulch or gravel. A transformer that you plug in to an exterior electrical outlet reduces the voltage from your home to a level that's appropriate for exterior use. Look for path light fixtures made of aluminum, copper or bronze and lit by LEDs. They typically cost from $60 to $200 apiece. (Check out options at lampsplus.com (opens in new tab) or lightingdirect.com (opens in new tab).) You may need only one for every 10 to 12 feet of sidewalk (this project assumes you'll need five lights).
Solar path lights are an inexpensive alternative and don't need to be wired together, but they require batteries and won't work well unless they're placed in direct sunlight to recharge during the day.
4/9
Spiff Up a Staircase
In many homes, a staircase is the first thing you see when you enter. If yours looks shabby or lackluster, give your stairs and railing some TLC.
Cost: $1,495 (pro), $820 (DIY)
Details: Remove the carpet or runner and assess the condition of the steps and railing. You'll need to repair broken treads, fill gouges, and tighten up a shaky railing or replace it entirely. You can change the look of a railing by replacing the balusters. Decorative balusters run about $4 apiece for wood, $6 for wrought iron or $60 for powder-coated stainless steel at Lowe's. (For inspiration, search "stair" at Houzz.com (opens in new tab) or Pinterest.com (opens in new tab).)
If you love the look of your stairway's wood, refinish it; if not, paint it with an enamel paint for floors and trim. To dress up the stairs, install a stair runner and rods to secure it (rods cost $21 to $82 apiece at houseofantiquehardware.com (opens in new tab)). If the stairs are plywood, recover them with new carpet.
5/9
Fix Up the Fireplace
Painting your fireplace or adding stone or stone veneer can spruce it up. You can also add or replace a mantel shelf and install ceramic tile.
Cost: $1,140 (pro), $870 (DIY)
Details: Transform a dark-colored, brick fireplace surround or wall from drab to fab by painting it with lighter-color brick paint. Or add color and texture with ceramic tile; lightweight and easy-to-install artificial stone veneer, such as AirStone ($50 for 8 square feet at Lowe's); or natural stone (kits start at $378 at mantelcraft.com (opens in new tab)).
Add or replace a mantel shelf (starting at $110 at Mantelcraft.com) or a complete mantel (starting at $308 for wood, $499 for stone or $1,219 for marble). Wood suitable for painting will cost less than hardwoods. Or you could hunt for a lower-price find at an architectural salvage store or Habitat for Humanity's ReStore. (For more ideas, visit bhg.com (opens in new tab) and search for "fireplace makeovers.")
6/9
Freshen Up Your Kitchen
A major kitchen overhaul can cost thousands of dollars, but you can do a lot to improve its appearance for much less money by simply refreshing colors and surfaces and replacing your faucet.
Cost: $1,580 (pro), $960 (DIY)
Details: If your cabinets are sound but ugly, paint can work wonders. Preparation is key: Remove hardware, repair dents and gouges with wood filler, sand and prime. Then brush or spray on a cabinet paint, such as Benjamin Moore's Advance, which is as durable as an oil-based paint but cleans up with soap and water.
Rust-Oleum makes two kits for DIYers. Cabinet Transformations eliminates the need for sanding and priming. Countertop Transformations gives new color and a stonelike appearance to laminate countertops.
To guide you through the many faucet options, see Kitchen Faucets 101 (opens in new tab) at moen.com (opens in new tab). A model with a ceramic disk valve and a solid brass base will be the most durable (look for discounted prices at faucetdirect.com (opens in new tab)). For the finishing touch, choose new cabinet knobs and handles. You'll find a gazillion choices with prices to suit every budget. Check out the offerings at myknobs.com (opens in new tab).
If you want a new kitchen floor, vinyl is an economical choice that mimics ceramic tile, wood or stone. You can install it over the old flooring. Sheet vinyl is best installed by the pros, but you can easily install adhesive-backed tiles.
7/9
Update Your Bathroom
Changing a few fixtures will improve its look and save you money in the long run.
Cost: $1,590 (pro), $1,080 (DIY)
Details: Replace the vanity cabinet (this project includes one for about $400), vanity top, sink and faucet. Or, to reduce your costs, paint the existing cabinet and replace the hardware. Choose an efficient WaterSense-certified faucet (from $25 at FaucetDirect.com (opens in new tab)).
Replace an outdated toilet with a WaterSense-certified model that will save water without sacrificing perform­ance. Check out American Standard's Clean (model #2514, $239 in white at Lowe's) and Kohler's Cimarron (model K-3609, $232 at Home Depot, which is higher and has an elongated seat).
Enjoy a long, hot shower with a new, WaterSense-certified showerhead. American Standard's FloWise model ($34 to $59 at FaucetDirect.com) gets great user reviews for its spray options.
If you have the vanity painted or you're doing the job yourself, you can afford to replace the vanity lighting, too (about $200).
8/9
Make Your Attic User-Friendly
For attics that are hard to access, with a hatch that lets warm air escape, you can kill two birds with one stone by installing an attic ladder/insulated door combo. If there's no floor, you can add one.
Cost: $900 (pro), $340 (DIY)
Details: The "Energy Seal" attic ladder with an insulated door and weather stripping, by Werner ($199 at Home Depot), earns an R-5 rating (a measure of insulating value), which makes it adequate for all but the most northern areas of the U.S. Measure the size of the current opening to your attic, the floor-to-ceiling height below the attic opening, and the space available for the ladder to swing out of the attic and fully extend. Installing a ladder is best left to the pros unless you're really handy. (You can improve an existing ladder's energy efficiency with the Attic Stair Cover Kit, rated R-50; $99.50 to $129.50, at batticdoor.com (opens in new tab).)
You can install a 10-by-10-foot plywood floor inexpensively by cutting the wood and hauling it to the attic. Or make it easier with one of these two products: Attic Decking Board, made of oriented strand board, or interlocking Attic Dek Flooring Panels, made of lightweight plastic. Both screw to the attic floor joists. (Think about beefing up insulation between the floor joists before you install the floor.)
9/9
Organize Your Closet
If your home's closets are cluttered, your clothes are smushed or you can't find what you need when you need it, you could use a closet organizer.
Cost: $700 (pro), $550 (DIY)
Details: Organizers come in three varieties: wood veneer on particleboard (the most expensive), plastic-laminate veneer (midrange) or epoxy-bonded wire (the least expensive). For this project, we outfitted a 6-foot-wide, reach-in closet with solid, laminate-veneer shelves.
Organizers sit on the floor of the closet or hang from the back wall. Most organizers are designed for do-it-yourselfers, and manufacturers have online tools to let you design them for your space. They are sold as prepackaged kits or individual components. At easyclosets.com (opens in new tab), for example, outfitting a walk-in closet with two 6-foot-long walls and one 8-foot-long wall with hanging rods, shelves and drawers would cost $1,249.
You can drive up the cost with your choice of color, hardware finish, hampers, drawers, baskets and other accessories. Retailers such as the Container Store, which sells the Elfa system, and Home Depot will take care of installation for an extra fee. Closet retailers that provide in-home consultations can offer helpful ideas and custom organizers for a higher price.
Contributing Writer, Kiplinger's Personal Finance
Esswein joined Kiplinger in May 1984 as director of special publications and managing editor of Kiplinger Books. In 2004, she began covering real estate for Kiplinger's Personal Finance, writing about the housing market, buying and selling a home, getting a mortgage, and home improvement. Prior to joining Kiplinger, Esswein wrote and edited for Empire Sports, a monthly magazine covering sports and recreation in upstate New York. She holds a BA degree from Gustavus Adolphus College, in St. Peter, Minn., and an MA in magazine journalism from the S.I. Newhouse School at Syracuse University.