What You Must Know About the Different Parts of Medicare
Medicare can be complicated but we've got you covered. Here is a quick guide to the different benefits provided through each part.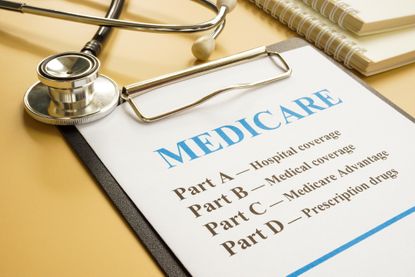 (Image credit: Getty Images)
Medicare can be complicated, especially if you are a new enrollee or someone checking their plan during the Medicare open enrollment period, which is underway only for less than two more weeks.
But it's important to understand what benefits you will receive so you can decide if you want prescription drug coverage, an Advantage plan or additional coverage through Medigap. Below is a quick explanation of each part of Medicare.
If you're in a Medicare Advantage Plan or other Medicare plan, your plan may have different rules. But, your plan must give you at least the same coverage as Original Medicare. Some services may only be covered in certain facilities or for patients with certain conditions.
1/6
Medicare Part A
Part A covers inpatient care at hospitals and skilled nursing facilities as well as hospice and some home health care. If you paid Medicare payroll taxes for at least 40 quarters, the Part A premium is free. For 2024, there is a deductible of $1,632. You also must pay coinsurance for hospital stays longer than 60 days. For more details, read What You'll Pay for Medicare in 2024.
2/6
Medicare Part B
Part B pays for doctor visits, outpatient care and some home health care. For 2024, the deductible is $240 and the base premium is $174.70 per month. After hitting the deductible, you pay 20% of expenses unless you have either Medicare Advantage or supplemental coverage.
The penalty for failing to enroll at age 65 is a permanent 10% of the monthly premium multiplied by the number of years you could have enrolled but didn't. Exceptions are made for those with coverage through a qualifying employer health plan.
3/6
Medicare Part C
Part C is commonly called Medicare Advantage. Beneficiaries are covered for Parts A and B through private insurers instead of traditional government-administered Medicare. Most Advantage plans include prescription drug coverage. For 2024, the average monthly premium is $18.50.
4/6
Medicare Part D
Part D refers to standalone prescription drug coverage through private insurers. If your Advantage plan includes prescription drugs, you don't need Part D. If you elect original Medicare and want medications covered, you will need a Part D plan. Modern Medigap plans don't cover prescription drugs, but if you purchased a policy before Jan. 1, 2006 and still have that plan, then your Medigap policy may include drug coverage.
The average total monthly premium for Medicare Part D coverage is projected to be approximately $55.50 in 2024.
If you decide after your initial enrollment period that you want Part D, you will pay a permanent 1% penalty of the base premium multiplied by the number of months that you went without the coverage.
5/6
Medigap
Supplemental coverage is commonly referred to as Medigap. This is private insurance to supplement original Medicare coverage. The plans cover part or most of the cost sharing, such as coinsurance and co-payments, for Parts A and B, depending on which lettered Medigap plan you choose.
There are 10 plans but as of 2020, new Medicare enrollees are ineligible for Plans C and F. All plans with the same letter provide the same benefits but the cost could vary by insurance company.
Medigap plans typically have higher monthly premiums than Advantage plans but lower out-of-pocket expenses.
6/6
Senior Retirement Editor, Kiplinger.com
Jackie Stewart is the senior retirement editor for Kiplinger.com and the senior editor for Kiplinger's Retirement Report.