Medicare Open Enrollment Ends Soon — Here's What You Need to Know
Medicare open enrollment ends in less than a week. Beneficiaries have the opportunity to review insurance choices and make adjustments.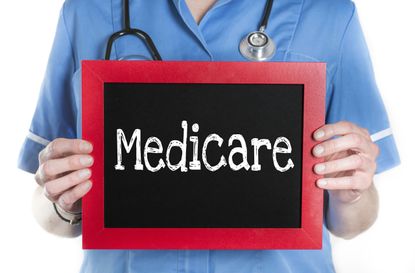 (Image credit: Getty Images)
Medicare open enrollment is almost over. Enrollment will close on Thursday Dec. 7. But that means you still have time to make any necessary changes for your coverage.
Open enrollment is the time of year when experts recommend you review your Medicare coverage to see if you need to make a change. It's also the time when Medicare beneficiaries can find themselves under siege from various insurance companies seeking their business and scammers looking to steal vital personal information.
When does open enrollment run?
Open enrollment runs from October 15 through December 7, giving beneficiaries a window in which to review options, including traditional Medicare and Medicare Advantage, the private insurance alternative to the government insurance plan. It's a good idea, then, to brush up on some Medicare basics.
Subscribe to Kiplinger's Personal Finance
Be a smarter, better informed investor.
Save up to 74%
Sign up for Kiplinger's Free E-Newsletters
Profit and prosper with the best of expert advice on investing, taxes, retirement, personal finance and more - straight to your e-mail.
Profit and prosper with the best of expert advice - straight to your e-mail.
During this open enrollment, you may change your Part D or Medicare Advantage plan for 2024, or switch between Medicare Advantage and original Medicare or vice versa.
On January 1, another open enrollment is held only for Medicare Advantage enrollees. During that enrollment period, which ends March 31, Medicare Advantage enrollees can change to a different Advantage plan or to original Medicare.
Starting January 1, 2024, if you pay for Part A, and you sign up for Part B during the General Enrollment Period that runs from January 1 through March 31, you can also join a Medicare drug plan when you sign up for Part B. Your drug coverage would start the month after the plan gets your request to join.
Authorities advise consumers to be wary of promises made by people promoting Medicare Advantage plans, making sure to get anything in writing and to check with medical providers to confirm they are part of the particular plan's network. Medicare Advantage plans may restrict patients to using in-network providers, while traditional Medicare will cover any provider nationwide who accepts Medicare.
Authorities also warn Medicare enrollees to be alert to possible scams.
How to compare Medicare plans
Medicare offers a plan finder to help enrollees compare Medicare health and drug plans. The plan finder provides information about costs and covered drugs, as well as star ratings of various Medicare Advantage and Part D prescription drug plans. The star ratings are updated annually and incorporate the experiences of people who use the plans.
What's new for Medicare in 2024
New for 2024 will be expanded mental health coverage. Medicare will now cover partial hospitalization and intensive outpatient program services provided by hospitals, community mental health centers, federally qualified health centers and Rural Health Clinics. Mental healthcare services provided by marriage and family therapists and counselors will also be covered. You will be expected to pay 20% of the Medicare approved amount and the Part B deductible that applies to mental healthcare.
Chronic pain management and treatment services are also being added in 2024. Medicare will cover monthly services for people living with chronic pain which is defined as persistent or recurring pain lasting longer than three months. Services may include pain assessment, medication management, and care coordination and planning. The Part B deductible and coinsurance will apply.
The Extra Help program that assists those with limited incomes and resources will be expanding. Starting January 1, 2024, once your out-of-pocket spending reaches $8,000, you won't have to pay a copayment or coinsurance for covered Part D drugs for the rest of the calendar year. That $8,000 includes certain payments made by other people or entities, including Medicare's Extra Help program, on your behalf,
You should also be aware that people who earn higher incomes may face surcharges for Part B and Part D coverage.
Medicare Part A covers hospital costs, while Part B covers medical services. Part A includes no premiums as long as an enrollee or their spouse paid Medicare taxes for at least 10 years while working.
Different Medicare options
People who chose to keep traditional Medicare may also enroll in a supplemental plan, known as Medigap, to help cover costs like copays. (Note that as of January 1, 2020, Medigap plans sold to people new to Medicare can no longer cover the Part B deductible.)
Traditional Medicare, when not paired with Medigap, does not have a limit on out-of-pocket expenses in a year. Open enrollment is an opportunity to review Medigap coverage to determine if you have the best option for your needs, as well as the one that makes the most sense financially.
Medicare Advantage plans, which are offered by private insurance in place of traditional Medicare, do have yearly limits on out-of-pocket costs.
Medigap policies can't be paired with Medicare Advantage. If you switch from original Medicare with Medigap to Medicare Advantage and then change your mind, you may not be able to get the same Medigap coverage and may have trouble getting any Medigap policy again.
In general, your first time enrolling in Medicare is your opportunity to get a Medigap policy. After that, you may not be able to buy a Medigap policy, or if you are able, it may cost more because of pre-existing health conditions.
Medicare Savings Programs help people with lower incomes pay Part B premiums and Part A and B deductibles, coinsurance and copayments. According to the Medicare Rights Center, if you qualify for one of the three main Medicare Savings Programs, your Part B monthly premium will no longer be deducted from your Social Security.
You will also automatically get the benefit of a program called Extra Help, which helps with Part D prescription drug costs. For information about open enrollment, you can visit Medicare.gov, call 1-800-MEDICARE, or contact your State Health Insurance Assistance Program, which can help you review and compare your coverage and any possible changes.
What if you want to skip Medicare open enrollment?
While authorities urge an annual review of your coverage, you don't have to do anything if you're happy with what you have. If you want to maintain your current Medicare coverage, you do not need to re-enroll.
Related Content
Senior Retirement Editor, Kiplinger.com
Elaine Silvestrini has had an extensive career as a newspaper and online journalist, primarily covering legal issues at the Tampa Tribune and the Asbury Park Press in New Jersey. In more recent years, she's written for several marketing, legal and financial websites, including Annuity.org and LegalExaminer.com, and the newsletters Auto Insurance Report and Property Insurance Report.