The Rules for Making a Medigap Switch
You want to find the best Medicare medigap plan for your budget. Sometimes that means changing things up. Here's some guidance.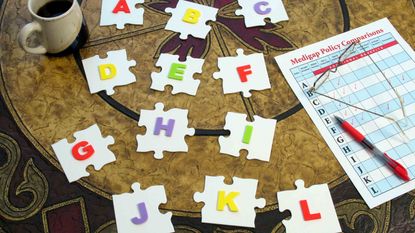 (Image credit: Getty Image)
If you're on traditional Medicare, you already know the importance of having a medigap plan. Medigap is private supplemental insurance that helps fill gaping holes in traditional Medicare's government- administered coverage, like the $1,556 Part A deductible for hospital care or Part B coinsurance for doctor services, typically 20% in addition to this year's $233 Part B deductible.
There are 10 types of medigap plans, each labeled by a letter from A to N, and every plan with the same letter has identical benefits, even if the insurer is different. But the monthly premiums can be worlds apart. Depending on the insurer, a 70-year-old male in South Carolina could pay anywhere from $95.92 to $353.45 a month for medigap Plan G, even though the coverage is identical, says John Hill, president and CEO of Gateway Retirement in Rock Hill, S.C.
That price differential is why it pays to periodically test the market. "I'd say about 50% of people are paying too much for their medigap plans," says Kelly Maxwell, owner of the insurance brokerage Seniors Mutual in Pflugerville, Texas. Hill says insurers often offer attractive, teaser rates to lure newcomers, who have just turned 65 and joined Medicare, before hiking those premiums later on. But just how easy is it to switch medigap plans, and are you still guaranteed coverage the way you were during your initial enrollment?
Subscribe to Kiplinger's Personal Finance
Be a smarter, better informed investor.
Save up to 74%
Sign up for Kiplinger's Free E-Newsletters
Profit and prosper with the best of expert advice on investing, taxes, retirement, personal finance and more - straight to your e-mail.
Profit and prosper with the best of expert advice - straight to your e-mail.
Rules and Restrictions
The good news is you can switch medigap plans any time and not just during Medicare's annual open enrollment from Oct. 15 to Dec. 7. The bad news is you aren't guaranteed to qualify for a different plan, including one with the same letter. That guaranteed acceptance, regardless of your health, only lasts for the six months after you turn 65 and first sign up for Medicare Part B.
After that, medical underwiting applies. Most applicants are "likely to qualify for a new plan, unless they have something serious like diabetes or a heart condition," Hill says. The decision will vary by insurer. You could be denied coverage outright, accepted but charged a higher premium, or face a waiting period of up to six months after you enroll before a preexisting condition is covered. During that time, only Parts A and B would cover the condition, leaving you to foot the bill for any coverage gaps.
A few states, such as California, Massachusetts and New York, make it easier to switch plans and still qualify for coverage. But even these states "usually have limits to ensure that people can only switch to equal or lesser coverage, not to upgrade their coverage," says Louise Norris, an author with medicareresources.org.
You are also guaranteed coverage if you must switch medigap plans through no fault of your own -- for instance, if your insurer goes bankrupt. Otherwise, acceptance isn't guaranteed, so don't cancel an existing policy until you're sure you've qualified for a new one.
Medicare Advantage Exceptions
The same medigap underwriting restrictions also apply if you switch to traditional Medicare from its private insurance alternative, a Medicare Advantage plan, also known as Part C, with three notable exceptions.
If you signed up for an Advantage plan right after joining Medicare, you have a 12-month trial window, and the same is true if you have a medigap plan and drop it to join Medicare Advantage for the very first time. During that trial window "you can leave your Advantage plan, switch to original Medicare, and you'll have limited guaranteed-issue access to medigap," says Norris. You'll be allowed to switch back to your previous medigap plan, or if you didn't have one before, sign up for any medigap plan in your area.
If you move to a place not covered by your Advantage plan or the insurer stops providing coverage, you get another medigap guaranteed-issue period. But medigap enrollees who move to another region don't because medigap plans offer nationwide coverage.
Outside of these exceptions, Advantage plan members who switch to traditional Medicare and want a medigap plan will face underwriting. What's more, Advantage policyholders will only be allowed to switch at set times: during traditional Medicare's open enrollment each fall and Medicare Advantage's annual open enrollment from Jan. 1 to March 31.