4 (Imperfect) Ways Retirees Can Pay for Dental Care
Since Medicare doesn't provide dental benefits, seniors must consider other options to cover this need.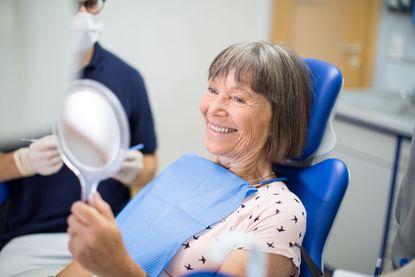 (Image credit: Getty Images)
Getting dental insurance in retirement is complicated even though seniors are prone to dental health problems. About 20% of adults 65 and older have untreated tooth decay, 68% have gum disease, and almost 1 in 5 have lost all their teeth, according to the Centers for Disease Control and Prevention. Because original Medicare doesn't cover dental care, seniors who want dental insurance must get it through a Medicare Advantage plan or buy individual dental coverage. Even then, the plans may have restrictions that leave seniors underinsured.
1/4
Individual Plans
Dental work is expensive. Crowns and root canals can cost more than $1,000, says Stephen Shuman, professor at the University of Minnesota School of Dentistry and chair of the oral health workgroup of the Gerontological Society of America. A single tooth implant can cost $1,000 to $4,500.
In general, monthly premiums for individual plans range from about $20 to $80. A typical plan includes two or three cleanings and checkups each year. "There is a misconception you can't get dental coverage, and it's hugely expensive," says Jeff Smedsrud, president of insurance at HealthCare Insurance Services. The plan, however, will likely have a waiting period -- anywhere from a few months to two years -- before coverage for more extensive procedures kicks in, experts say. That's to prevent people from only signing up for insurance when they need expensive work done. Coverage for routine preventive care is usually available immediately, Smedsrud says.
Individual plans may restrict patients to dentists in a network with no out-of-pocket maximum. Plans typically pay for a certain percentage of the costs for different services up to a maximum amount each year, usually between $1,000 and $2,000. You are responsible for any amount over that. "The biggest issue is people don't read the fine print and think they have dental insurance [that] will cover lots of stuff," says Shuman. "Then you find out it really is not going to."
2/4
Dental Discount Plans
Although a dental discount plan (which insurers also sell) is typically cheaper, it isn't insurance, says Smedsrud. Instead, it's a membership program for discounts and savings on dental services with no waiting period. You pay for the services you receive at the discounted rate for the specific program you signed up for. If you need extensive dental care, a discount plan is an expensive way to go.
3/4
Medicare Advantage
About 25% of Medicare enrollees had dental coverage through an Advantage plan in 2019, the Kaiser Family Foundation says. But the coverage can be skimpy, says Mary Johnson, Social Security and Medicare policy analyst at the Senior Citizens League. "Don't jump into an Advantage plan because you see these extra benefits, such as dental care."
Like individual plans, Medicare Advantage often imposes similar waiting periods (six months up to two years) before the insurer will pay for expensive work, such as crowns or dentures, Shuman says. Preventive care, like checkups, X-rays and cleanings, are covered immediately. The insurer may cover a certain percentage of different services up to a limit, often no more than $2,000 a year, Johnson says.
4/4
Self-Insure
You could forego dental insurance and pay for care out of pocket. Contributing to a health savings account before you sign up for Medicare at age 65 can help pay for these expenses, says James Miller, president of Woodward Financial Advisors. These tax-advantaged savings accounts are funded with pretax dollars, and withdrawals for qualified medical expenses are tax-free. But you can't contribute to an HSA once you're on Medicare, which has a six-month look-back period to your 65th birthday. Self-insuring works if you can afford to pay for care, but "if you are prone to frequent dental visits or more complex dental needs, this may not be the best option," Miller says. As with all insurance, "you get what you pay for," Shuman says. "If you want a comprehensive dental plan, then you will pay for that through premiums."
Senior Retirement Editor, Kiplinger.com
Jackie Stewart is the senior retirement editor for Kiplinger.com and the senior editor for Kiplinger's Retirement Report.