10 Things To Know For Medicare Open Enrollment
Medicare open enrollment means you're bombarded with choices. Here's what you need to know.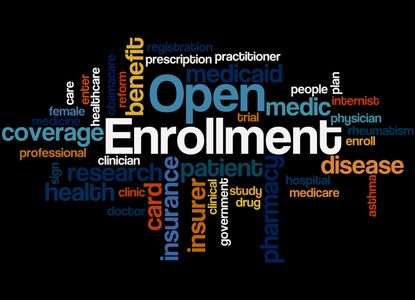 (Image credit: Getty Images)
You can tell by the advertisements that inundate the airwaves and your mailbox. You're likely even getting unsolicited calls and emails. All kinds of health insurance brokers and companies want to dazzle you with their offerings.
Medicare open enrollment is almost over. Enrollment will close in less than a week on Thursday Dec. 7. You still have time to make sure you have the best plan or plans for you.
First, let's review the basics. As most retirees know, Medicare has several parts. Part A, which is offered at no cost, generally covers hospitalizations. Part B covers outpatient medical care. Part D is prescription drug coverage provided by private insurers.
Subscribe to Kiplinger's Personal Finance
Be a smarter, better informed investor.
Save up to 74%
Sign up for Kiplinger's Free E-Newsletters
Profit and prosper with the best of expert advice on investing, taxes, retirement, personal finance and more - straight to your e-mail.
Profit and prosper with the best of expert advice - straight to your e-mail.
Medicare Advantage is the umbrella term for plans offered by private insurers regulated by Medicare to replace parts B and D. Medigap plans, also offered by private companies, are supplemental plans that cover copays and coinsurance charges imposed under Medicare Part B.
While some people assume that Medicare will cover all their healthcare costs, experts warn that's not the case. A 65-year-old retiring this year can expect to spend an average of $157,500 in healthcare and medical expenses throughout retirement, according to data from Fidelity Investments. This highlights the importance of reviewing your Medicare plan choices during open enrollment each year to ensure you have the best coverage to meet your needs.
1. Open enrollment dates
Every year, Medicare's open enrollment period is October 15 to December 7. This is the time to enroll in or make changes to any Medicare or Medicare Advantage policies, although you may be restricted from making a change regarding a supplementary policy, or Medigap.
There is another open enrollment period only for people with Medicare Advantage plans, from January 1 to March 31. During this January open enrollment, you can change from one Medicare Advantage plan to another or go back to original Medicare.
But while authorities urge an annual review of your coverage, you don't have to do anything if you're happy with what you have. If you want to maintain your current Medicare coverage, you do not need to re-enroll.
2. Few people take advantage of open enrollment
While Part D plans can change the drugs they cover, and Medicare Advantage plans can change their provider networks as well as your costs and other provisions, less than one-third of enrollees are estimated to take advantage of open enrollment to compare plans and reevaluate their coverage.
Tim Smolen, director of the Washington State Health Insurance Assistance Programs (SHIP), which helps residents navigate Medicare, says beneficiaries consistently care about three things during open enrollment: access, what benefits are included in their plan, and cost.
That last issue is the toughest to gauge. "It's very difficult to forecast in the year ahead how much health care you're going to use," he says.
3. Limits on Medigap changes
People who choose to keep traditional Medicare may also enroll in a supplemental medigap plan from a private insurer to cover costs like copays. Traditional Medicare, when not paired with Medigap, does not have a limit on out-of-pocket expenses in a year.
Medigap policies, which cannot be paired with Medicare Advantage plans, have standardized benefits. Most states offer 10 types of Medigap policies, but premiums vary by insurer. You can compare costs, benefits and availability on Medicare's website.
If you have a Medicare Advantage plan, you may switch to traditional Medicare, but you may have trouble getting a Medigap policy. Some states offer more protections than others, but, in general, your first time enrolling in Medicare is your best opportunity to get a Medigap policy.
4. Medicare Advantage differences
These plans have a monthly cost, in addition to the Part B premium, that varies depending on the plan. The plans frequently include prescription drug coverage and limits on annual out-of-pocket costs for covered services.
They also may offer extras not included by traditional Medicare, such as dental, hearing and vision coverage and gym memberships. They are able to do this because they manage costs, partly by limiting beneficiaries to in-network providers. During open enrollment, experts recommend checking to make sure your preferred providers remain in the network for your plan.
5. Medicare Advantage issues
These plans have come under fire in recent years for their aggressive marketing tactics. Some beneficiaries have told of having good experiences with their Advantage plans until they get sick and find themselves fighting for coverage.
Sandy Leith, director of SHIP for Illinois, says advertisements for some plans set people up for failure, with important details hidden in fine print. Appeals for denied claims can be difficult to navigate. "They're getting away with a lot of misrepresentation and services that aren't up to par," Leith says.
6. Medicare premiums
Beneficiaries of traditional Medicare will pay a standard monthly rate of $174.70 for Medicare Part B in 2024, an increase of $9.80 from $164.90 in 2023 . The annual deductible for all Medicare Part B beneficiaries will be $240 in 2024, an increase of $14 from the annual deductible of $226 in 2023. This rate applies to individuals with incomes less than $103,000, with income-related monthly adjustments applying at various levels to people who make more.
The Medicare Part A inpatient hospital deductible that beneficiaries pay if admitted to the hospital will be $1,632 in 2024, an increase of $32 from $1,600 in 2023. Beneficiaries will be required to pay a coinsurance amount of $408 per day for the 61st through 90th day of a hospitalization in a benefit period, compared to $400 a day in 2023, and $816 per day for lifetime reserve days, up from $800 a day in 2023.
For beneficiaries in skilled nursing facilities, the daily coinsurance for days 21 through 100 of extended care services in a benefit period will be $204.00 in 2024, This is $200.00 in 2023.
Average premiums, benefits, and plan choices for Medicare Advantage and the Medicare Part D prescription drug program will remain stable in 2024, according to the Center for Medicare and Medicaid Services. Medicare Advantage is the name given to plans offered by private insurance companies in place of traditional Medicare. Part D represents prescription drug plans offered by private insurers to Medicare beneficiaries.
The average monthly plan premium for Medicare Advantage plans, which includes Medicare Advantage-prescription drug plans, is projected to change from $17.86 in 2023 to $18.50 in 2024 (an increase of $0.64). Most enrollees who keep their plans will experience little or no premium increase for next year, with nearly 73% of beneficiaries not seeing any premium increase. Medicare Advantage supplemental benefit offerings will increase slightly in 2024.
7. Watch out for IRMAA
People with higher income are charged higher Part B and D premiums — the income-related monthly adjustment amount, or IRMAA. In 2023, a single person with an income between $97,000 and $123,000 was charged $230.80 a month for Part B, compared to premiums of $164.90 for people who earned less. In 2024, people who make between $103,000 and $129,000 will pay an extra $69.90 a month, for a total of $244.60.
Your income for IRMAA purposes is calculated based on income two years before the plan year.
8. Avoiding the surcharge
You can appeal your IRMAA if your income is significantly lower now than two years ago due to a life-changing event, such as retirement, divorce or death of a spouse, or if you think the government made a mistake. Beyond that, the only way to avoid the surcharge is to have less modified adjusted gross income (MAGI), which includes all taxable income from work and investments, as well as the taxable portion of your Social Security.
Unfortunately, most popular deductions, such as charitable donations and mortgage interest, do not reduce your MAGI. However, withdrawals from Roth IRAs don't count toward your MAGI. If you're still working, you can contribute more toward tax-deferred retirement accounts to lower your income. Another option is to delay starting Social Security.
9. When do you have to enroll in Medicare?
In general, you initially enroll in Medicare within three months before and three months after turning 65. Failing to do so can result in financial penalties, increasing your premiums for the rest of your life.
However, there are exceptions, including many people who receive health insurance through their employer or through their spouse's job, as long as the workplace has 20 or more employees. Be sure to check with your employer about how it handles your group health coverage at age 65.
Be warned of the "COBRA trap" — insurance you may receive after you leave your job does not eliminate the requirement that you apply for Medicare at age 65.
10. Help is available
The choices can seem overwhelming, and the marketing can be confusing and misleading. Fortunately, each state has unbiased experts who can walk you through the different plans and help you make sure your plans are the best for your needs. State Health Insurance Assistance Programs can be found through www.shiphelp.org or by calling 877-839-2675. You can also call Medicare directly at 1-800-MEDICARE (1-800-633-4227) 24 hours a day during open enrollment, including weekends, for assistance.
Note: This item first appeared in Kiplinger Retirement Report, our popular monthly periodical that covers key concerns of affluent older Americans who are retired or preparing for retirement. Subscribe for retirement advice that's right on the money.
Related Content
Senior Retirement Editor, Kiplinger.com
Elaine Silvestrini has had an extensive career as a newspaper and online journalist, primarily covering legal issues at the Tampa Tribune and the Asbury Park Press in New Jersey. In more recent years, she's written for several marketing, legal and financial websites, including Annuity.org and LegalExaminer.com, and the newsletters Auto Insurance Report and Property Insurance Report.