You Can Appeal a Medicare Premium Surcharge
If your income has dropped in the past two years, there's a good chance you can get your surcharge eliminated or reduced.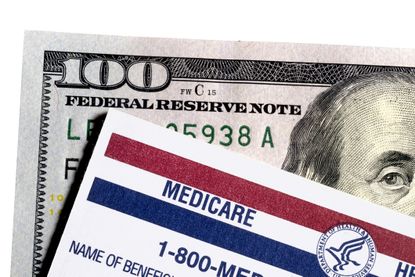 (Image credit: Getty Images)
Retirees are paying sharply higher premiums for Medicare Part B in 2022—an increase of 14.5% from 2021. The price hike was even more jarring for a subset of seniors who are subject to the Medicare high-income surcharge—also known as the income-related monthly adjustment amount (IRMAA).
Although the standard premium for Medicare Part B, which covers doctor's visits and outpatient services, is $170.10, seniors who are hit with the surcharge will pay from $238.10 to $578.30, depending on their income. A surcharge also applies to premiums for Part D, which covers prescription drugs. In addition to the standard premium for their Part D plan (which varies, depending on the plan), high-income beneficiaries will pay a surcharge of $12.40 to $77.90. Seniors who enroll in a Medicare Advantage plan that includes drug coverage are also subject to a surcharge.
Making matters worse, the IRMAA is a "cliff" surcharge. That means if your modified adjusted gross income exceeds the threshold by as little as a dollar, you will have to pay higher premiums. However, if your income has now dropped substantially, you can ask the Social Security Administration, which determines whether you must pay the surcharge, to reconsider it.
Subscribe to Kiplinger's Personal Finance
Be a smarter, better informed investor.
Save up to 74%
Sign up for Kiplinger's Free E-Newsletters
Profit and prosper with the best of expert advice on investing, taxes, retirement, personal finance and more - straight to your e-mail.
Profit and prosper with the best of expert advice - straight to your e-mail.
Calculating the Surcharge
The Medicare surcharge is based on your modified adjusted gross income from two years ago.
For 2022, for example, the surcharge is based on your MAGI in 2020. For purposes of calculating the surcharge, MAGI consists of your adjusted gross income plus interest from tax-exempt municipal bonds, which can be significant for a lot of retirees. (Less-common items that are added back include income earned abroad that was excluded from AGI and nontaxable income from U.S. territories.)
But a lot can happen in two years, and if you can demonstrate to Social Security that a "life-changing event" has affected your income, it will reduce or waive your premiums. The most common life change that leads to a reconsideration of the surcharge is retirement, says Jim Blankenship, founder of Blankenship Financial Planning and author of A Medicare Owner's Manual: Your Guide to Medicare Benefits. If you were working full-time in 2020 and have
since retired, you may qualify based on the decline in your income. You may also get a break if you're working fewer hours than you were in 2020 or your spouse retired. Other life-changing events that could make you eligible for a reduction in your premiums include the death of a spouse or a divorce.
However, if your surcharge was triggered by a one-time spike in income, you're probably out of luck. A conversion to a Roth IRA, which will increase your MAGI, is one of most common reasons retirees get hit with a Medicare high-income surcharge, Blankenship says. Likewise, a large withdrawal from your traditional IRA could push your income into surcharge territory.
Other one-time events that could lead to a surcharge include large investment gains in your taxable account or a home sale that exceeds the capital gains exclusion. Taxpayers who sell a primary residence they've lived in for at least two out of the past five years can exclude up to $500,000 in profits from taxes if they're a married couple filing jointly ($250,000 for a single homeowner). But thanks to huge gains in housing values, homeowners in some parts of the country are netting profits that exceed the excluded amount (see How to Cut Your 2021 Tax Bill). The sale of a business could also trigger the surcharge.
The less-discouraging news is that Social Security recalculates your income every year (but with a two-year lag), so a one-time spike in income won't haunt you forever. While a large Roth conversion could lead to an increase in premiums two years down the road, future withdrawals from the Roth IRA won't affect the formula used to calculate the surcharges.
How to Appeal
If you're subject to the surcharge, you should have received a notice from Social Security known as an initial determination. To request a review, complete Form SSA-44, and provide supporting documents. In the case of a drop in income due to retirement, include a copy of the tax return for the year your income declined, along with a letter from your former employer stating that you've retired. If your income declined because your spouse died, include a copy of the death certificate. You can mail the form and supporting documents to your local Social Security office or take it there in person (though many offices have been closed due to the pandemic, so call first).
If your request for a redetermination is denied, there are actually three additional levels of appeals you could try: to the Office of Medicare Hearings and Appeals, to the Medicare Appeals Council and finally to the federal district court where you live. You may need to hire an attorney for some of these levels, which are primarily used by beneficiaries appealing decisions about coverage. For an IRMAA appeal, be prepared to lose if your claim is based on something other than one of the life-changing events. "If it's not listed, it's considerably harder to get approved," says Danielle Roberts, cofounder of Boomer Benefits, an insurance agency that helps baby boomers with Medicare. "Then you are fighting an uphill battle."
Barbara Hughes, a retired attorney, twice successfully appealed a Medicare IRMAA after she reduced her work hours in 2015 and then again after retiring in June 2020. Hughes had to provide a letter from her employer, a completed Form SSA-44 and income tax information both times.
For her appeal in 2015, she also was required to have a short in-person visit at her local Social Security office to give more information about her current income and explain why it fell. Before the pandemic, Medicare beneficiaries could visit a Social Security office to file an appeal or supply supporting documents. With the agency's offices largely closed to the public for the past year, beneficiaries contesting IRMAAs have had to mail or fax documents to make their case.
For her second appeal, Hughes had to call her local office several times before the agency refunded the higher premiums she paid both this year and for the second half of 2020. Even with that inconvenience, the process was fairly easy to complete "as long as I carefully followed the instructions buried in the letter SSA routinely sends to recipients toward the end of the year," Hughes says. Her premiums are now more than $70 less per month, and she received an $800 refund for the higher premiums she paid in the second half of 2020.
"I think my 2020 reduction in income was so much that they needed more explanation," Hughes adds. "But you don't have to be an attorney to do this on your own when you have what SSA lists as a qualifying event."
Avoid the Surcharge in the First Place
Steps you can take to head off the Medicare high-income surcharge before it happens:
Factor in the potential for a one-year hike in Medicare premiums, along with the tax bill, when calculating the cost of a Roth conversion. You may want to spread out a conversion over several years to reduce the hit to your income. Scott Stratton, a certified financial planner with Good Life Wealth Management, in Little Rock, Ark., says he works with clients to make sure the amount they convert doesn't push them into a higher tax bracket, which reduces the likelihood the conversion will trigger the surcharge.
If you're still working, contribute to your 401(k) or other tax-deferred account (such as a SEP IRA, if you're self-employed). Contributions will reduce your modified adjusted gross income, which is used to calculate the surcharge.
If possible, avoid taking large, one-time withdrawals from your traditional IRAs or other tax-deferred accounts. Nadine Burns, a CFP in Ann Arbor, Mich., says one of her clients triggered the surcharge after taking a large IRA withdrawal to buy an RV. The client probably would have been better off taking out a low-interest loan to finance the purchase and paying it off over time, she says.
If you're 70 1/2 or older, you can donate up to $100,000 a year from your IRAs to charity via a qualified charitable distribution, and after you turn 72, the QCD will count toward your required minimum distribution. A QCD isn't deductible, but it will reduce your modified adjusted gross income, which could help you avoid the surcharge.
If you're hit with capital gains in your taxable accounts, look for losses you can harvest to offset those gains. If your mutual funds have been paying large capital gains distributions, consider shifting to more tax-efficient exchange-traded funds.
How Much You'll Pay for Medicare Premiums
Swipe to scroll horizontally
| If your yearly income in 2020 was | Header Cell - Column 1 | Your 2022 Medicare Premiums Are | Header Cell - Column 3 |
| --- | --- | --- | --- |
| Single | Married Filing Jointly | Part B | Part D |
| $91,000 or less | $182,000 or less | $170.10 | Your plan premium |
| above $91,000 up to $114,000 | above $182,000 up to $228,000 | $238.10 | $12.40 + your plan premium |
| above $114,000 up to $142,000 | above $228,000 up to $284,000 | $340.20 | $32.10 + your plan premium |
| above $142,000 up to $170,000 | above $284,000 up to $340,000 | $442.30 | $51.70 + your plan premium |
| above $170,000 and less than $500,000 | above $340,000 and less than $750,000 | $544.30 | $71.30 + your plan premium |
| $500,000 or above | $750,000 or above | $578.30 | $77.90 + your plan premium |

Senior Editor, Kiplinger's Personal Finance
Block joined Kiplinger in June 2012 from USA Today, where she was a reporter and personal finance columnist for more than 15 years. Prior to that, she worked for the Akron Beacon-Journal and Dow Jones Newswires. In 1993, she was a Knight-Bagehot fellow in economics and business journalism at the Columbia University Graduate School of Journalism. She has a BA in communications from Bethany College in Bethany, W.Va.