Retirees, Your Finances Need an Annual Checkup
An annual review should include going over your budget, taking a look at your investment portfolio and making sure you have the right beneficiaries listed on life insurance.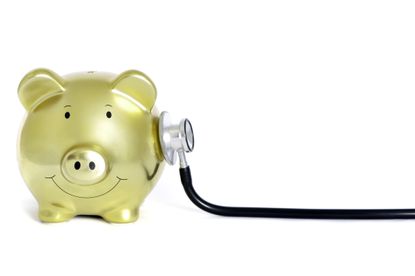 (Image credit: Getty Images)
If you're like most people, you probably started off 2021 with lofty goals and ambitious New Year's resolutions that by now have long since been abandoned. Take heart. There's one resolution that's easy to keep because it's typically a once-a-year commitment.
Like an annual physical, an annual financial review can keep your finances healthy. "We all go on this health checkup every year, but your wealth checkup could be even more important for your long-term well-being," says Daniel Hill, a certified financial planner and president of Hill Wealth Strategies in Richmond, Va. A review is worth doing even if it seems like nothing has changed. (Financial planners usually recommend that you review your finances after major life events or whenever your goals need adjusting.) Best of all, once you get this job over with, you can generally forget about it for the next 12 months.
An annual financial checkup is always a good habit, but "the more volatility and uncertainty in the world, the more you want to double check," says Adam Goetz, a partner at Burstin & Goetz, a financial-planning firm in Pittsburgh, and the national president of the MassMutual Advisors Association.
Subscribe to Kiplinger's Personal Finance
Be a smarter, better informed investor.
Save up to 74%
Sign up for Kiplinger's Free E-Newsletters
Profit and prosper with the best of expert advice on investing, taxes, retirement, personal finance and more - straight to your e-mail.
Profit and prosper with the best of expert advice - straight to your e-mail.
In fact, a financial review may especially be in order now because 2020 was such a momentous, atypical year: There were no required minimum distributions, little opportunity to travel or spend, and an election that upended the political party in power in Washington. As vaccinations ramp up and life returns to some semblance of normalcy, 2021 may look nothing like last year, and the same may be true of your finances.
Review Your Monthly Budget
The biggest thing likely to change is your budget. "I asked my friend who owns a dry cleaner how he's doing and he's getting crushed," Hill says. "People just aren't spending the way they used to."
Chances are, you're spending less on gas, auto repairs, travel and, yes, dry cleaning. On the other hand, you may be spending more on home improvement, groceries, online shopping and health care. Meanwhile, your savings probably got a welcome boost from stimulus money.
As you consider what 2021 has in store for your finances, start by checking monthly bank and credit card statements and organize your spending into categories: housing, groceries, travel, entertainment, and so on. Then, compare the actual spending with that of prior years to see how you fared. To balance out unusual swings, Hill recommends basing your budget on your average spending for the past three to five years.
You should also check whether you have enough in cash savings for 2021. "I recommend people divide their savings in terms of buckets," says Hill. "For example, they might have one account for their emergency fund, one for the vacation fund, and one for day-to-day expenses." Each bucket should have enough to cover your expected spending. If not, top them up.
Whether you're retired or not, your emergency fund should have enough cash to cover at least three to six months of living expenses. The last thing you want is a sudden cash crunch forcing you to make a large withdrawal from your taxable retirement plans, potentially pushing you into a higher tax bracket.
This is also a good time to check your credit reports and credit scores from the rating agencies (Experian, Equifax and TransUnion) and correct any errors you find. If last year left you with more cash on hand, Hill suggests putting this money toward paying off credit card debt and boosting your credit score as much as possible. "With interest rates so low, this is one of the best times to have strong credit," he says. "You could literally save thousands of dollars by refinancing your mortgage at a lower rate, thanks to an improved score."
Assess Your Investment Portfolio
If there's one thing you probably weren't expecting last year, it was a steep market crash followed by a rapid market climb. G-forces like those can turn a portfolio's asset allocations upside down.
For example, let's say your goal was a 50/50 split of stocks and bonds, but after 2020's strong returns, your portfolio now has 65% in stocks and a correspondingly higher risk. You need to rebalance, selling stocks and buying bonds until you get back to your 50/50 target. Experts recommend rebalancing at least annually, though Hill tells his clients to do it quarterly.
Goetz says rebalancing is especially important in a volatile market. "We all hear this advice, we all know we should do it, but often people just don't, especially during good times." When markets are soaring, there's a real temptation to keep more money in stocks. That's a risk people nearing or in retirement, who need to draw income from their investments, can't afford.
He tells clients: "Remember what March 2020 felt like. The goal of your asset allocation is to protect your portfolio and maintain your long-term income options, rather than generate immediate gains."
You should also consider whether your savings will safely last based on your withdrawal rate, expected returns and tax bracket. "You can't blindly just take out 4%, 5%, of your portfolio each year and hope it works out, especially given unprecedented long life expectancies and low interest rates," says Goetz. He notes that 2020 in particular may have thrown off some income plans. "I have some clients who went all cash in March and were hesitant to get back in. How will that impact their safe withdrawal limit?"
A financial adviser can run simulations to see whether your portfolio can generate the income you need. You could also run the numbers yourself using a free calculator.
Plan Ahead
You should also double check the primary and contingent beneficiary listings on your retirement plans and life insurance policies. "It happens all the time. A client walks in thinking they've got their beneficiary all in order on their 401(k), and then it turns out they didn't even have one," says Hill. It's a simple fix to name someone on these accounts. Beneficiaries bypass probate and receive the funds directly when the account owner or policyholder dies.
If you're considering life insurance, Goetz suggests acting soon. "Not only is protection planning more important during a pandemic, but pricing is also more advantageous now than it may be in the future," says Goetz. Ultra-low interest rates, along with a potential higher death rate, has put pressure on life insurers' assumptions and reserves, so he expects rising premiums in 2022 and beyond as insurers are forced to adjust.
Tax laws and regulations are in flux, especially with a new political administration. You may want to meet with an adviser or an accountant to consider any material changes and anticipate their effects on your financial plan. If you're a do-it-yourselfer, a class or seminar through an educational institution or nonprofit organization, rather than a financial company's sales pitch, may be in order. "Look for an instructor whose top goal is to teach, rather than moving product," Hill says.
One notable change for retirees this year is that they probably won't be getting another free pass with required minimum distributions. "The government waived RMDs in 2020, but all indications are that it won't be the case for this year," Goetz says. If you turned 70½ before the end of 2019, you will need to resume taking RMDs in 2021. (For everyone else, RMDs aren't required until age 72.)
Adding insult to injury is that required minimum distributions could be higher in 2021. After last year's market gains and no forced withdrawals, investment portfolios have swelled in size. Retirees may need to withdraw more money just to hit the same percentages as before.
Goetz suggests using your review to prepare for possible RMDs. Your adviser, accountant or brokerage can help you determine how much you must withdraw in 2021. The financial institution where you keep your IRA also may be able to calculate the amount for you or you can use an online RMD calculator.