Mortgage Denials Spike Among Seniors. Here's How to Boost Your Approval Chances
New mortgage study shows that older Americans, especially those over 70, aren't being paranoid about increased mortgage loan denials.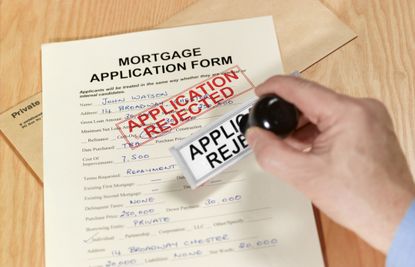 (Image credit: Getty Images)
The cost of living has become a flashpoint for many Americans, especially seniors. Sticky inflation is still driving monthly costs higher and eating away at retirement savings and the Federal Reserve's aggressive interest rate hikes to curb said inflation have driven mortgage rates to the highest mark since 2008. The pandemic-driven boom in housing prices has combined with surging rates to push up mortgage payments as a share of buyers' income to their highest level since 1985. And now, to add insult to injury, new research shows that seniors have real reason to fear systemically-higher mortgage denials among their demographic.
Mortgage rejections surge for seniors
A new report from the Center for Retirement Research (opens in new tab) at Boston College concludes that older homebuyers are more likely to be rejected than younger ones when they apply for a first-time mortgage or mortgage refinance. The report builds on a 2022 study from the Federal Reserve Bank of Philadelphia (opens in new tab). The study pulled together data from 5 million single-borrower mortgage applications, containing details on applicant, property, and loan characteristics. It examined the probability of rejection across age and gender categories.
The study author suggests that age "appears to be an equally important correlate of mortgage application outcomes as race and ethnicity," and that "overall, the results suggest that older individuals systematically face higher barriers to mortgage access."
Subscribe to Kiplinger's Personal Finance
Be a smarter, better informed investor.
Save up to 74%
Sign up for Kiplinger's Free E-Newsletters
Profit and prosper with the best of expert advice on investing, taxes, retirement, personal finance and more - straight to your e-mail.
Profit and prosper with the best of expert advice - straight to your e-mail.
Who are the most-rejected applicants
Study author Natee Amornsiripanitch concludes that mortgage rejection rates rise consistently with age. Applications for the three oldest age groups are 1-3 percentage points more likely to be rejected than those of younger applicants. Here are the exact breakdowns:
Borrowers between the ages of 60 and 69 were 1.54 percentage points more likely to be rejected than younger borrowers (specifically, those between the ages of 18 and 24).
Borrowers over age 70 were 2.7 percentage points more likely to be rejected.
Across all borrowers, the rejection rate was 17.5%.
The study breaks down the issue in chart form:
The study also shows that mortgage rejection rates generally increase faster after the age of 70, soaring to 12% more on average than the lowest rejection rate (among 25 year olds), by the time the borrower reaches age 90.
Reasons for higher mortgage rejections
The study examines why older homeowners could be rejected more often, considering they tend to have more wealth and better credit scores than their younger counterparts. The study offers two explanations:
Insufficient collateral
Amornsiripanitch reveals that insufficient collateral accounts for approximately 50 to 70% of the age penalty. Other studies conclude that older homeowners are less able than their younger counterparts to keep their homes in good quality, greatly decreasing the value of their collateral from when they first bought the property and when they applied for refinancing.
Mortality risk
Another explanation for increased rejections centers on increasing mortality risk to borrowers. Mortality risk increases in a dramatic fashion as borrowers age (as shown in the chart below), mirroring the upward trend in mortgage rejection probability. The difference in mortgage rejection probability between men and women becomes larger in old age, which also tracks with divergent mortality risks between men and women in old age. Women generally live longer than males for a variety of health factors. The previously mentioned insufficient collateral issues plaguing older borrowers could be a symptom of lenders simply requiring older borrowers to put up more collateral than younger buyers, to offset increased mortality risk.
The study author also theorizes that increased "insufficient-collateral" mortgage denials among older borrowers could be the result of lenders requiring older borrowers to put up more assets, in order to offset their increased mortality risk over younger borrowers.
How to boost your mortgage approval chances
No matter your age, there are a number of moves you can make to improve your chances to get your mortgage or refinancing application approved.
Getting your financial and physical houses in order first will reduce the number of reasons for a mortgage lender to deploy the dreaded "rejected" stamp.
Editor's note: This article was updated to reflect the fact that mortgage rejection rates generally increase faster after the age of 70, rather than steadily increasing every year after borrowers reach that age.
Related content
Audience Engagement Manager, Kiplinger.com
Ben Demers manages digital content and engagement at Kiplinger, informing readers through a range of personal finance articles, e-newsletters, social media, syndicated content, and videos. He is passionate about helping people lead their best lives through sound financial behavior, particularly saving money at home and avoiding scams and identity theft. Ben graduated with an M.P.S. from Georgetown University and a B.A. from Vassar College. He joined Kiplinger in May 2017.