How to Book Luxury Travel for Less
Podcast hosts Ryan and Sandy welcome Kiplinger's associate editor and resident travel expert Miriam Cross to talk tips for traveling in style on a tight budget. The pair also discuss retail return policies and try to stump each other in a new edition of Financial Fact or Fiction.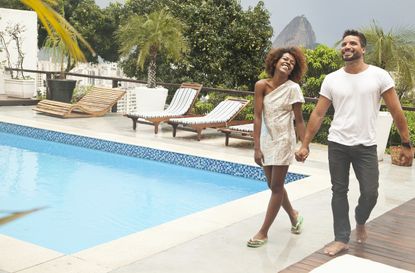 (Image credit: Getty Images/Cultura RF)
Ryan: We all want to be part of the jet set, but somehow work and family, and oh yeah, the price of a first class airline ticket get in the way. We're here to help. Our resident travel expert, associate editor Miriam Cross joins us in our main segment to talk traveling in style for less. On today's show, Sandy and I help you return those holiday gifts you didn't want, and wrap up with a game of Financial Fact or Fiction. That's all ahead on this episode of Your Money's Worth. Stick around.
Ryan: Welcome to Your Money's Worth. I'm Ryan Ermey, a congested this time, staff writer here at Kiplinger's Personal Finance magazine. Joined as always by senior editor Sandy Block. How are you doing, Sandy?
Sandy: I'm good. I'm not congested.
Subscribe to Kiplinger's Personal Finance
Be a smarter, better informed investor.
Save up to 74%
Sign up for Kiplinger's Free E-Newsletters
Profit and prosper with the best of expert advice on investing, taxes, retirement, personal finance and more - straight to your e-mail.
Profit and prosper with the best of expert advice - straight to your e-mail.
Ryan: Thank goodness. I came back from my European travels with the famed Portuguese head cold.
Sandy: Nice problem to have, Ryan.
Ryan: Dear listeners, you'll have to excuse me if I sound a little bit different than usual. So, we're back from the holidays. I did pretty good this year. My mom always buys just a whole smattering of things for us kids. We try everything on and most everything fits. I like most everything, "I love you, mom." Most everything that I get, I think just one sweater didn't work out this year, which sets us up nicely for our opening topic today, which is retail return policies.
Sandy: That's right, Ryan. It's an interesting conflict because retailers do want to be customer friendly but if you look at the statistics there has been a growing level of fraud of people returning products that they didn't actually buy or used or something like that. If you got a holiday gift that you don't like, time's running out to give it back.
Ryan: That's right. A lot of retailers do offer and extended return window for things bought in the run up to the holidays. A lot of them are available until mid to late January, but there is a sort of slicing and dicing as our friends at Consumer World call it in terms of returning different kinds of items.
Sandy: Right. One of the things you really have to be watchful for is electronics. The rules can be much tighter on those items because I think retailers don't want you playing all the video games and then putting it back in the box and giving it back. Electronics have their own rules. Luxury gowns have their own rule because of a practice known as wardrobing.
Ryan: What's that?
Sandy: Which basically means you go in, you buy the gown, you go to dinner, Then you take it back. I don't see about this applying to men's clothes so I guess men don't do this, but apparently enough women do that if you're going to return a high end gown, you better make sure the tags are still on it.
Ryan: Right. So the tags are one of the big ones. You should also obviously make sure that you have your gift receipt if someone who gifted you something was nice enough to include it. You want to make sure things are unopened. You want to make sure they're in good condition and that they're in all their original packing materials.
Sandy: Right. Even if you don't have the receipts, in some cases you might be able to get store credit. If you actually want cash, you're going to have to pretty much return it in the way that it was purchased.
Ryan: There are some funky return policies out there, right? The one that probably comes to mind for most people is Amazon's.
Sandy: At Amazon, groceries, pet food, wine and plants aren't returnable but may be refundable. Other items you can get instant refunds as long as you ship them back.
Ryan: Yeah, go figure. The bottom line is, know the policy. If you have a problem returning a gift. If you have difficulty with it, ask the store manager for help. Call their customer service department. Most places want to be accommodating to their customers. If it goes further...
Sandy: That's right. If you're really unhappy and you feel like you're just not getting satisfaction you can contact your state attorney general's office and file a complaint. I would imagine just the fact that you do that might get some attention from the retailer.
Ryan: Yeah, the last thing we want to talk about about returns is, a lot of relatives are giving gift cards these days. A lot of times you might not have received the card for a retailer that you use. Our advice on that, there are plenty of websites that let you turn in a gift card or exchange a gift card rather for a discounted gift card. So you're not going to get quite as much, but a discounted gift card for a retailer that you'd be more likely to use or even a sort of prepaid credit card that's as good as cash. A few of these websites, you have Gift card Granny, Cardpool. I'm sure there are other ones. You should shop around because your gift card to Macy's might be worth 70% of its value on one website or 90% of its value in Amazon credit on a different website.
Sandy: I guess the last thing I would say Ryan is, if you can't get 90% back, really look hard and see if this is a gift card that you can actually use or someone else you love could use it. As much as we have cautioned against re gifting, I think a gift card is probably something pretty safe to re gift and a 100% is always better than 90% or less.
Ryan: Absolutely right. Up next, our travel guru Miriam Cross talks first-class travel on a coach budget. Don't go anywhere.
Ryan: Alright, and we're back with associate editor and resident travel expert Miriam Cross. Miriam, thank you so much for coming on.
Miriam: Thanks for having me.
Ryan: The topic today is luxury travel on a budget. This is something that you and I as world travelers know so much about, but it's something that you've covered extensively in the magazine. I think the number one thing on people's minds when booking travel is the flight. How do you have the luxury flight experience if you have a budget like ours?
Miriam: Sure. So one thing you can do is look into premium economy. It's a separate class, sort of a bridge between regular economy and business class. You'll mostly find it on long haul flights. The quality varies depending on the airline, but you get a separate cabin with bigger seats, more legroom, maybe some amenity kits, better food served on real china, priority boarding. It'll cost more, but not as much as it would to pay cash for a business class seat.
Ryan: I think everyone wants to harken back to those days where you could have a cigar and like a real experience flying. Is it possible to get a first class experience flying the more budget carriers?
Miriam: Mostly, yeah, mostly for international flights.
Sandy: Is there a strategy for the bidding?
Miriam: They have a baseline, but if you bid another $30 to $50 dollars above the baseline, that can give you an edge.
Ryan: Alright, so then we've got air travel covered, but once you land how can you stay in style on a budget once you've reached your destination?
Miriam: If you're traveling with a group it's probably going to be more economical to book a home through Airbnb or Home Away rather than spreading yourselves among multiple hotel rooms. This is true even if you're booking a really luxurious mansion or villa. If you're spreading your group out among a few hotel rooms, especially nice hotel rooms, you're paying maybe 200, 300 dollars a room or more. But, if you're staying in a six bedroom house that costs 800 dollars a night, six adults, then it's about 130 dollars per person, and you could be getting a pool, a hot tub, a beautiful terrace overlooking the ocean, tennis courts, things like that.
Ryan: People shouldn't be afraid of hostels either, right? You and I have stayed at hostels over the years.
Miriam: Hostels have gotten really nice. You don't need to stay in a dorm room. A lot of hostels have private rooms with en suite bathrooms. You also get a lot of perks and freebies that you do not get at hotels or you have to pay for at hotels.
Ryan: Right. The last time I stayed in a hostel, we got a private room, we had our own suite. We had everything. Plus, there was breakfast in the morning. Plus they could set up all sorts of tour groups and that kind of stuff, so it's really a nice way to stay.
Miriam: Mmm hmm.
Sandy: Miriam, a lot of people like to go on cruises because it's all in one. It's a great way to see many different places. I know there are just all kinds of price points. If you want to have a really nice luxury cruise are there ways to save money on that too?
Miriam: Look into taking a repositioning cruise. That's what happens when a cruise line needs to move its ships from region to another. They may move their ships from the Caribbean to the Mediterranean in the spring to prepare for the summer season, and from the Mediterranean to the Caribbean in the fall to prepare for the winter season. You can get on one of those repositioning cruises. You'll be spending a lot of time at sea. You won't be making that many stops, but you could be traveling for as little as 50 dollars a day after taxes on some of the best ships in the fleet.
Ryan: Plus you still get all the luxury stuff anyway. You still get the buffet. You still get the dinners. You still get the bars and all the all inclusive stuff. The stuff that's luxurious anyway, right?
Miriam: Yep, and you're just going to have a lot more days at sea to enjoy it.
Ryan: Fair enough.
Sandy: But you'll be days at sea in a really first class environment with really good food and presumably a room that has a balcony or something nice like that, right?
Ryan: Are there certain types of cruises that tend to be more economically friendly than others?
Miriam: River cruises are a little counterintuitive. They may look more expensive, but they're also more inclusive than ocean cruises. You'll get your wine and beer, shore excursions and other things bundled into the sticker price.
Ryan: If you're looking to get on one of these cruises is there an ideal time to book?
Miriam: If you want perks and upgrades, look into booking a year in advance. If you just want the cheapest cabin, book within three months.
Ryan: You mentioned perks and upgrades and this sort of dovetails into something else I wanted to ask you about. I think the travel agent has sort of gone by the wayside, but can booking through a travel agent be a way to make sure you're getting all of the upgrades that you might be able to get?
Miriam: It can. First of all, travel agents haven't gone by the wayside. You're just going to be speaking to them over the phone and Skype rather than in person.
Ryan: I see.
Miriam: Using a travel agent to book your trip means they have connections with the general managers. They can make recommendations and they can get you discounts and perks and upgrades and resort credits you would not be able to get on your own.
Ryan: Do you have any tales of luxury travel on a budget?
Miriam: I've stayed at a bunch of really nice hostels and paid pretty cheap for the nicest breakfast spread I've ever had. Way better than hotels. One of the hostels I stayed in was literally the cleanest place I've ever stayed. My favorite perk was a hostel that baked all the guests chocolate cake every night.
Sandy: Oh my goodness.
Ryan: Tremendous. The thing is, you and I actually, we travel together. We actually got really the biggest boon doggle in the history at least since I've been there because we got to write a story about Vegas, which is one of my favorite places. On the way back, I had a big lay over, well, not a lay over but I was at the Vegas airport for five or six hours to kill because you had a flight.
Miriam: You dropped me off very nicely.
Ryan: Yeah and I had the rental car to turn in so I had nowhere to go. For forty bucks I got myself into an airport lounge which had all you can eat food, an open bar, and WiFi and a shower. I felt like forty bucks is probably what I would have spent if I had gotten a martini and dinner at the Legal Seafood. Are these lounges a common thing that people can take advantage of?
Miriam: They're not as exclusive as you think. So you can do like you did, sorry.
Ryan: Wow, paid my way in.
Miriam: You can buy one time passes through an app such as Lounge Buddy for $25 to $50 per entry. Or if you have a premium credit card such as the Chase Sapphire Reserve you may have Priority Pass membership which means you can access lounges all over the world.
Ryan: Well, fantastic. This all sounds like fantastic advice. Sandy, any tales of luxury travel for you?
Sandy: The one tip I have that's been very successful for some of my friends is, when you're checking into a hotel just ask for an upgrade. A lot of times if you're well dressed and they want to make a good impression and they actually have an available suite, they'll upgrade you for nothing. It costs nothing to ask so I think that's an easy way to perhaps get a nicer set of sheets than you might have otherwise.
Miriam: King size bed.
Sandy: King size bed, you know, whatever. That's what I think worked for me.
Ryan: Well listen, I remember when I was a kid I once asked my father, "Dad, when will we ever fly first class." He literally laughed in my face.
Miriam: As he should.
Ryan: I don't think it's coming for me anytime soon but I'm excited to put these tips into use. Miriam thank you so much again for coming on.
Miriam: Thanks for having me.
Ryan: After the break Sandy and I separate the financial myths from the realities. It's Fact or Fiction, next.
Ryan: Alright, we're back and before we go, Sandy and I wanted to play a quick game of, Financial Fact or Fiction, and Sandy you're up first.
Sandy: Here is mine. If you convert a traditional IRA to a Roth IRA, you can change your mind.
Ryan: I seem to remember that being true.
Sandy: It's not true anymore. You used to be able to do that which was a really nice feature because when you convert a traditional IRA to a Roth you have to pay taxes on the amount that you convert. Used to be that you had until the next tax deadline to undo the conversion which basically meant if you found you didn't have the money or whatever, you could undo it. The tax overhaul which took effect in 2018, eliminated that little out. I guess it's a way to raise extra money or something like that. The take away here is it's still a good idea to convert but make sure you can afford to do it. You might want to convert a smaller amount. Do it over several years because once that tax bill comes, you are going to have to pay it. You have to pay taxes on the conversion or it will be treated as a distribution and your tax bill could be even worse. So think hard about conversion.
Sandy: If your portfolio is really beaten up by the market look at that as an opportunity because you will be taxed on the value of your IRA at the time of the conversion. Again, if we go into a Bear market or your just particular investments are really just taking it down, that might be a good opportunity. Just make sure you have money in the bank to pay the taxes when you file your taxes in 2019 because you do not get a second chance.
Ryan: Is there a way that people can calculate whether this is something that they can afford? Is there a sort of back of the napkin calculation or is it just that you should probably do it sort of gradually if you think that you might be on the line?
Sandy: Do it gradually if you think you might be on the line. Most cases the entire amount you're going to convert will be taxable so you can look at your tax rate and kind of give yourself an idea of how much you'll owe. I think in this case, unless you know that you're going to have the money, going at it gradually is a good idea. One of the risks that you run, say that you convert tomorrow.
Sandy: Then your portfolio plummets in value. You're going to end up paying taxes on the amount of, the value of your portfolio when you converted no matter how much it's worth when you actually have to pay the taxes. So you're paying taxes on phantom gains. That was less a worry when you could undo it. It is a big concern now. I think converting can be a good idea because once you move that money into a Roth IRA it's tax free forever. You're playing the long game here, so even if you do have some sort of phantom income over time you could make that up. The main take away is just make sure you can afford to do the conversion because you don't get to change your mind.
Ryan: Tread carefully.
Sandy: Yes.
Ryan: My fact or fiction is, had you invested in the stock market just before the financial crisis hit in 2007, you would just now be breaking even.
Sandy: Given the severity of that crisis that sounds about right to me, Ryan.
Ryan: Well it's not. It's shockingly not. I think a lot of Americans in the wake of the financial crisis tend to think or tend to sort of distrust the market and not think that we've done as well as we have. In fact, we've been in the longest Bull market ever. We're once again wading into the dreaded territory of math, but not too much. Had you invested the day before the 07 to 09 Bear market. If you're the unluckiest investor alive. Sometimes I think I'm the unluckiest investor alive. Had you been the unluckiest investor alive you would've taken an immediate 55.3% drop. That is, if you had invested in the S&P 500. If you invested in the broad stock market.
Sandy: Ouch!
Ryan: Yeah, rough, but had you held that entire market holding from then until now, you would have earned a 6.8% annualized return which equates to a 109% cumulative return, meaning that you would have more than doubled your money.
Sandy: I think what's telling about that Ryan is that particularly now when we seem to be heading into some rough waters, you hear from people who think, "Well, I should just take my money out. I should get out and then I'll be okay." What that tells us, timing is really hard. When would you have gotten back in? When could you have gotten back in to get the returns that you just described?
Ryan: Not only that, but you have people sitting on the sidelines right now. Especially young people who haven't invested yet who think, "Well, you know, it seems like the market is kind of topping and we might be headed into a Bear, and really I should probably try to invest when things are a little bit closer to the bottom." Of course, the problem is, you and I and none of us know when the bottom is until after the fact.
Sandy: Right. I think what that speaks to is just a lot of us don't have a very good perspective on long term performance. You hear people saying, because we've had some downturns lately, you'll hear people say, "Oh, my portfolio is down 6%." Well maybe it's down 6% since December.
Ryan: You're right.
Sandy: But, since 2007 it's still in really good shape and again, that just speaks to the long game that you should be playing.
Ryan: The bottom line is that the investor's best friend is time because times allows the quote unquote magic of compounding interest to take place. We say magic, magic is really just a euphemism for math. Maybe we should just start saying that on the podcast for now on. A little bit of magic is about to happen.
Sandy: Oooh, I like that.
Ryan: I kind of like that, too. We may have to keep that. Time is your best friend and compounding is your best friend. Rather than trying to time the market what you should do is invest early and often. You should practice dollar cost averaging which is investing at regular intervals over a long period of time. That way you're always guaranteeing that you're buying low and selling high. That's really the number one maxim of smart investing.
Sandy: That's how the magic happens.
Ryan: Yes, indeed.
Ryan: That's it for this episode of Your Money's Worth. For show notes and more great Kiplinger content on the topics we discussed on today's show, visit Kiplinger.com/links/podcasts. You can stay connected with us on Twitter (opens in new tab), Facebook (opens in new tab) or by emailing us at podcasts@kiplinger.com (opens in new tab). If you like the show please remember to rate, review, and subscribe to Your Money's Worth wherever you get your podcasts. Thanks for listening.
Links and resources mentioned in this episode
Associate Editor, Kiplinger's Personal Finance
Ryan joined Kiplinger in the fall of 2013. He writes and fact-checks stories that appear in Kiplinger's Personal Finance magazine and on Kiplinger.com. He previously interned for the CBS Evening News investigative team and worked as a copy editor and features columnist at the GW Hatchet. He holds a BA in English and creative writing from George Washington University.