21 Ways to Get Luxury Travel for Less
You can get luxury on a budget, you just have to know how to get it.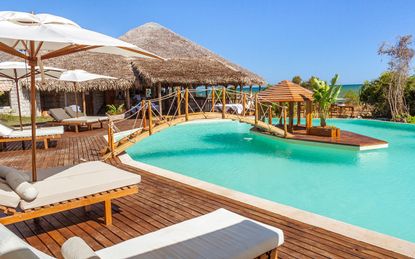 (Image credit: Getty Images)
Penthouse suites and first-class seats to Europe may be extravagant, but there are a slew of ways to snag five-star hotels, roomy airline seats and private tours for a lot less than you'd expect.
We rounded up ways to wrangle upgrades and price breaks on luxury experiences.
Bonus: We also found places to go and ways to get there using these strategies. Take a look.
1/21
Accommodations: Share a Ritzy Rental
Splitting a luxury residence with friends and family can be far cheaper on a per-room basis than dividing your group among luxury or even midrange hotel rooms, says Jen O'Neal, president of Tripping.com, a search aggregator for vacation rentals.
For example, a room at Jade Mountain, considered one of the most decadent resorts in Saint Lucia, ranges from $1,110 to $3,480 per night for a couple. But the island's four-bedroom Tamarind House, which sleeps up to six adults and two children, averages $814 per night on HomeAway.com and commands views of the striking Piton mountains. You get a private pool and can arrange for tennis lessons, massages and a private chef.
2/21
Accommodations: Check Out Five-Star Hotels
Five-star ratings—typically assigned by national tourism authorities or online travel sites, such as Expedia—indicate hotels with a high level of luxury, multiple dining options and an array of services and amenities. When searching for a hotel, don't assume this top tier is out of reach until you check the prices.
For instance, the average daily rate at a five-star hotel last September was $417 in Zurich, $424 in London and $559 in New York City, reports Expedia. But that same month, five-star lodging averaged only $111 per night in Kuala Lumpur, $142 in Bangkok, $215 in Berlin and $259 in Las Vegas.
3/21
Accommodations: Skimp on the Room, Splurge on the Property
When staying at an all-inclusive resort, "a lovely view of the waves is pretty idyllic," says Christie Hudson, head of North American communications at Expedia. "But you won't be in your room that much, so paying to get a suite or private terrace isn't a great use of your dollars."
For instance, lagoon-view rooms start at about $225 per night in September at the five-star Andaz Mayakoba in Playa del Carmen, Mexico, while ocean front suites can run more than $820 a night for the same dates. But no matter how much you pay for a room, every guest gets access to the golf course, spa, and other facilities.
4/21
Accommodations: Don't Count Out a Hostel
Many hostels offer private rooms with en suite bathrooms and free amenities that can rival a hotel's, such as a breakfast buffet, Wi-Fi, hot tub, fitness room, shuttles to tourist sites and more—at a palatable price for a prime location.
For example, a double room at the Star Hostel Taipei Main Station in Taipei, Taiwan, starts at $66 a night (a single starts at $47) and includes a TV and en suite bathroom; the hostel features pop-up shops and free cooking classes.
Check reviews at booking sites such as www.hostelworld.com for a sense of how low-key (or party-happy) the atmosphere is.
5/21
Accommodations: Pounce on a Flash Sale
The free flash-sale site Secret Escapes sends a daily e-mail to its members flagging luxury hotels, cruises and tours, often for up to 70% off. If you're looking for an exotic getaway, the Maldives, located just off the coast of Southern Asia, is almost always on sale through the flash-sale site. Recent discounts included 53% off the price of an over-water bungalow and up to 75% off a stay at resort villas with a nearby dive center.
CheapCaribbean.com recently offered airfare and five nights at the all-inclusive Decameron Barú resort, located on a peninsula outside Cartagena, Colombia, starting at $919. (Price varies depending on your departure city.) Guests are steps from the beach and just over an hour from the historic sites of Cartagena.
You can also try booking hotels at discounted rates at the last minute through the HotelTonight app, and find suite upgrades for up to 50% off by searching for your destination followed by the word upgrade.
6/21
Accommodations: Book Through a Travel Agent
You won't pay more to book through a travel agent, but you'll likely get more in return, such as breakfast, resort credits and upgrades, especially if the agent belongs to a hotel's "preferred" program.
"We have a list of go-to properties where we know the general manager," says Michael Holtz, owner of SmartFlyer, which belongs to the luxury-focused Virtuoso network. "Many hotels and resorts have a budget for customized stays, so we'll tell the general manager what our client likes." For example, he had a manager of a hotel in Puebla, Mexico, arrange a private courtyard dinner for guests.
7/21
Cruises: Get an Upgrade
If you receive an offer to upgrade, especially for a fee, make sure that you're getting bumped up to a better level (for example, a balcony room for the price of an exterior cabin) rather than being shuffled to a better room in the same tier.
8/21
Cruises: Cash In on the Privileges of Ownership
Investors who own at least 100 shares of stock in the parent companies of Carnival, Norwegian and Royal Caribbean cruise lines can receive onboard credit ($50 to $250).
You'll have to send proof of ownership to the cruise line a few weeks before departure, but you can claim this credit every time you sail.
(If you don't already own these stocks, don't rush out to buy shares without checking out the companies first, as you would with any investment. Carnival and Royal Caribbean have outperformed the market over the past five years, while Norwegian has lagged.)
9/21
Cruises: Kick Back on a Private Island
Many cruise lines own private islands in the Caribbean, where they stop for land activities and water sports. While there, passengers can rent a private cabana, where they can hang out, says Colleen McDaniel, senior executive editor of CruiseCritic.com. The cost of several hundred dollars, divided among a group of four to six, may be worth it.
You'll often get dedicated service from a staff member, snacks and beverages, a private terrace, air conditioning, swim floats, a private shower and perhaps even exclusive beach access.
10/21
Cruises: Book the Best Ships at a Bargain Rate
When cruise ships "reposition" from the Caribbean to the Mediterranean in the spring, or vice versa in the fall, they take passengers along at a reduced rate. Transatlantic crossings usually feature the cheapest daily rates, so you can sail on some of the best ships for about $50 a day after taxes, according to CruiseSheet.com.
One caveat: You'll spend much more time at sea than in port. If that works for you, consider westbound Atlantic sailings in the fall, when several days stretch from 24 to 25 hours as you cruise through time zones.
Sail and save: A 14-night voyage across the Atlantic on the Norwegian Star in November starts at $707, including taxes and fees, at CruiseSheet.com. The journey—designed to return the ship to Miami—starts in Rome and stops in Barcelona, Madeira and St. Maarten.
MSC Cruises offers a luxury experience without the high-end price through its Yacht Club, says CruiseCritic's Colleen McDaniel. On MSC Seaside ships, the average starting price for a seven-night cruise in the Caribbean is about $1,800 per person. Guests stay in a secluded enclave of the ship, and the price includes private facilities—pool, lounge and restaurant—as well as complimentary wines, beers and spirits, 24-hour butler service and posh cabins and suites.
11/21
Cruises: Get More Bang With a River-Cruise Bundle
River cruises are often less expensive overall than ocean cruises. Most ships—even those not designated "all-inclusive"—bundle wine and beer, shore excursions and more into the sticker price, whereas mainstream cruises typically charge extra for these treats. You'll also enjoy a more intimate experience by docking in the heart of town and sharing space with a smaller group of passengers.
12/21
Air Travel: Jump on an Upscale Sale
A business-class ticket generally costs three or four times the price of an economy fare, says Scott Keyes, of Scott's Cheap Flights e-mail newsletter. But sales that bring the price down to a manageable level are not as elusive as you might think.
For example, when leisure travel is heating up midsummer or over the winter holidays, business travel is slowing down, and the price gap between economy and business-class tickets narrows. Keyes recently found a round-trip business-class fare from New York City to Buenos Aires, Argentina, in August for $1,293, compared with an economy fare of $961. Business-class sales also tend to last much longer than economy sales (which can disappear within hours), so you won't be under the same pressure to make a snap decision.
13/21
Air Travel: Fly Premium Economy
Premium economy—a separate cabin from regular economy that's typically available on long-haul flights—is what business class used to be, says Brett Snyder, president of CrankyFlier.com. It offers roomier seats with more legroom, better cuisine served on china, amenity kits, priority boarding and more.
Depending on the airline and time of travel, premium economy seats are 10% to 85% more expensive than regular coach seats, says SeatGuru.com. The price drops as your flight date approaches. For a shot at a last-minute deal, wait until you're checking in at the airport to upgrade to a premium economy seat.
14/21
Air Travel: Choose a Premium Seat on a Budget Airline
Norwegian Air Shuttle has built its reputation on no-frills service and rock-bottom rates to Europe. But if you pay up for its premium cabin, you'll get plenty of space, a three-course dinner and unlimited drinks.
For example, we found a one-way nonstop flight from Los Angeles to Barcelona in September for $800 in Norwegian's premium cabin. That's at least $200 cheaper than premium economy fares on other airlines on that date, all of which include stops. Condor, a Frankfurt-based airline that's a cross between low-cost and full-service, flies between 11 airports in the U.S. and Europe. Its business-class seats don't lie completely flat, but the rates are competitive.
And "one of the best values in domestic travel for people who don't care about frills but want more room to stretch out is the Big Front Seat on Spirit Airlines," says Snyder. This wide, cushy seat is similar to what you would find in first class on other airlines' domestic flights and costs an extra $12 to $150 to reserve.
15/21
Air Travel: Bid for an Upgrade
A number of airlines, including Aer Lingus, Air Canada, Hawaiian Airlines and Virgin Atlantic, allow passengers to bid on first- or business-class seats before departure. Airlines will set a minimum bid, but you'll get an edge on the competition if you bid $30 to $50 above that baseline.
16/21
Air Travel: Bargain for a Premium Seat
If your flight is oversold, try volunteering your spot in exchange for a premium seat on the next flight, says Keyes.
17/21
Air Travel: Kill Time Between Flights in an Airport Lounge
Airport lounges aren't just for highfliers. To freshen up or get away from the buzzing terminal, buy a pass to one of your airport's lounges.
Lounge Buddy sells passes on its website and app for $25 to $50 for entries with no time limit. Priority Pass sells access to a worldwide network of lounges with three membership tiers ($99, $249 and $399) that offer varying levels of free or discounted access.
Several premium credit cards, such as the Chase Sapphire Reserve (annual fee: $450) and American Express's Platinum card ($550), include Priority Pass membership as a benefit. The no-annual-fee PenFed Pathfinder Rewards American Express card reimburses cardholders for $100 annually in air travel expenses, including lounge entry.
18/21
Air Travel: Spend Your Layover in a Hotel
Some hotels let you pop in for the day to relax during a long layover. DayUse.com, a daytime hotel-booking website, says rates average $100 per day in the U.S. for one or two guests. You'll get a room and any amenities normally included in the room rate.
For example, Aloft Philadelphia Airport hotel recently offered a stay from 10 a.m. to 4 p.m. for $69 through DayUse.com. That price includes airport pick-up and drop-off shuttle service and access to the pool, fitness room and business center.
19/21
Tours and Packages: Get a Private Tour
"There's a misperception in the industry that traveling privately is always expensive," says Jared Alster, vice president of marketing at Cox & Kings, a luxury operator that organizes tours. But customizing your tour means you can dictate the experiences you want. And you can cut costs by, say, requesting local guides for each city rather than hiring a 24-7 escort.
Converting a group tour to a private one will cost more, but maybe not as much as you think. With upscale operator Alexander+Roberts, the difference between a small-group tour of up to 16 people and a private tour can be as little as $200 or $300 per person.
20/21
Tours and Packages: Package It Yourself
You can build your own packages through online travel agencies and hire private guides through Viator. The savings compared with "premium packages," or business- and first-class flights bundled with four- and five-star hotels, often exceed $1,000, says Expedia's Hudson.
21/21
Tours and Packages: Use Social Media to Find Deals
Many luxury brands don't want to advertise discounts widely, so they start with a subset of the public—their social media followers and e-newsletter subscribers.
For September, the United States Tour Operators Association is advertising promotions such as free airfare and deluxe upgrades as part of its Travel Together Month. Travelzoo's Top 20 and Newsflash e-mail subscriptions alert you to deals on packages and tours.

Associate Editor, Kiplinger's Personal Finance
Miriam lived in Toronto, Canada, before joining Kiplinger's Personal Finance in November 2012. Prior to that, she freelanced as a fact-checker for several Canadian publications, including Reader's Digest Canada, Style at Home and Air Canada's enRoute. She received a BA from the University of Toronto with a major in English literature and completed a certificate in Magazine and Web Publishing at Ryerson University.