Kiplinger Readers' Choice Awards: Travel Rewards Credit Cards
The Kiplinger Readers' Choice Awards celebrate the best products and services in personal finance.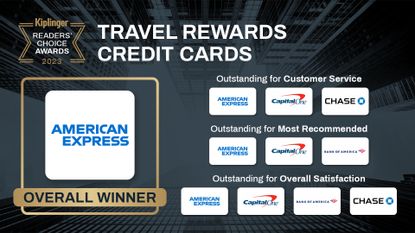 (Image credit: Future)
About the Kiplinger Readers' Choice Awards
The Kiplinger Readers' Choice Awards aim to recognize and celebrate the best products and services in the personal finance arena. We asked you, our Kiplinger community, to help us name the products and services you think have delivered excellent value in the past year.
Our Awards recognize excellence in everything from credit cards, banks and brokers to insurers, tax software and financial apps. More than 2,600 readers responded to our survey, and we're sharing the results here. For each category, we've listed an overall winner that earned the highest score. We've also highlighted other products and services that earned above-average scores for various criteria we asked readers to assess.
By voting, our community has helped us form our guide to the very best financial products. These are the products and companies that you think stand out from the crowd.
Kiplinger Readers' Choice Awards: Travel Rewards Credit Cards
Travel rewards credit cards provide points or miles that travelers can devote to a range of travel redemptions, from flights to hotel reservations to car rentals. Some come with significant side benefits, too, such as access to airport lounges and credits toward certain travel spending. Readers judged travel rewards cards on the strength of customer service, how likely they would be to recommend the card to others and how satisfied they are overall with the card.
OVERALL WINNER: American Express Platinum
Outstanding for:
Customer service
Most recommended
Overall satisfaction
The premium Platinum card from American Express hit a home run with our readers. As with other Amex cards we asked readers to judge throughout our survey, the Platinum card received several comments regarding exceptional customer service. "American Express offers first-class service. One of the key things they do is stand behind the cardholder when a merchant does not perform as promised," says one survey respondent.
Amex Platinum charges a hefty annual fee of $695, but those who take advantage of its many benefits can come out ahead. "It forces me to reevaluate each year to ensure I'm getting more value than $695," says another respondent. "For me, it's worth it."
Besides the Membership Rewards points earned on purchases — including five points per dollar on certain flight and hotel bookings — the perks include access to Amex's own Centurion airport lounges as well as lounges in the Airspace, Delta Sky Club, Escape, Plaza Premium and Priority Pass Select networks. Cardholders also get yearly credits of up to $200 for incidental fees with one airline they choose, $200 for select hotel bookings through Amex, $189 for membership with the CLEAR airport security screening program, $200 in Uber Cash (for Uber Eats orders and Uber rides), $155 for a Walmart+ membership (which provides free shipping from Walmart, among other benefits), $300 for an Equinox+ health and fitness membership, and $240 for digital entertainment subscriptions including Audible, Disney Plus, Hulu, ESPN+, Peacock and the New York Times.
Capital One Venture Rewards
Outstanding for:
Customer service
Most recommended
Overall satisfaction
This card wins honors for each aspect readers judged. "Capital One has an outstanding customer service team — prompt, knowledgeable and always ready to help," says a survey respondent.
Cardholders, who pay a $95 annual fee, get five miles per dollar on hotels and rental cars booked through Capital One Travel and two miles per dollar on all other spending. Miles are worth a penny each if you redeem them for statement credits on travel purchases or travel bookings through Capital One, or you can transfer miles to partner airline and hotel loyalty programs. Other benefits include two free yearly visits to Capital One's own airport lounges or Plaza Premium lounges, as well as reimbursement of the application fee for TSA PreCheck ($78) or Global Entry ($100), which provide expedited security screening at the airport
Bank of America Travel Rewards Visa
Outstanding for:
Most recommended
Overall satisfaction
Bank of America Travel Rewards, which has no annual fee, offers three points per dollar for purchases through the bank's Travel Center and 1.5 points per dollar on all other spending. As one reader pointed out in the survey comments, Bank of America's credit cards are especially valuable for members of the institution's Preferred Rewards program. Customers who have a three-month combined average daily balance of $20,000 to $49,999 in Bank of America deposit accounts and Merrill investment accounts get a 25% bonus of rewards earned on eligible credit cards. Those with deposit and investment balances of $50,000 to $99,999 get a 50% rewards bonus, and clients with $100,000 or more in account balances get a 75% rewards bonus.
Chase Sapphire Reserve Visa
Outstanding for:
Customer service
Overall satisfaction
Chase's premium credit card, which charges a $550 annual fee, provides benefits including a $300 yearly statement credit for travel purchases, membership with Priority Pass Select for airport lounge access, credit of up to $100 for a Global Entry, TSA PreCheck or NEXUS application fee, and perks such as room upgrades and daily breakfast at properties in the Luxury Hotel and Resort Collection.
Cardholders also get 10 points per dollar spent on hotels and car rentals purchased through Chase's Ultimate Rewards portal and five points per dollar for flights booked through Chase. Plus, you get 10 points per dollar spent on purchases with Chase Dining—which provides reservations at participating restaurants and access to special dining events—three points per dollar on other travel and dining purchases, and one point per dollar on other spending. Points are redeemable at a strong value of 1.5 cents each for travel booked through Chase.
Kiplinger Readers' Choice Awards Categories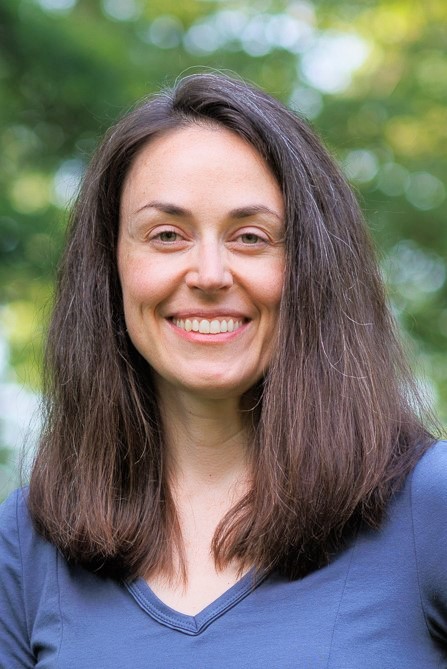 Editor, Kiplinger Personal Finance magazine
Lisa has been the editor of Kiplinger Personal Finance since June 2023. Previously, she spent more than a decade reporting and writing for the magazine on a variety of topics, including credit, banking and retirement. She has shared her expertise as a guest on the Today Show, CNN, Fox, NPR, Cheddar and many other media outlets around the nation. Lisa graduated from Ball State University and received the school's "Graduate of the Last Decade" award in 2014. A military spouse, she has moved around the U.S. and currently lives in the Philadelphia area with her husband and two sons.