JetBlue Credit Card Offer Worth Over $900
This JetBlue credit card comes with 70,000 intro bonus points and loads of travel perks.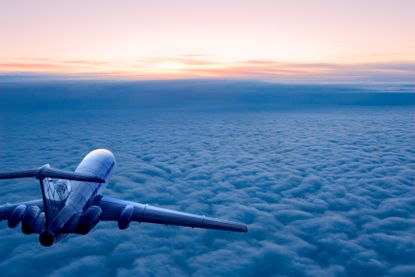 (Image credit: Getty Images)
This offer has expired.
For budget travelers looking to rack up airline miles quickly, this JetBlue credit card deal is a great option. You can earn 70,000 TrueBlue points after spending $1,000 on purchases and paying the annual fee in full, both within the first 90 days. You can redeem them for travel worth between $700 and $910.
This offer ends on October 31, 2023. Terms apply.
Subscribe to Kiplinger's Personal Finance
Be a smarter, better informed investor.
Save up to 74%
Sign up for Kiplinger's Free E-Newsletters
Profit and prosper with the best of expert advice on investing, taxes, retirement, personal finance and more - straight to your e-mail.
Profit and prosper with the best of expert advice - straight to your e-mail.
Before you apply for this card, check out some of the other welcome offers from competing cards, listed at the bottom of this article.
JetBlue credit card overview
If you haven't been paying attention to JetBlue, now is a good time to consider signing up for their frequent flyer program, TrueBlue. The airline has come a long way since a 2005 incident when a JetBlue plane aired live coverage of its own emergency landing to passengers on the plane. (The plane landed safely). A Saturday Night Live sketch satirized the landing and tanked the company's reputation for years.
Now, the airline is an industry leader in many respects. JetBlue scored exceptionally well in the J.D. Power 2023 North American Airline Satisfaction Study. It took first, second and third place for customer satisfaction in the categories of first/business class, premium economy, and base economy, respectively.
JetBlue's frequent flyer program is also strong. The company recently overhauled the TrueBlue loyalty program so that even infrequent flyers could get perks. And the program is flexible. For example, American Express card points may be transferred to JetBlue, as can Chase Sapphire cards' Ultimate Reward points. However, JetBlue recently ended its partnership with the American Airlines Aadvantage program, and it no longer partners with any major U.S. carrier. Existing transfer partners include Hawaiian Airlines, Aer Lingus and others.
According to Bankrate, JetBlue miles are worth up to 1.3 cents per mile. That puts the value of this deal at about $910. Points are redeemed for a dollar each when purchasing JetBlue flights, giving you $700 worth of flights. But you also get 10% of your points back after you redeem for and travel on a JetBlue-operated Award Flight, giving you another 0.3 cents per point.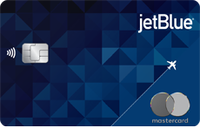 This card's $99 annual fee is more than offset by the welcome bonus and 10% points back on reward flights. You'll also get one free bag with each ticket, and other perks. Earn 70,000 TrueBlue points after spending $1,000 on purchases and paying the annual fee in full, both within the first 90 days. Sign up by 10/31/23. Terms apply.
You can earn points by flying on JetBlue of course, but also by using your card at qualifying restaurants and grocery stores.
Top rewards rate: Get six points back for each dollar spent on qualifying JetBlue purchases, like airline tickets.
Other rewards rates: Get two points per dollar for purchases made at restaurants and grocery stores. Note that big box retailers like Costco and Target do not qualify as grocery stores. Get one point per dollar back on all other purchases.
Get 10% TrueBlue Points after taking award flights: With the award flight redemption bonus, you will receive 10% of your TrueBlue points back as a bonus after you redeem points and travel on a JetBlue-operated Award Flight. For example, if you redeem 30,000 TrueBlue points toward a JetBlue-operated Award Flight, 3,000 of your TrueBlue points will be deposited back into your account after you take the flight.
Annual bonus: Get a 5,000 TrueBlue points bonus credited to your Membership Account, 4-6 weeks after your Card Account anniversary, as your Card Account remains open and in Good Standing.
Vacation package credit: Spend at least $100 on a vacation package in a given year and get a $100 statement credit.
Welcome bonus: Earn 70,000 TrueBlue points after spending $1,000 on purchases and paying the annual fee in full, both within the first 90 days. The offer expires after 10/31/23. It will take four to six weeks for your account to reflect the bonus, so plan to use your points accordingly.
Redemption: Redeem points for travel on JetBlue flights. Points do not expire as long as your account is in good standing, and there are no black-out dates. You may also redeem points for travel packages.
Interest rate: 21.24%, 25.24% or 30.24% variable APR.
Annual fee: $99. If you want a similar card with no annual fee, check out the JetBlue Card.
Foreign transaction fee: None, so this card is a good choice for purchases abroad.
More travel perks: Read about other ways to benefit from the TrueBlue loyalty program.
Rewards cards dos and don'ts
As with any rewards credit card, be sure to weigh these benefits against fees — a $99 annual fee in this case — and make sure you understand how to use the card effectively. That said, $99 is a relatively small price to pay if you max the benefits.
In addition, while reward credit cards are great if you use them wisely, always pay them off in full each month to avoid interest which can dwarf the gain. And only spend any more than usual to hit any trigger; otherwise, rewards cards can be a false economy as you'd be overspending.
If this is your first foray into credit cards, or you just want a refresher, make sure you know how to choose a credit card. And make sure you are familiar with what counts as a good credit score.
Other travel credit card deals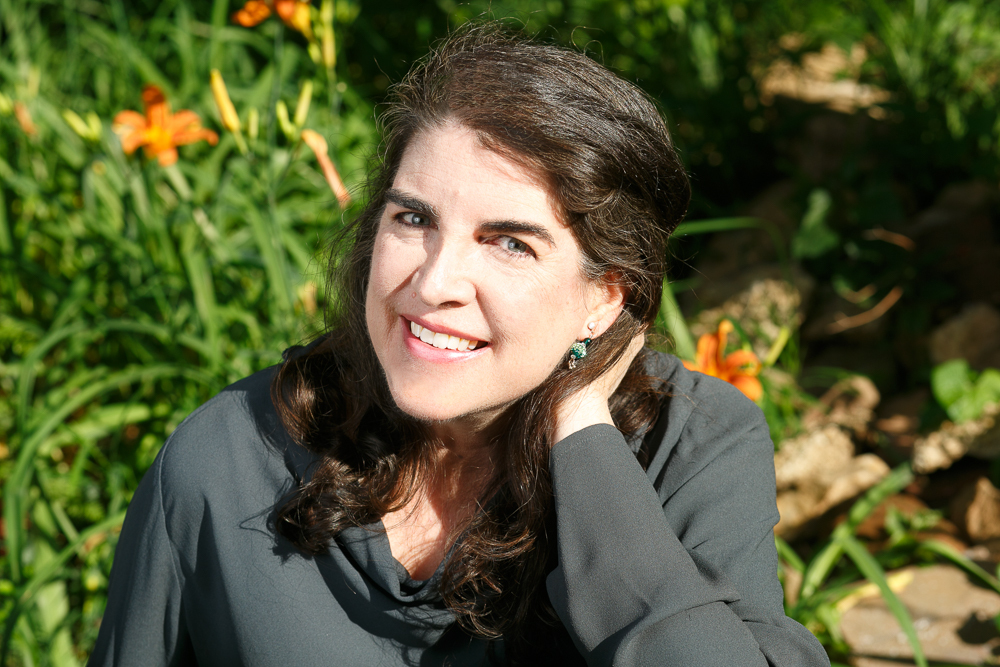 Personal Finance Editor, Kiplinger.com
Ellen writes and edits personal finance stories, especially on credit cards and related products. She also covers the nexus between sustainability and personal finance. She was a manager and sustainability analyst at Calvert Investments for 15 years, focusing on climate change and consumer staples. She served on the sustainability councils of several Fortune 500 companies and led corporate engagements. Before joining Calvert, Ellen was a program officer for Winrock International, managing loans to alternative energy projects in Latin America. She earned a master's from the U.C. Berkeley in international relations and Latin America.