What You Can Do About Medical Debt
Millions of Americans are awash in debt from medical care. If you're one of them, we have your options, whether the bills are new or a collector is calling.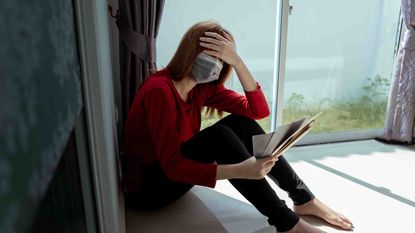 (Image credit: Getty Images)
You've successfully battled a serious medical condition; you've had surgery or spent some time in the hospital. You're hoping to move on with your life now that you have your health back. But there's the little matter of the bill that looms large, overwhelming your ability to pay. Or even worse, maybe you're still sick and unable to pay your medical bills.
According to a report from the Consumer Financial Protection Bureau, you are not alone. Americans owe billions to medical providers. The bureau estimates that between about 18% and 35% of Americans have medical debt, with Black and Hispanic people, young adults and low-income people of all races and ethnicities more likely to carry this burden.
.
Subscribe to Kiplinger's Personal Finance
Be a smarter, better informed investor.
Save up to 74%
Sign up for Kiplinger's Free E-Newsletters
Profit and prosper with the best of expert advice on investing, taxes, retirement, personal finance and more - straight to your e-mail.
Profit and prosper with the best of expert advice - straight to your e-mail.
If you're struggling to pay medical debt, what can you do? Fortunately, you may have a lot of options, depending on your situation and especially if the debt is from a hospital. We're going to spell them out for you.
Medical Debt Most Common in Collection
American credit reports show $88 billion in medical debt, as of last June, according to a recent federal government report.
Medical debt is the most common type of debt pursued by collection agencies, comprising 58% of all third-party debt collection in 2021, according to the report by the Consumer Financial Protection Bureau. That dwarfs the next most-common form of debt pursued by collection agencies, telecommunications debt, which is at 15%.
The report says two-thirds of medical debt results from one-time or short-term medical care arising from an acute need, when people don't have time – or the option – to shop around for lower-priced options. If you're uninsured or if the provider isn't in your insurance network, you can be hit with higher prices. And even in-network, prices can be vastly different in different facilities or even different departments of the same facility.
"Medical debt can also lead people to avoid medical care, develop physical and mental health problems, and face adverse financial consequences like lawsuits, wage and bank account garnishment, home liens, and bankruptcy," the CFPB report says. "Given the widespread impact of COVID-19, addressing medical debt is an urgent priority."
What you should do about your medical debt depends on a number of factors, including whether a collection agency has already gotten involved.
What to Do About Medical Debt Before a Collection Agency Hounds You
If you have medical debt that has not gone to collection, Jennifer Bosco, a staff attorney at the National Consumer Law Center, suggests getting an itemized bill and going over it for mistakes. If the bill has incorrect information, you can appeal it. And if you think your insurer should have paid the bill or more of the bill, appeal to the insurer.
Once you're sure the bill is accurate, you should look for other financing sources to help you pay the debt, including assistance programs.
For example, different states offer programs for catastrophic health needs of children, some states have brain injury programs and there are other state programs, such as the Massachusetts Health Safety Net. Research your state's programs and make sure to check if there are programs specific to your medical condition.
You can also seek charity care or financial assistance regardless of your state through Dollar For, a not-for-profit organization that does not charge to help people enforce hospitals' charity care policies. These policies are required in order for hospitals to keep their nonprofit status.
Dollar For notes that the law says hospitals must post their financial assistance policies online and accept applications for debt forgiveness. Hospitals typically offer charity care to lower- and middle-income uninsured or under-insured patients.
If you are insured, make sure there is no balance billing – a practice in which you are billed a high price for a service provided by someone outside your network, even though the facility and your primary provider are in network. Balance billing was made illegal this year by the No Surprises Act.
If you have questions about whether your bill is covered by the act or what to do if you think the act has been violated in your case, you can go to the federal Department of Health and Human Services website to get answers or submit a complaint. If the surprise billing involves Medicaid or Medicare, Bosco said you should contact the state or federal agency that administers the insurance program or, if eligible, consult with a legal aid attorney.
If your only income is Social Security or you're financially insolvent, let the medical provider know because you are likely considered judgment proof. That means if the provider sued you and won, the provider couldn't collect any money, Bosco said. If the provider knows this, they may be more likely to work with you to lower or even cancel the debt.
Medical Debt Is Different, So Preserve Your Protections
Bosco said not to put medical bills ahead of other debts. "It's a relatively low priority debt compared with rent, utilities, court judgment, criminal justice debt, auto loans or leases, child support, etc.," she said. "Immediate needs like food, housing, utilities and transportation are higher priorities since those are just basic human needs. A court-ordered payment, such as a criminal justice debt or child support, must be paid to avoid the legal consequences that could follow if a person doesn't pay.
"Medical debt is certainly important, but compared to these other debts it is not as urgent," she added.
And don't worry that you won't be able to get additional medical treatment because of unpaid bills. Bosco noted that federal law requires hospitals to provide patients with necessary emergency or labor and delivery services regardless of their ability to pay.
Moreover, medical debt won't show up on credit reports until six months after the bill is due. And If medical debt is included on a credit report, newer credit scoring systems don't weigh medical debt as heavily as other types of debt because it's not seen as predictive of creditworthiness. "However," Bosco cautioned, "not every institution that runs credit scores uses the newer scoring system."
The three major credit reporting agencies have announced that most medical debt won't be included in credit reports for a year.
"Effective July 1, 2022, paid medical collection debt will no longer be included on consumer credit reports," says an announcement from Experian, which was issued in conjunction with Equifax and TransUnion. "In addition, the time period before unpaid medical collection debt would appear on a consumer's report will be increased from six months to one year, giving consumers more time to work with insurance and/or healthcare providers to address their debt before it is reported on their credit file. In the first half of 2023, Equifax, Experian and TransUnion will also no longer include medical collection debt under at least $500 on credit reports."
That's one key reason to not cover medical debt by incurring additional conventional debt, whether by borrowing on existing credit cards or a credit line, or by a "medical credit card" you might have seen marketed. These often come with high interest rates while stripping the consumer of legal protections from medical debt that are not available for credit card debt. Plus, it may be harder to apply for financial assistance or charity care when a bill has already been paid.
How to Deal With a Medical Debt Collector
If you've already been contacted by a debt collector, first check the license of the debt collector to verify its legitimacy. The Consumer Financial Protection Bureau also has information on debt collectors.
You can limit contact from a debt collector by writing a "stop contact" or "cease" letter. If you do, the debt collector may only acknowledge receiving the letter and then notify you about legal steps they take. This applies only to collection agencies, but creditors collecting their own debts may honor such requests. A sample letter can be found on the NCLC website.
You can also specify kinds of contacts you want stopped, such as email or calls; you can limit times and places when and where you may be contacted. For example, you may tell the bill collector not to call you at work or not to call before noon or not to text you.
If a collection agency is trying to collect your medical debt, Bosco advised getting an itemized bill to verify the debt is accurate.
If you think the information about the debt is wrong, you can write a dispute letter. Collectors are legally required to give you valid information about the alleged debt and your right to dispute it.
And if you're unclear about what the debt is about, you should not pay anything until you get more information.
If some of your income is exempted from collection, such as state or federal government benefits, you can let the collector know and they may decide to stop contacting you.
Bosco said you can negotiate with the bill collector to get a payment plan and a reduction in the debt amount. The debt collector can't give the information about your medical debt to the three major credit bureaus for 180 days, Bosco said.
If you're notified that the debt collector has sued you, do not ignore the notice, Bosco said. Seek legal advice.
If all else fails, you may need to file for bankruptcy. Bosco said you should seek legal advice before taking that serious step.
Senior Retirement Editor, Kiplinger.com
Elaine Silvestrini has had an extensive career as a newspaper and online journalist, primarily covering legal issues at the Tampa Tribune and the Asbury Park Press in New Jersey. In more recent years, she's written for several marketing, legal and financial websites, including Annuity.org and LegalExaminer.com, and the newsletters Auto Insurance Report and Property Insurance Report.