Surprise Medical Bills Are Coming to an End
With the No Surprises Act taking effect in 2022, patients will no longer live in fear of receiving an unexpected and exorbitant medical bill for emergency care and other ancillary services.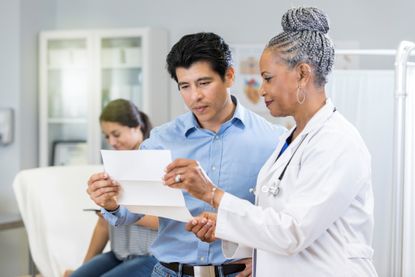 (Image credit: Getty Images)
Starting next year, out-of-network health care providers can no longer ambush patients with an unexpected, exorbitant bill. Instead, doctors will need a patient's consent first to charge an out-of-network rate. "People generally thought surprise medical bills were unfair. There is an element of being blindsided," says Daniel Klein, president and CEO of the advocacy group Patient Access Network Foundation. The reform could lower health insurance premiums, too.
The No Surprises Act, which Congress passed late last year, prohibits providers from charging patients out-of-network rates for emergency care and ancillary services, such as anesthesiology, delivered during scheduled procedures at in-network facilities.
Specialties, such as anesthesiology, where hospital patients get little say in who treats them, have long been a sore point. "You don't even know the name of your doctor until the bill comes," says Karen Pollitz, senior fellow at the Kaiser Family Foundation, a nonprofit that studies health policy. As of 2022, insurers must treat these out-of-network services as if they were in-network on a patient's bill. Providers and facilities can be fined up to $10,000 per violation.
Subscribe to Kiplinger's Personal Finance
Be a smarter, better informed investor.
Save up to 74%
Sign up for Kiplinger's Free E-Newsletters
Profit and prosper with the best of expert advice on investing, taxes, retirement, personal finance and more - straight to your e-mail.
Profit and prosper with the best of expert advice - straight to your e-mail.
For scheduled procedures, some out-of-network providers at in-network facilities can charge the higher rates if they give the patient an estimated bill at least 72 hours in advance and the patient consents. For procedures scheduled within that 72-hour window, the patient must be notified about the higher cost the day the appointment is made. The law also applies to air ambulances but not ground ambulances, which are more complicated to regulate, Pollitz says. The legislation won't affect Medicare or Medicaid, as these programs already ban "balance billing," which is when a patient is charged the difference between the doctor's bill and what insurance will pay.
"This law should take away some of patients' anxiety," says Erin Duffy, a fellow at the Schaeffer Center for Health Policy and Economics at the University of Southern California and an adjunct policy researcher at Rand Corp., a think tank. "You could be a patient who planned a procedure, and you did your research to select an in-network surgeon and in-network hospital. But there was still a high risk that someone involved could be out of network and you could get a balance bill. Now that fear should be addressed."
About 42% of inpatient admissions had at least one claim submitted by an out-of-network doctor in 2016, up from 26% in 2010, according to a study published in the medical journal JAMA Internal Medicine. Out-of-network costs also rose over that period, from an average of $804 to $2,040.
Although more than two dozen states have passed laws to regulate surprise medical billing, they exclude self-funded insurance plans favored by large employers. Those plans, which are regulated by federal law, cover more than 60% of people with private insurance.
When the new law takes effect, disputes over these bills will be settled between the insurer and medical provider, and if both parties can't agree, the case will go to arbitration. How arbitrators rule will likely affect health insurance premiums. The Congressional Budget Office predicts that the law could reduce premiums up to 1% as some providers are paid less.
But arbitrators can also side with doctors. "If the provider continues to win out, they will continue to go in with the higher amount," says J.D. Piro, national practice leader of U.S. health solutions for Aon, which provides retirement and health products to employers. If that happens a lot, Piro says, premiums will rise.
Advocates will need to educate patients about the new law, says Christopher Garmon, an assistant professor of health administration at the University of Missouri-Kansas City. "That is one problem that you could have—providers send out bills and consumers don't know they are protected," he says. "They may pay it without knowing they don't have to."
Senior Retirement Editor, Kiplinger.com
Jackie Stewart is the senior retirement editor for Kiplinger.com and the senior editor for Kiplinger's Retirement Report.