When Will Student Loans Be Forgiven?
Millions of Americans are waiting for the Biden Administration's next hint, which could come later this summer, at how he'll address the student loan crisis.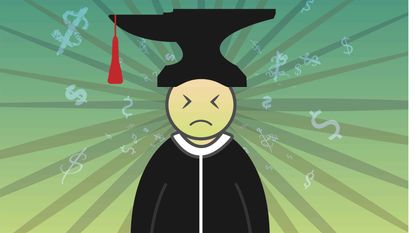 (Image credit: Getty Images)
See our latest: Biden's Student Loan Forgiveness: What it Means for You
Student loan borrowers have been paying attention since President Biden pledged during his 2020 presidential campaign to forgive $10,000 of federal student loan debt per person. And it's expected that the administration will stick with that promise, forgiving $10,000 of federal student loan debt for borrowers who make $125,000 or less annually.
The original plan forgave $10,000 of federal student loans for single tax filers who make $150,000 or less or $300,000 jointly. The current plan is $25,000 less, meaning tax payers who file jointly will need to have an income of $250,000 one less to qualify. For context, the average federal student loan balance is a little more than $37,000 according to Educationdata.org, a website dedicated to collecting data on the U.S. higher education system. And around 43.4 million borrowers have loans with the Education Department.
Subscribe to Kiplinger's Personal Finance
Be a smarter, better informed investor.
Save up to 74%
Sign up for Kiplinger's Free E-Newsletters
Profit and prosper with the best of expert advice on investing, taxes, retirement, personal finance and more - straight to your e-mail.
Profit and prosper with the best of expert advice - straight to your e-mail.
Plus, the Education Department may change some regulations currently in place. Released early July, the department listed a slew of new proposals to help improve what they deem a "broken" lending system. One proposal includes eliminating interest capitalization wherever it is not required. Interest capitalization, when accrued interests is added to a loan's principal, can cause some loan balances to balloon quickly. The Education Department proposes eliminating this additional cost when a borrower enters repayment, exits forbearance, defaults on a loan or exits income repayment plans. Another proposal involves counting partial, lump-sum and late payments towards Public Service Loan Forgiveness. The rules are scheduled to go into effect no later than July 1, 2023. And the public can comment on the proposals for the next 30 days, with the final ruling coming in November.
Some progressive critics say $10,000 is not enough. In a recent CNBC story , Thomas Gokey, co-founder of the Debt Collective, a national union of debtors. "This is less than what he promised on the campaign" And some Democrats, including Senator Elizabeth Warren and Senate Majority Leader Chuck Schumer, want the administration to forgive $50,000 per borrower.
Opponents of student loan forgiveness say any wholesale forgiveness is unfair to borrowers who have already paid off their federal student loan debt, and argue the policy sets a precedent for more policies targeting other forms of debt, such as credit cards, mortgages and more would be forgiven.
Additional relief, at least for education debt, seems likely. As student loan borrowers across the nation wait for a final decision, the Education Department has already made changes to beleaguered programs designed to lower student debt for low-income borrowers.
Plus, it's expected that President Biden will extend the moratorium on repayment of federal student loans. The original deadline for the payment pause to end is August 31. If extended, this will be the seventh extension of the suspension of payments, which began under the Trump administration at the beginning of the pandemic.
Who Has Gotten Student Loan Help So Far?
Thanks to the latest revamp of the income-driven repayment plan (IDR)—one of several programs aimed at providing incremental student loan relief—the Education Department announced that at least 40,000 borrowers would immediately have their debt canceled and more than 3.6 million will receive at least three years of credit toward forgiveness under the IDR plan. Before the latest changes, officials said it provided more than $17 billion in relief to more than 700,000 student loan borrowers through executive action, including $6.8 billion to more than 113,000 borrowers through the revamped Public Service Loan Forgiveness Program. This also includes more than $1.5 billion to borrowers determined to have been taken advantage of by their institutions and $7.8 billion to more than 400,000 borrowers with a permanent and total disability.
Also, the department extended $1.26 billion in loan forgiveness to more than 107,000 borrowers who attended the now-defunct ITT Technical Institute. Another 66,000 borrowers who had private student loans through Navient had $1.7 billion in debt canceled as the result of a legal settlement with 39 states following allegations of predatory lending and illegal loan servicing.
Plus in June, more borrowers received more relief. In early June, 560,000 borrowers who took out loans to go to the now defunct Corinthian Colleges—a for-profit chain of schools—had those loans forgiven. To date, this is the biggest debt forgiveness given by the Education Department with $5.8 billion of loans being discharged. This is in addition to the previous 100,000 borrowers who had some or all of their Corinthian debt forgiven. Then in late June, some 240,000 borrowers won their class-action lawsuit against the Education Department that started in 2019. Borrowers stated that the Education Department under the Trump administration ignored their applications for student loan cancellation. The suit cancels around $6 billion of student loan debt for these borrowers.
What's Happening with Income-Driven Repayment Plans?
When President Biden previously extended the moratorium on loan payments, he urged borrowers to look for options to resume paying when it ends, including income-driven repayment plans. These plans are supposed to set monthly payments at an affordable level, taking into account the borrower's income and family size and allow the loan to be forgiven at the end of a period of payments, regardless of whether the full outstanding balance has been paid.
But those plans have come under criticism from advocates who say the programs need reform because poor service and complicated paperwork have prevented millions of borrowers from receiving promised relief.
The Education Department's latest announcement involved changes to the system designed to address some of these criticisms and resolve what Education Secretary Miguel Cardona called "years of administrative failures that effectively denied the promise of loan forgiveness to certain borrowers enrolled in IRD plans."
Changes announced by the department include a crackdown on a practice followed by some loan servicers that steered troubled borrowers to short-term options like forbearance, rather than IDR plans and other options for avoiding delinquency.
"A borrower advised to choose forbearance – particularly long-term consecutive or serial uses of forbearance – can see their loan balance and monthly payments grow due to interest capitalization and lead to delinquency or default," the Education Department said.
To compensate for this "remarkably widespread" past practice, which violated department rules, authorities will issue a one-time account adjustment to count certain long-term forbearances toward IDR and public service loan forgiveness.
The department also pledged to increase oversight of servicers' use of forbearance and improve tracking of borrowers' progress in IDR. Plus, starting next year, federal student aid will begin displaying IDR payment counts on StudentAid.gov so that borrowers can see their status when they log in to their accounts.
Critics Say More is Needed
Critics said the changes are a good first step, but don't go far enough. In a statement, National Consumer Law Center Director Abby Shafrof said: "The Education Department left out the borrowers most harmed by past failures: borrowers who, unable to access an affordable payment option, went into default. Importantly, many borrowers with loans in default are low-income and would qualify for a $0 payment in IDR, but they end up paying significantly more in default, where income protections are largely stripped away."
"Despite acknowledging that failed servicing and forbearance steering can often lead to default, the Department's announcement did not mention any remedy for borrowers who lost years toward forgiveness following servicing failures because their loans went into default. This oversight significantly reduces the number of borrowers who will receive immediate loan forgiveness through today's action, as over 2 million of the 4.4 million borrowers who have been in repayment for over 20 years are in default."
In response, the DOE is implementing "Operation Fresh Start" for borrowers who are currently in default. Borrowers who have eligible federal loans that were in default will automatically have those loans returned to good standing. This will make it easier for borrowers to apply for PSLF or sign up for IDR programs, and boost their credit scores. Wage garnishment will end as well.
Student Loan Pause: Be Prepared to Pay Eventually
Most people won't qualify for loan forgiveness as the system now stands, whether through IDR or other programs such as Public Service Loan Forgiveness, designed to help people who work for the government and non-profit organizations. For them, the ongoing moratorium is simply a pause; the majority of people will resume payments after the moratorium is over and will have the length of their loan extended to compensate for the suspended payments. So, if you had five years worth of payments left when the moratorium began in March 2020, you will have five years remaining when your payments restart.
If you have a loan that you're scheduled to resume paying, chances are you've already heard from the Department of Education. The department reported sending more than 125 million monthly email messages to about 35 million borrowers between August and November to begin preparing people to resume paying their loans. The department told the Government Accountability Office it has valid email addresses for 87% of all borrowers who were granted emergency relief because of the pandemic.
The Education Department told the GAO it expects coaxing people to start payments after a moratorium of more than two years will be a challenge.
The department plans to ease the transition by temporarily not reporting missed payments to credit ratings agencies, according to a GAO report.
In addition, the department is requiring loan servicers to add weekend and evening call center hours to respond to borrower questions about resuming payment. But borrowers should be prepared to be patient. Some loan servicers reported to the department that they had hired additional staff, but that the increase in new employees may contribute to a "negative customer experience" as the new staff may be inexperienced and have trouble answering some questions.
Is More Student Loan Help on the Way?
Andrew Pentis, a certified student loan counselor at Student Loan Hero at Lending Tree, says he expects targeted relief to continue to address different groups of borrowers.
Candidates for such programs could include teachers or healthcare workers, Pentis said, as well as parent borrowers who may be buckling under burdensome debt from their children's education. Borrowers facing bankruptcy or in bankruptcy may also be candidates for relief.
But Pentis said people don't have to wait for the federal government to act. Pentis said most student loan repayment programs are under-utilized because people aren't aware of them, including those at the state level, through their schools, or via other resources.
Student Loan Hero has a database of 120 resources you can check to see if you might be eligible for assistance toward student loan repayment. Pentis also advises checking with your employer to see whether your workplace offers help repaying student loans.
Ex-staff writer, Kiplinger's Personal Finance
Rivan joined Kiplinger on Leap Day 2016 as a reporter for Kiplinger's Personal Finance magazine. A Michigan native, she graduated from the University of Michigan in 2014 and from there freelanced as a local copy editor and proofreader, and served as a research assistant to a local Detroit journalist. Her work has been featured in the Ann Arbor Observer and Sage Business Researcher. She is currently assistant editor, personal finance at The Washington Post.