Student Loan Forgiveness Update: When Will the Supreme Court Decide?
Millions of people with student loans are wondering when, and what, the Supreme Court will decide on Biden's student loan forgiveness.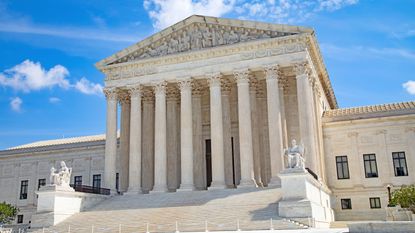 (Image credit: Getty Images)
Some of the more than 40 million borrowers who have student loans were excited to learn of President Biden's student loan forgiveness plan. The administration would forgive up to $10,000 of student loan debt for eligible borrowers, and up to $20,000 in student loan debt for eligible Pell Grant recipients. Unfortunately, after about half those borrowers applied for student loan forgiveness and were essentially approved, applications for the program were put on hold due to legal challenges from organizations claiming that student loan forgiveness violates the law.
Now, the U.S. Supreme Court has heard arguments on student loan forgiveness and is expected to officially weigh in by June, when student loan payments are scheduled to resume. So, if you have a student loan, you're probably wondering what all of this means for you.
Biden Loan Forgiveness Plan
The Biden administration unveiled its student loan forgiveness plan during the pandemic. The plan was to provide debt relief to millions of borrowers by forgiving up to $10,000 of student loan debt for eligible borrowers, and up to $20,000 in student loan debt for Pell Grant recipients. To be eligible for student loan relief, borrowers had to have individual income less than $125,000, or $250,000 for married borrowers filing jointly.
Subscribe to Kiplinger's Personal Finance
Be a smarter, better informed investor.
Save up to 74%
Sign up for Kiplinger's Free E-Newsletters
Profit and prosper with the best of expert advice on investing, taxes, retirement, personal finance and more - straight to your e-mail.
Profit and prosper with the best of expert advice - straight to your e-mail.
Most borrowers who wanted student loan forgiveness needed to apply for it. (That application is blocked for now, but nearly 26 million people submitted applications). Borrowers were also told that they could opt out of student loan forgiveness if they wanted to. Additionally, borrowers who worked for non profit organizations, the military, or other Tribal and government entities could have some, (or all) of their federal student loans forgiven if they qualify for the Public Service Loan Forgiveness (PSLF) program. (That program was temporarily expanded to make more people eligible.)
What about private student loans? Biden student loan forgiveness does not apply to private student loans. Private student loans are issued by financial institutions (e.g., banks and credit unions), not the U.S. Department of Education.
Is It Possible to Get Your Student Loans Forgiven?
Right now, student loan forgiveness is blocked due to court litigation. Basically, the Biden administration cannot forgive any student loans until the Supreme Court weighs in–i.e., decides whether the program is legal.
What's happening with the Supreme Court and student loan forgiveness? The court is considering two cases brought against student loan forgiveness. Opponents of Biden's plan say that the Biden administration did not have the power to implement a half-a-trillion dollar change to rules involving student loans. They also argue that student loan forgiveness will harm some states, and a major student loan servicer, and create an unfair benefit for some people over others.
The Biden administration says that the authority to forgive student loans falls under the Heroes Act and that the COVID-19 pandemic warranted debt relief for millions of student loan borrowers. Biden administration attorneys point out that ninety percent of the people who would be covered by student loan forgiveness make less than $75,000 a year and that many have suffered significant economic loss and hardship due to the pandemic.
What Happened to Student Loan Applications?
Before applications for student loan forgiveness were blocked, 16 million borrowers had applied and been essentially approved to have some or all of their student loan debt forgiven. The Department of Education has said that it is holding onto all previously submitted applications while the case makes its way through the court. It's estimated that another ten million borrowers could be eligible for debt relief under President Biden's plan, if the Supreme Court rules in favor of the Biden administration.
The total cost of student loan forgiveness could come near a half trillion dollars. That economic impact, along with existing political divides and legal questions, make up the controversy surrounding student loan forgiveness.
What About Student Loan Payments?
In the meantime, student loan payments are on pause. Initially, those payments on federal student loans were supposed to resume at the beginning of 2023, but because the Supreme Court took the case, the Department of Education extended the pause on student loan payments until at least June 30, 2023.
If the Supreme Court eventually rules in favor of the Biden administration and allows student loan relief to go forward, it's unclear right now what that will, or won't, mean for the restarting of student loan payments.
When Will the Supreme Court Decide on Student Loan Forgiveness?
Part of the reason that student loan payments are on pause until at least June, is that the Supreme Court usually releases decisions near the end of its term. In this case, that means that a decision on the legality of student loan forgiveness is likely to come by the end of June.
So, while the Supreme Court just heard arguments in the cases involving student loan forgiveness, it will take time (potentially up to four months) for the justices to decide whether to uphold or strike down Biden's student loan forgiveness plan.
Student Loan Forgivness Bottom Line: Have a Plan
When President Biden's student loan forgiveness plan was first introduced, it was estimated that nearly 15 million borrowers could have had all of their student loan debt forgiven. Millions of others would have their balances and payments reduced.
While all of that is up in the air right now, it's important to know that some reductions in student payments could still come as a result of changes the Biden administration is making to income-driven repayment plans for example. So, if you have a federal student loan, you may want to consider whether the income-driven repayment plan, or other plans that aren't affected by litigation (like PSLF), could benefit you.
Also, although student loan payments are on pause and interest is not currently being charged on student loans, you still want to have a plan to repay your student loan.
If the Supreme Court rules against the program, your student loan payments will eventually resume, so you'll need to be able to make your payments.
And if the court upholds student loan relief and you're not a Pell Grant recipient, you may only be eligible for up to $10,000 of student loan forgiveness. So, you will still need a plan to repay the balance on your federal student loan.
Consider whether you want to make student loan payments between now and June while no interest is being charged. You will also want to sign up for updates from the Department of Education.
And, if you have private student loans and are struggling with your payment, you may want to contact your lender to see if you can negotiate more favorable loan terms.
Senior Tax Editor, Kiplinger.com
With more than 20 years' experience as an in-house legal counsel and business journalist, Kelley R. Taylor has contributed to numerous national print and digital magazines on key issues spanning education, law, health, finance, and tax. Kelley particularly enjoys translating complex information in ways that help empower people in their daily lives and work.