10 Things to Be Thankful for in 2021
Kiplinger's annual roundup of economic good news, technological advances, and medical breakthroughs for you to celebrate throughout the holiday season.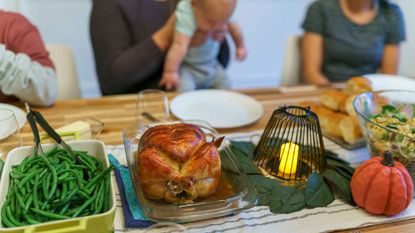 (Image credit: Getty Images)
Following on the annus horribilus of 2020, expectations for 2021 were high (or maybe, low). Surely we would emerge from the COVID-19 pandemic and recover some normalcy.
That itself would prove too big a reach; despite a round of vaccines, the world continues to grapple with this disease, hoping to turn pandemic into endemic. And yet 2021 has given us plenty of good news. For a moment, let's embrace what's going right in the world ' and all the better things to come.
From Kiplinger to your family, have a safe and happy holiday season!
1/10
Child Tax Credit Payments This Year…And Maybe in 2022
Millions of parents are certainly thankful for the monthly child tax credit payments that the IRS began sending in July. These payments – which can be as high as $300 per child each month – have helped many financially distressed families keep their heads above water. Other improvements to the child tax credit were made for 2021, too. For instance, a 17-year-old child qualifies for this year's credit (16 is the normal cut-off age). The credit amount was also increased from $2,000 to $3,000 per child ($3,600 per child under age 6) for most families. And the credit is fully refundable for the 2021 tax year.
But the monthly payments and other credit enhancements are only temporary. They're scheduled to expire at the end of this year. However, the Build Back Better Act, which is slowly working its way through Congress, would extend the payments and other enhancements for one more year (although with some differences). While it's too soon to tell if the bill will ultimately become law, or if the child tax credit provisions will be altered before final passage, American families could have something else to be thankful for next year if the monthly child tax credit payments carryover into 2022.
2/10
A Roaring Bull Market
The stock market certainly is giving investors plenty to be thankful for. We're now in the second year of the post-COVID-crash bull market, and stocks (as measured by the S&P 500) have galloped to a 25% return through Nov. 22. That's not just a good year – it's a great one. "If the S&P 500 were to end at current levels, it would rank as the 15th best year since 1950," says Ryan Detrick, chief market strategist for independent broker-dealer LPL Financial. "In fact, the S&P 500 is on pace to be up at least 15% for three consecutive years for only the second time in history, exceeded only by an incredible streak of five in a row in the late 1990s."
3/10
So Long Nasty Needles? New Cancer Detection Method Debuts
A promising new cancer detection tool: So-called liquid biopsy tests. Such tests can detect cancer, before symptoms are present, from blood or other bodily fluids, enabling earlier treatment and, ideally, better survival rates. Per one recent study, 89% of cancer patients who were diagnosed in stages 1 or 2 survived the next five years, versus 21% of those diagnosed in stage 4. The first liquid biopsy test was debuted in 2021, courtesy of Grail, a subsidiary of the DNA sequencing company Illumina. Grail's blood-based Galleri test can detect 50 types of cancer, 45 of which have no recommended screening in the U.S.
Being the first mover in this area should give Grail a significant edge over rivals such as Exact Sciences, which is developing its own multicancer test, not slated to be ready until 2025. Other companies are instead developing single-cancer liquid biopsy tests, including Veracyte (lung), Healio Health (liver, breast) and Guardant Health (colorectal). The market for early cancer detection could soon be worth billions of dollars.
4/10
American Entrepreneurship Is Full Go
One bright spot in the economy: New business formation is going strong. When the pandemic struck last year and millions of workers lost their jobs, many decided to go into business for themselves. It seemed like a passing trend. However, the trend is still intact. The number of new ventures with high potential to succeed is about 40% higher now than it was before COVID-19, with no signs of a slowdown.
Retail is especially ripe for entrepreneurs. Established retail businesses were hit hard in 2020, of course, but that left a lot of room for new online start-ups. Freight transportation and warehousing are also hotbeds for new businesses. A lot of truckers who lost their jobs last year went into business for themselves. Start-up activity is up most significantly in the South and the Midwest.
5/10
Plastic Costs Are Down
Amid the daily drone of supply chain disruptions and rising prices, there's at least one crucial industrial input that's becoming easier to obtain: Plastics. Production of polyethylene and polypropylene has largely recovered from weather-related disruptions earlier this year (most recently Hurricane Ida) while inventories continue to expand. Prices have already started to come down. Expect further price declines as the year goes on.
That's good news for plastics-using industries, ranging from automotive to construction to food and beverage, and it's one less thing driving up prices for consumers. But keep in mind that not all plastics are easily found. One example: Polyethylene terephthalate, or PET, a highly prevalent plastic used in food packaging and synthetic textiles. Unlike with many other kinds of plastic, the U.S. still requires significant foreign imports to meet domestic demand. As a result, shipping snags are driving PET prices higher, and tight market conditions are expected to persist well into next year.
6/10
Social Security Recipients Get a Boost
Retirees living on fixed incomes are among those who get anxious when inflation raises its head. So the remarkably large cost of living increase for Social Security recipients is something they can be thankful for, even though it won't put any money in their pockets until 2022 gets under way. The 5.9% increase will be the largest cost-of-living adjustment (COLA) since 1982. That is also higher than the COLA for 2021, which was just 1.3%.
COLAs are calculated using the Consumer Price Index for Urban Wage Earners and Clerical Workers (similar to, but not exactly the same as, the urban dwellers' consumer price index used in inflation reporting). The Social Security Administration SA calculateslates the percent change between average prices in the third quarter of the current year with the third quarter of the previous year. The reason the fourth quarter isn't used is because that number is typically not available from the U.S. Bureau of Labor Statistics until mid-January, and the SSA has to make its adjustment on January 1.
Will salaried workers see a similar gain? Probably not. But 2022 increases should be more generous than they've been in the past.
7/10
COVID-19 Therapies That Actually Work
Last year at this time we were giving thanks for COVID-19 vaccines; the Pfizer/BioNTech version was on the cusp of approval. Now that billions of people have received some form of these, we're still thankful for them. But it's clear they could use a little help. Some is coming in the form of Covid treatment pills. Molnupiravir, made jointly by Merck (MRK) and privately held Ridgeback Therapeutics, reduced hospitalizations of those who were unvaccinated by 50% when administered within five days of the onset of symptoms. Paxlovid from Pfizer (PFE), which reduced hospitalizations by 85% within the same time period. Both pills prevented death completely.
Molnupiravir will be reviewed by the Food and Drug Administration in December, and may be granted an Emergency Use Authorization before the end of the year. Paxlovid's review will likely be fairly close behind that, though a schedule has not yet been announced. The Biden administration also announced that it is buying 10 million doses of Paxlovid for $5 billion, pending FDA approval
8/10
Wi-Fi That's Smarter Than Ever
Wi-Fi signals can do more than connect devices. They can detect intruders. So-called Wi-Fi sensing technology is steadily gaining more useful features that figure to help boost demand. Here's how it works: Services use multiple routers that bounce Wi-Fi signals around the house. Interference from objects gets detected with software that analyzes the data and tries to interpret the cause, whether it's a roaming pet or a burglar breaking in. No extra hardware is required besides a few routers, a key selling point.
The tech can be used to detect motion, falls or even breathing. Homeowners can fine-tune the settings, too, so alerts aren't sent every time the cat walks around. Options on the market can harness any other web-connected devices, such as lights, smart speakers, etc., to expand the coverage area. Some other uses: Sending an alert when an elderly parent wakes up or turning on the heat when a homeowner arrives. There's big potential for businesses, too: Landlords monitoring rental units, doctors searching for a ventilator, or warehouse workers tracking down products. Expect early kinks to get ironed out as better software improves accuracy. Top vendors include Linksys and Origin Wireless AI, among others.
9/10
Credit Has Eased Up Again
Most banks are relaxing credit standards on consumer loans. A survey of loan officers shows that the willingness among banks to make loans increased across all types of consumer loans. Terms for borrowers with good credit scores are almost as loose now as they were before the pandemic. Demand for consumer credit is likely to increase as borrowers spend the stimulus payments and extra savings they banked last year. The normalization of lending standards will help keep the economy growing. And banks are in good shape to lend, which wasn't the case after the last recession.
10/10
Progress on MRNA Vaccines to Tackle Cancer, More
Speaking of vaccines, long after this pandemic is over (or is, well, an endemic), the technique used to develop vaccines against it will remain, possibly enabling new treatments for many diseases. Messenger RNA vaccines, the type used by Pfizer and Moderna to inoculate people against COVID-19 infection, are much faster to develop than traditional vaccines. The COVID mRNA shots were developed within weeks of the sequencing of the virus's genome, and deployed in months.
They have the potential to be customized against many different types of disease. The shots targeting COVID-19 prompt cells to create defenses against this particular coronavirus's spike protein, the mechanism it uses to latch onto human cells.
Future mRNA vaccines could spur similar defenses against other pathogens' unique attack mechanisms. One to target could be the flu. Every year, scientists try to guess which strain of flu will be most prevalent when they develop flu shots. If they guess wrong, that year's dose won't do much good at warding off infection. Pfizer and its partner BioNTech are working on an mRNA shot that could be tweaked during flu season to protect against whatever flu strain ends up being dominant. Moderna is also developing a flu shot, which has already started clinical trials.
Other illnesses scientists are targeting with mRNA tech: Sickle-cell anemia. Autoimmune diseases like lupus, multiple sclerosis and arthritis. BioNTech has started developing treatments for them, which show promise in tests on mice. Cystic fibrosis. Translate Bio's shot has had setbacks, but work continues. Herpes and HIV. The latter is especially good at evading the immune system and will be tough to target with an mRNA vaccine. But BioNTech is working on one. Respiratory syncytial virus. GlaxoSmithKline, Pfizer and Moderna are working on vaccines targeting this cold-like virus, which can be dangerous for young children. Mosquito-borne diseases like malaria, Zika and dengue fever. Research is under way at two universities. Moderna is also working on its own Zika vaccine.
Even cancer could someday be treated with mRNA vaccines. Three firms, BioNTech, Moderna and privately held Replicate Bioscience, are working on shots that could be tailored to each cancer patient, with mRNA that mimics a feature of their particular cancer cells. The shots would be given after surgical removal of tumors, hopefully giving patients a better chance of achieving remission. None of these treatments is a sure thing, of course. Some will fail. Others may underperform. But the potential is real, and progress is likely.