These Healthcare Stocks Should Thrive in 2022
Pharmaceutical and health sciences firms are riding powerful demographic trends amid a golden age of innovation.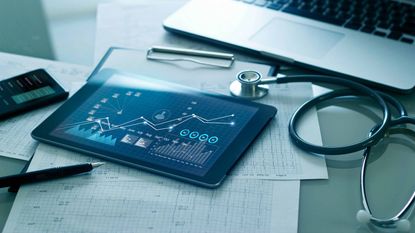 (Image credit: Getty Images)
As the COVID-19 pandemic recedes, routine doctor and hospital visits, along with deferred medical procedures such as cataract surgery and heart valve replacements, are returning to normal.
The pandemic has been a global tragedy, but if there is one silver lining it is that the miraculous development of effective COVID-19 vaccines in less than a year is helping to usher in a golden age for the pharmaceutical and health sciences industries.
"We're seeing a revolution today in vaccine development," says Andy Acker, manager of Janus Henderson Global Life Sciences.
Before COVID arrived, the fastest vaccine approval had been four years, and the average was 10 years; with COVID, two vaccines were approved in about 10 months. Validation of the mRNA technology used by Pfizer (PFE) and Moderna (MRNA) in their vaccines means that it will now be adopted to treat other medical indications. (The mRNA vaccines teach our cells how to make a protein that triggers an immune response.)
In truth, the COVID-19 medical challenge and the dramatic success of the vaccines have only served to accelerate a powerful trend of innovation in medicine. For instance, the sharply declining cost of gene sequencing is pushing forward the growing field of precision medicine, which aims to tailor treatments to specific diseases, such as cancer.
"The science is exponentially improving for better outcomes," says Neal Kaufman, manager of Baron Health Care fund.
Of course, the healthcare sector is also riding the (global) demographic wave of aging populations. At CVS Health drugstores, the number of prescription medicines purchased by people age 65 or older is three to four times that of 20- to 40-year-old people, says Jason Kritzer, co­manager of Eaton Vance Worldwide Health Sciences.
In rapidly developing countries with expanding middle classes, such as China, quality healthcare is likely to be one of the first things people rising out of poverty will spend money on.
With innovation and some of these secular trends in mind, we identified six intriguing healthcare stocks that literally span the alphabet, from letter A to letter Z. We particularly like companies that address large and growing end markets, especially global ones. We give extra points to businesses that have less exposure to pricing pressure from insurance com­panies or the government. Returns and other data are through Nov. 5.