Workers: Expect Higher Salaries and More Perks in 2022
The pandemic economy, the "Great Resignation" and inflation are motivating companies to raise wages and find ways to increase employee satisfaction.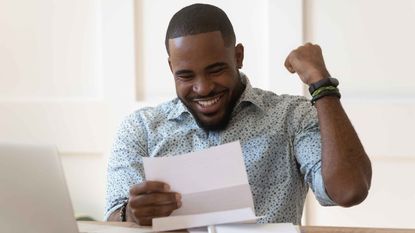 (Image credit: Getty Images)
Now might be a good time to think about what would make you a happier employee and negotiate with your company to make it so. And that includes a decent raise.
Why now? Because employees are gaining the upper hand for the first time in a long time in the workplace as companies struggle to fill open positions and look for ways to keep people from quitting.
While raises may not be as big as the Social Security cost of living adjustment of 5.9% (the highest COLA since 1982), wage increases are expected to be higher than recent years and may also be joined by other added employee perks, like bonuses, flexible schedules, tuition reimbursements and remote-work opportunities
Subscribe to Kiplinger's Personal Finance
Be a smarter, better informed investor.
Save up to 74%
Sign up for Kiplinger's Free E-Newsletters
Profit and prosper with the best of expert advice on investing, taxes, retirement, personal finance and more - straight to your e-mail.
Profit and prosper with the best of expert advice - straight to your e-mail.
"It feels like it's almost a perfect storm," said Gary Straker, senior compensation analyst at Salary.com. "I think it's a combination of factors that are putting pressure on the labor market...Employee expectations have changed. They probably feel emboldened. They're in a position to maybe ask and, in some cases, demand more from their employer."
Employees Are Gaining Power
The pandemic economy has accelerated a shift in the employee/employer power relationship that had begun even before anyone ever heard of COVID. With income inequality on the rise, low-wage workers were demanding pay increases, while several states raised minimum hourly wages as high as nearly $14. These state requirements are well ahead of the federal minimum hourly wage of $7.25, which hasn't changed since 2009, the longest period in history without an increase.
After shutdowns during the early months of the pandemic led to large-scale layoffs, many companies have had trouble hiring people back or finding replacements. Employees are reassessing what they want to do and how much money they expect to make.
At the same time, facing public pressure and the need to fill open positions, several big companies such as Amazon, Target and Costco increased starting wages. A recent study by researchers at Brandeis and the University of California, Berkeley found that increases in hourly wages by those companies were followed by increases (though smaller ones) at other employers in the same areas.
And increases in starting wages can lead to increases on salaries for existing employees. What this should mean is a nice bump up in wages for many employees next year. In addition to a raise, you may see other improvements at your workplace as companies look for ways to improve worker satisfaction and to stave off employee wanderlust.
Surveys Show Companies Plan Higher Raises
Employer surveys over the summer found companies expecting to increase wages about 3% in 2022, which is up slightly from 2021. But that number may ultimately be higher as conditions continue to evolve in a dynamic environment, according to Catherine Hartmann, the North America Rewards Practice leader at Willis Towers Watson.
Specifically, Willis Towers Watson found in July that companies project executives, managers and other professional employees will receive average salary increases of 3% in 2022, compared to the average 2.7% increases in 2021.
WorldatWork projected a national total salary budget increase average at 3.3% for 2022, which the firm's director of Total Rewards content, Alicia Scott-Wears, said "signified not only economic recovery since the pandemic but also a tightening labor market."
A National Salary Budget Survey by Salary.com found 41% of organizations planning higher salary increase budgets in 2022 than they did in 2021, which the company says represents "the first significant shift in merit increases in the last 10 years of survey data. For perspective, last year just under 10 percent of organizations planned a higher salary budget increase than the prior year."
That survey found 12% of organizations planning increases of 4 to 5%. Last year, that number was just 7-8% of organizations planning that size of raises. Salary.com provides businesses with compensation market data software, and analytics.
Wage increases will vary according to industry. The Willis Towers Watson survey found that high-tech and pharmaceutical companies project the largest increases at 3.1%, with health care, media and financial services companies coming in at 3%.
On the other end, leisure and hospitality and oil and gas companies are budgeting just 2.4% for wage increases. Production and manual labor employees are projected for average increases of 2.8% next year, after average 2.5% increases this year.
Hartmann said she's talked to employers, and anecdotally, many have told her they expect to give raises higher than those reported on the survey. Some expect raises to be closer to 5%.
"Please Stay": Perks Planned in Addition to Raises
Hartmann said the wage increase numbers aren't the entire story, as many employers are expecting to improve working conditions in other ways.
Those ways include things like bonuses, tuition reimbursement, spot awards, and gift certificates.
"Overall," Scott-Wears said, "there is no doubt that organizations are preparing the business case for expanded pay increase budgets in 2022 for a wide variety of reasons, but ultimately the workplace issue to address is beyond pay. What is now coined as 'The Great Resignation' is having a lasting impact on the workforce and talent pools and therefore putting increased pressure on employers to compete for the talent they need whether attracting or retaining."
In August alone, 4.3 million people quit their jobs, a rate of 2.9%, the highest since the Department of Labor began collecting this data in 2000. "It costs a lot to go out and find new employees," Straker said. "Keeping the ones you have is a high priority."
Straker said employees and employers are well aware of the power shift.
For some employees he said, 3% may be more of a floor on raises than an average. "I think what we're going to see is it's a very fluid and dynamic environment," he said. "Organizations are going to need to adjust.. They're monitoring wage movement routinely and are constantly benchmarking using the most currently available data.".
Inflation, COLA and Wage Increases
Another reason for pay increases is to compensate for rising inflation. The downside is inflation is eating into pay increases and may render them inadequate to meet increased expenses.
Inflation data drives the planned 5.9% cost of living adjustment, or COLA, for Social Security recipients and others. But most workers can't expect to see raises that high this year. While companies set wages based on a range of factors, including their own budgets and employee needs, COLA is established under law using the Consumer Price Index for Urban Wage Earners and Clerical Workers.
Experts say employers are aware of the COLA, but that it's not a primary factor in setting wages. And most years, that's a good thing. That's because wages usually increase at a higher rate than the COLA. In 2021, for example, the COLA was 1.3%, while wages rose by nearly 3%.
Swipe to scroll horizontally
| Header Cell - Column 0 | Year | COLA % | Average Wage Increase % | Header Cell - Column 4 |
| --- | --- | --- | --- | --- |
| Row 0 - Cell 0 | 2022 | 5.9 | -- | Row 0 - Cell 4 |
| Row 1 - Cell 0 | 2021 | 1.3 | -- | Row 1 - Cell 4 |
| Row 2 - Cell 0 | 2020 | 1.6 | 2.8 | Row 2 - Cell 4 |
| Row 3 - Cell 0 | 2019 | 2.8 | 3.8 | Row 3 - Cell 4 |
| Row 4 - Cell 0 | 2018 | 2 | 3.6 | Row 4 - Cell 4 |
| Row 5 - Cell 0 | 2017 | 0.3 | 3.5 | Row 5 - Cell 4 |
| Row 6 - Cell 0 | 2016 | 0 | 1.1 | Row 6 - Cell 4 |
| Row 7 - Cell 0 | 2015 | 1.7 | 3.5 | Row 7 - Cell 4 |
| Row 8 - Cell 0 | 2014 | 1.5 | 3.6 | Row 8 - Cell 4 |
| Row 9 - Cell 0 | 2013 | 1.7 | 1.3 | Row 9 - Cell 4 |
| Row 10 - Cell 0 | 2012 | 3.6 | 3.1 | Row 10 - Cell 4 |
| Row 11 - Cell 0 | 2011 | 0 | 3.1 | Row 11 - Cell 4 |
| Row 12 - Cell 0 | 2010 | 0 | 2.3 | Row 12 - Cell 4 |
| Row 13 - Cell 0 | 2009 | 5.8 | -1.5 | Row 13 - Cell 4 |
| Row 14 - Cell 0 | 2008 | 2.3 | 2.3 | Row 14 - Cell 4 |
| Row 15 - Cell 0 | Row 15 - Cell 1 | Row 15 - Cell 2 | Row 15 - Cell 3 | Row 15 - Cell 4 |
| Row 16 - Cell 0 | Row 16 - Cell 1 | Row 16 - Cell 2 | Row 16 - Cell 3 | Row 16 - Cell 4 |
Sources: Social Security and Social Security
How Can You Negotiate a Raise?
Before seeking a raise, Straker said employees should request information about pay ranges up front and should expect transparency from their bosses. "I would encourage people to be as informed as they possibly can before going in."
He said several states have passed laws requiring wage range disclosures for new hires, with some states requiring this information for existing employees.
"Organizations have to find ways to elevate the employee experience," Straker said. "They have to find ways to have employees feel valued in such a way that they are more engaged, they are hopefully more motivated in their work and committed to the organizational goals and mission."
Transparency is one way to build trust, Straker added. "If pay is a mystery in your organization, that's generally not a good thing. It can lead to employees not feeling respected or valued."
Before you begin negotiations, Hartmann said, "it's really important you understand your value and your worth." At the same time, consider your priorities and be "really open about where the conversation goes."
One thing to consider is if anything in addition to a raise would make you happier in your work. This can include accommodations for family situations, remote work, time off, training opportunities and the possibility of advancement. Might you be willing to accept a bonus in lieu of part of your raise? "Have in your mind about what your next steps will be if you get the raise if you don't," Hartmann said.
If you do decide to leave, Hartmann said, remember that things may not actually be better at the next job. So resist the temptation to sing Johnny Paycheck on your way out the door. You never know when you might find yourself working with the same people again.
Senior Retirement Editor, Kiplinger.com
Elaine Silvestrini has had an extensive career as a newspaper and online journalist, primarily covering legal issues at the Tampa Tribune and the Asbury Park Press in New Jersey. In more recent years, she's written for several marketing, legal and financial websites, including Annuity.org and LegalExaminer.com, and the newsletters Auto Insurance Report and Property Insurance Report.