6 Money-Smart Ways to Spend Your Third Stimulus Check
If you don't have to use your third stimulus check for basic necessities, consider putting the money to work for you. You'll thank yourself later.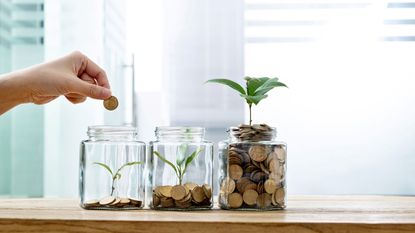 (Image credit: Getty Images)
Under a new stimulus bill signed by President Biden, millions of Americans will receive a third stimulus check in the coming weeks. Third-round payments will be for $1,400 per eligible person, plus an additional $1,400 for each eligible dependent (use our Third Stimulus Check Calculator to see how much you'll get). Many families who have lost income during the coronavirus pandemic will need to use their checks to put food on the table or keep a roof over their heads. But if you're still fully employed and not financially distressed, consider putting your stimulus check to work.
With many restaurants still closed and most events shut down, it's more difficult to "waste" your third stimulus check on vacations, eating out, attending a concert and the like. So, instead of spending your third stimulus check on something you really don't need, think about investing, saving, or donating the money you receive from Uncle Sam.
Here are 6 ways you can make your third stimulus check work for you or help your community.
(Stay on top of all the new stimulus bill developments – Sign up for the Kiplinger Today E-Newsletter. It's FREE!)
1/7
Save for Retirement
Socking away money for retirement is always a smart move. You have until May 17, 2021, to invest in a traditional or Roth IRA for 2020. The maximum contribution for a 2020 IRA is $6,000 — $7,000 if you're 50 or older — so you can stash your entire stimulus check there if you don't need it for anything else.
If you've already invested the maximum for 2020, consider investing in a traditional or Roth IRA for 2021. The contribution limits are the same as for 2020. You have until April 18, 2022 (April 19 for residents of Maine and Massachusetts), to invest in an IRA for 2021, but the sooner you invest, the more time your money will have to grow.
2/7
Pay Off High-Interest Debt
Interest rates are low for student loans, mortgages and bank savings accounts, but if you're carrying credit card debt, you're probably paying upwards of 15%. You can free up a lot of cash by paying off those cards — and paying down debt gives you a rate of return you can't find anywhere else, says Benjamin C. Simiskey, a CFP in Katy, Texas. If you manage to pay off the entire balance, you're also eliminating a monthly expense, he adds. "That's the best of both worlds."
3/7
Give It Away
If your finances are in order and your job is secure, considering using your stimulus check to help those who don't share your good fortune. You can deduct a portion of your donation on your 2021 tax return even if — like most taxpayers — you claim the standard deduction. That's because there's an "above-the-line" deduction for up to $300 of cash donations. This new deduction was originally allowed for 2020 returns only. However, the second COVID-relief and government spending bill extended the charitable deduction for non-itemizers for another year. It also allowed married couples who file jointly to deduct up to $600 in cash donations (in 2020, the maximum a married couple can deduct is $300).
You can't claim the above-the-line deduction if you itemize — in that case, you'll have to deduct your contributions on Schedule A of your tax return. But there's also pandemic-related relief for 2021 itemizers who want to make major contributions. The amount itemizers can deduct for cash contributions is generally limited to 60% of their adjusted gross income (any cash donations over that amount can be carried over for up to five years and deducted later). However, Congress lifted the 60% of AGI limit for cash donations made in 2020 and 2021, although there's still a 100% of AGI limit on all charitable contributions.
4/7
Shore Up Your Emergency Fund
While the unemployment rate is lower now than it was earlier in 2020, many people still don't feel very comfortable about their employment situation. Even if you're working now, the pandemic isn't over yet. You could still experience a drop in income if your hours are cut, you're quarantined, or you have to stay home with your children because their school buildings are closed.
Ideally, you should have at least three to six months' worth of living expenses in a savings account. If you're not there yet, your third stimulus check is a good start. Online banks usually offer the highest interest rates on savings accounts, and some come with no minimum-balance requirement or monthly fee.
5/7
Invest in a 529 College Savings Plan
Contributions to a 529 college savings plan grow tax-free, and withdrawals aren't taxed if you use them for qualified expenses, such as college tuition and room and board. You can invest all or a portion of your third stimulus check — 529 plans typically have very low minimums. Plus, your state may give you a tax deduction or credit if you invest in your own state's plan. If your children are young, you have many years for investments in the plan to compound and grow. To research plans, go to www.savingforcollege.com.
6/7
Support Local Businesses
Buy a gift card for a local restaurant or other small business that has been forced to close or scale back operations during the coronavirus pandemic. That will provide the business with much-needed cash during the shutdown, and you can use the gift card to treat yourself to a nice meal or massage when the pandemic is behind us.
7/7
Stay on Top of Stimulus-Check Developments
Follow Kiplinger for the latest news and insights on federal stimulus payments (and other important personal-finance matters). Stay with us on:
See some of our other coverage of the third stimulus check:

Senior Editor, Kiplinger's Personal Finance
Block joined Kiplinger in June 2012 from USA Today, where she was a reporter and personal finance columnist for more than 15 years. Prior to that, she worked for the Akron Beacon-Journal and Dow Jones Newswires. In 1993, she was a Knight-Bagehot fellow in economics and business journalism at the Columbia University Graduate School of Journalism. She has a BA in communications from Bethany College in Bethany, W.Va.