The 12 Best Healthcare Stocks to Buy for the Rest of 2022
Investors seeking out defensive plays in an uncertain market may want to take a closer look at these 12 top-rated healthcare stocks.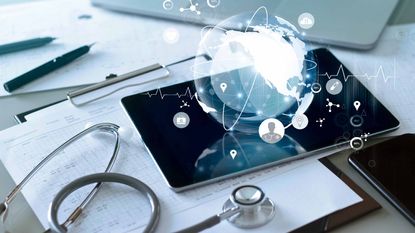 (Image credit: Getty Images)
The first two years of the 2020s has been all about COVID-19, and the pandemic has affected healthcare stocks in ways that will likely carry on for years to come.
This helped fuel massive returns for healthcare stocks, with the Health Care Select Sector SPDR ETF (XLV (opens in new tab)) gaining more than 80% between its March 2020 bottom and April 2022 peak. But more recently, the sector has been hit with broad-market headwinds and depleting COVID-related catalysts.
But before investors give up on healthcare stocks, David Sheaff Gilreath, chief investment officer at independent investment firm Sheaff Brock Investment Advisors, believes they could be considered as potential buy candidates for the second half of the year.
Amid an uncertain market environment, investors can find a "relatively high concentration of companies with low-risk characteristics, low valuations and good earnings growth projections," Sheaff Gilreath wrote in a March op-ed for CNBC.
Savita Subramanian, head of equity and quantitative strategy at BofA Securities, also likes the defensive nature of healthcare stocks, as well as their ability to maintain pricing power.
"We believe the sector is well-positioned amid looming recession risks," Subramanian says. "Healthcare offers growth, defense, and yield at a reasonable price: GARP (growth at a reasonable price), DARP (defense at a reasonable price), and YARP (yield at a reasonable price)."
Here, we explore 12 of the best healthcare stocks to buy for the rest of 2022. Some of these picks are at the forefront of developing new and potentially life-saving drugs and therapies, while others have business models designed to do well in most market conditions.
Data is as of May 24. Dividend yields are calculated by annualizing the most recent payout and dividing by the share price. Analyst ratings are courtesy of S&P Global Market Intelligence. Stocks are listed in reverse order of analysts' consensus recommendation.
Contributing Writer, Kiplinger.com
Will has written professionally for investment and finance publications in both the U.S. and Canada since 2004. A native of Toronto, Canada, his sole objective is to help people become better and more informed investors. Fascinated by how companies make money, he's a keen student of business history. Married and now living in Halifax, Nova Scotia, he's also got an interest in equity and debt crowdfunding.