Stock Market Today: Dow Lunges Over 30,000 as Recovery Rally Continues
A semblance of political stability and continued optimism over COVID vaccines and treatments gave the Dow enough oomph to eclipse the 30,000 mark on Tuesday.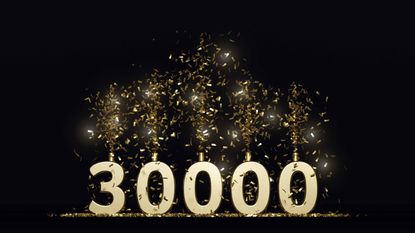 (Image credit: Getty Images)
The Dow Jones Industrial Average crossed the 30,000 threshold for the first time Tuesday as investors seemed to cheer what they hope will be a less politically tumultuous next couple months.
The General Services Administration on Monday evening acknowledged Joe Biden's presidential election victory, allowing the already-delayed presidential transition process to move forward. Biden spent Tuesday introducing new members of national security and foreign policy teams, though the biggest excitement on Wall Street came from Monday's reports that former Fed chair Janet Yellen could be America's next Treasury Secretary.
Financial stocks such as JPMorgan Chase (JPM (opens in new tab), +4.6%) and American Express (AXP (opens in new tab), +3.7%) raced out of the blocks, as did the Dow's lone energy component, Chevron (CVX (opens in new tab), +5.0%). But it wasn't just the "rotation" at work today: Communication services plays such as Disney (DIS (opens in new tab), +3.8%) and Comcast (CMCSA (opens in new tab), +5.1%) fared well, as did much of the rest of the market.
Subscribe to Kiplinger's Personal Finance
Be a smarter, better informed investor.
Save up to 74%
Sign up for Kiplinger's Free E-Newsletters
Profit and prosper with the best of expert advice on investing, taxes, retirement, personal finance and more - straight to your e-mail.
Profit and prosper with the best of expert advice - straight to your e-mail.
The industrial average finished with a 1.5% gain to an all-time high 30,046, while the S&P 500 (+1.6% to 3,635) and Russell 2000 (+1.9% to 1,853) also rewrote the record books.
Other action in the stock market today:
The Nasdaq Composite closed 1.3% higher to 12,036, just 20 points shy of its Sept. 2 high.
Gold futures dropped yet again, to multi-month lows, off 1.8% to $1,804.60 per ounce.
U.S. crude oil futures climbed 4.3% to settle at $44.91 per barrel.
Experts' Reactions to Dow 30,000
What's in a number? At least for this one, not much more than a bit of hoopla. Here's what a few on Wall Street had to say Tuesday:
Ryan Detrick, chief market strategist for LPL Financial: "Although 30,000 isn't much different than 29,999, there is something special about those big milestone numbers."
James McDonald, CEO of alternative investment manager Hercules Investments: "At the end of the day, Dow 30,000 is just a number and the milestone doesn't hold any credence in determining the near-term stock market outlook."
Scott Knapp, chief market strategist at CUNA Mutual Group: "The Dow passing 30,000 represents achievement of an arbitrarily-set milestone, but it also captures the sentiment of the moment for investors. Drivers include clarity about the election's outcome to a small degree, and expectations for a highly accommodative environment for risk assets to a large degree."
What's up next for the markets? Knapp says that while clarity on the presidential transition helps, "it's not the big story. ... The far bigger influence is expectation for wide distribution of a vaccine that has the potential to quickly reduce economic headwinds caused by the COVID pandemic."
Indeed, it's likely a tug-of-war ahead. On one side, caution as COVID cases continue to mount – a possible second wind for telehealth stocks and other "coronavirus plays." On the other, additional breakthroughs in vaccines and treatments may continue to fuel the market's euphoria, which could benefit more speculative stocks. That could mean continued success for some of the most popular picks on the Robinhood app, where younger traders have enjoyed market-beating success buying deeply battered stocks.
It also could mean a warm reception for a number of initial public offerings (IPOs) that are expected to launch between now and early next year. Read on as we look at an updated list of highly anticipated IPOs, including DoorDash, Airbnb and others expected in the next few weeks.
Kyle Woodley is the Editor-in-Chief of Young and The Invested (opens in new tab), a site dedicated to improving the personal finances and financial literacy of parents and children. He also writes the weekly The Weekend Tea (opens in new tab) newsletter, which covers both news and analysis about spending, saving, investing, the economy and more.
Kyle was previously the Senior Investing Editor for Kiplinger.com, and the Managing Editor for InvestorPlace.com before that. His work has appeared in several outlets, including Yahoo! Finance, MSN Money, Barchart, The Globe & Mail and the Nasdaq. He also has appeared as a guest on Fox Business Network and Money Radio, among other shows and podcasts, and he has been quoted in several outlets, including MarketWatch, Vice and Univision. He is a proud graduate of The Ohio State University, where he earned a BA in journalism.
You can check out his thoughts on the markets (and more) at @KyleWoodley (opens in new tab).