5 Top-Rated Financial Stocks to Buy
A harsh year for financial stocks has created a few value opportunities. Here are five analyst picks from the beleaguered sector.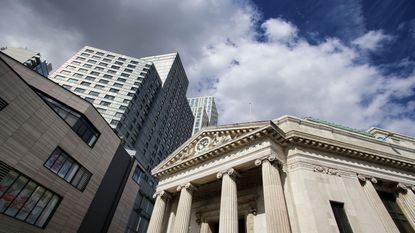 (Image credit: Getty Images)
2020 has been a brutal year for financial stocks. A drop in interest rates, higher pandemic-related insurance claims and the steep economic downturn have crushed the S&P 500 financials sector by about 25% so far this year.
Of course, anytime there is carnage, there is also opportunity to find bargains. And analysts recently have targeted a few financial stocks to buy for their apparent value.
Most recently, banks were pummeled in the wake of the Federal Reserve placing limits on dividends and share buybacks at the nation's biggest banks. However, that doesn't mean all lenders are down for the count. Similarly, credit-fueled consumer spending remains lively. And it's not like every property & casualty insurer is crying in its beer.
To get a sense of where the bargains might lie, we surveyed the S&P 500 for financial-sector stocks with some of the strongest analyst ratings on the Street, according to S&P Capital IQ.
Here's how it works: S&P Capital IQ surveys analysts' stock calls and scores them on a five-point scale, where 1.0 equals a Strong Buy and 5.0 is a Strong Sell. Any score lower than 2.5 means that analysts, on average, rate the stock as a Buy. Scores of 1.5 and below mean the stock is a Strong Buy. Either way, the closer a stock's score gets to 1.0, the more bullish analysts are about its prospects.
After sorting through the S&P 500, we found stocks ranging from an asset manager to a regional bank to a credit-card issuer. Read on as we look at five of the top-rated financial stocks to buy in these turbulent times.
Share prices, dividend yields, price targets, analysts' ratings and other data are courtesy of S&P Capital IQ as of June 26, unless otherwise noted. Stocks are listed by analysts' average recommendation from worst to best.