Stock Market Today: Stocks Slip Again on Dour Jobs Data
Worse-than-expected weekly unemployment claims, as well as continued gridlock on COVID stimulus, stymied stocks Thursday.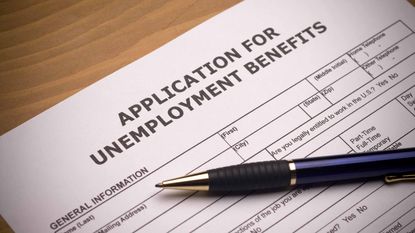 (Image credit: Getty Images)
Several major earnings reports sounded an optimistic tone Thursday on Wall Street, but stocks nonetheless struggled to pick up steam thanks to broader economic concerns.
Walgreens Boots Alliance (WBA, +4.8%) shot higher Thursday after topping quarterly earnings estimates and predicting profit growth in its next fiscal year. Morgan Stanley (MS, +1.3%) also finished with gains after blowing past profit and revenue expectations.
Initial jobless claims for last week climbed to 898,000, however, up from 845,000 the prior week and higher than expected.
Subscribe to Kiplinger's Personal Finance
Be a smarter, better informed investor.
Save up to 74%
Sign up for Kiplinger's Free E-Newsletters
Profit and prosper with the best of expert advice on investing, taxes, retirement, personal finance and more - straight to your e-mail.
Profit and prosper with the best of expert advice - straight to your e-mail.
"The four-week moving average also ticked higher, rising to 866k from 860k," add Michael Gapen and Jonathan Millar of Barclays Investment Bank. "The pace of improvement in initial claims had slowed markedly since late August, and, taken at face value, this week's initial jobless claims report suggests the rate of job separation remains elevated and may be rising."
But the pair add that "the usefulness of claims data in assessing labor market conditions continues to be challenged by processing issues and the numerous state and federal programs."
And while President Donald Trump signaled a willingness to go higher on stimulus negotiations, Senate Majority Leader Mitch McConnell made clear Senate Republicans would be unlikely to pass anything in the $1.8 trillion to $2.2 trillion range being discussed by the House and Trump's administration.
The Dow Jones Industrial Average slipped by a thin 20 points to 28,494, while the Nasdaq Composite declined 0.5% to 28,494 – the latter hobbled by a Goldman Sachs report downgrading the firm's technology outlook to Neutral amid a potential (likely temporary) rotation into value.
Other action in the stock market today:
The S&P 500 lost 0.2% to 3,483.
The Russell 2000 popped 1.1% to 1,638.
Cloud computing service Fastly (FSLY) plunged 27.2% after reporting that demand from its largest customer, TikTok owner ByteDance, failed to meet expectations.
Chinese electric vehicle stock Nio (NIO) jumped 5.9%, to surpass 30% gains in two days, amid upgrades from analysts at Citigroup and JPMorgan. The latter said shares could roughly double from Nio's Tuesday closing price of $21.62 per share to JPMorgan's target of $40.
Is a Rotation Really in Store?
Many investors will no doubt take Goldman's value prediction with a ladle of salt. After all, growth stocks have been wiping the floor with value for more than a decade. But Goldman points to a history of outperformance in value when both bond yields and economic growth are on the upswing, and that's the environment Goldman sees coming – again, at least for a short while.
There are two ways to chase this possible pivot. The most obvious? Buy value stocks – companies that are underpriced compared to their sales, earnings or other metrics.
But you can also target more defined slices of the market. Goldman, for instance, likes specific industries such as autos and luxury goods, but also broad sectors, including energy (which is robustly represented in these analyst-favorite dividend stocks) and health care (which you can easily access via these five established mutual funds).
Generally speaking, sector investing can give you an edge, whether it's tilting your portfolio toward growth or positioning it more defensively. And one of the most efficient ways to get it done is through sector funds, which let you buy dozens of stocks with one simple trade. Read on as we provide you with our 16 favorite options across all of the market's sectors.
Kyle Woodley is the Editor-in-Chief of WealthUp, a site dedicated to improving the personal finances and financial literacy of people of all ages. He also writes the weekly The Weekend Tea newsletter, which covers both news and analysis about spending, saving, investing, the economy and more.
Kyle was previously the Senior Investing Editor for Kiplinger.com, and the Managing Editor for InvestorPlace.com before that. His work has appeared in several outlets, including Yahoo! Finance, MSN Money, Barchart, The Globe & Mail and the Nasdaq. He also has appeared as a guest on Fox Business Network and Money Radio, among other shows and podcasts, and he has been quoted in several outlets, including MarketWatch, Vice and Univision. He is a proud graduate of The Ohio State University, where he earned a BA in journalism.
You can check out his thoughts on the markets (and more) at @KyleWoodley.