7 Top Lumber Stocks to Play Timber Mania
Surging demand for houses has lumber prices trading near record highs. Here are 7 timber stocks to consider in this red-hot market.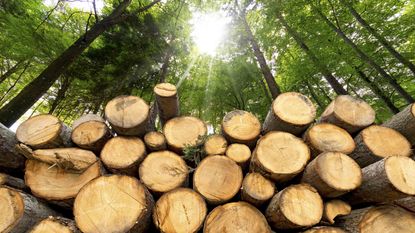 (Image credit: Getty Images)
There's one commodity that's worth its weight in gold right now. And at this point, it may be worth more than its weight in gold. We're not talking about Bitcoin, diamonds or some other "precious" material. We're talking about the 2x4 at your local home improvement store: lumber.
Lumber has become the hot commodity these days, with futures on the Chicago Mercantile Exchange hitting a record above $1,700 per thousand board feet back in mid-May. While lumber prices have retreated some, they still remain elevated and near highs not seen in decades – and that has created a boon for lumber stocks.
A combination of pandemic-related shortages and rising demand is the catalyst for the surge in prices, and, by proxy, lumber stocks. Like with most sectors, timber companies have had to deal with plenty of labor and restrictions due to the COVID-19 virus. In fact, by April of last year – right in the thick of the pandemic – nearly 40% of North America's sawmill capacity was closed.
The problem is that demand for lumber has skyrocketed in that time. Thanks to low interest rates and inflation fears, the housing market has rebounded in a big way. The U.S. Census Bureau's latest data shows a whopping 48.3% year-over-year increase to the number of new homes sold in April. Building permit data has also trended higher.
All of this has created a very bullish environment for lumber stocks. Perhaps the best part is that many analysts now predict that elevated timber prices may be here to stay. Saw mill utilization remains low, demand remains high and lumber producers aren't exactly looking to boost supplies anytime soon.
This creates an interesting opportunity for investors. Here are six top-notch lumber stocks (and one fund) to watch as timber mania continues.
Data as of May 27. Dividend yields are calculated by annualizing the most recent payout and dividing by the share price.