A Store Where They Know Your Name
It can't compete with big-box retailers on price, but customer service is the draw.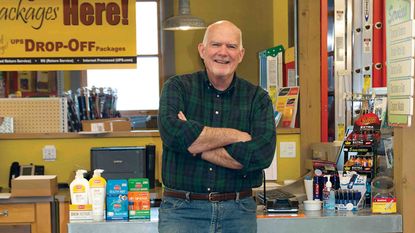 (Image credit: Photo by Raquel Jackson)
Who: Jeff Gietzen
What: Hardware store owner
Where: Glen Arbor, Mich.
Subscribe to Kiplinger's Personal Finance
Be a smarter, better informed investor.
Save up to 74%
Sign up for Kiplinger's Free E-Newsletters
Profit and prosper with the best of expert advice on investing, taxes, retirement, personal finance and more - straight to your e-mail.
Profit and prosper with the best of expert advice - straight to your e-mail.
How long have you owned your store? My wife, Georgia, and I acquired our business, Northwoods Hardware, Home, Gift and Nursery, 11 years ago. Our background before that was 35 years in supermarkets, in the Grand Rapids/greater western Michigan area. The business was Georgia's family's business, started by her grandfather, and the family ended up selling it to the wholesaler. The hardware store here had been for sale for about a year and a half, and we ended up buying it and moving here.
Does your wife work for the business? Yes, Georgia does our home-goods and décor buying and merchandising. Full-time, we have about six people, and then in the summer we typically add another four to six people. Our daughter, Gillian, also works with us here at the hardware store.
Who are your clientele? A mix of year-round people, who are mostly retired, and some business owners, plus seasonal homeowners and a lot of tourists. In the summer, it's a more upscale area. Glen Arbor is in Leelanau County, which is partly surrounded by Lake Michigan. There is a national park here called Sleeping Bear Dunes. People come from western Michigan, Chicago, St. Louis, Indianapolis, Cincinnati, Pittsburgh, Dayton, Detroit. A lot of people venture north for the summer. Our customers are also the contractors who end up taking care of the homes and condominiums that need work.
How has the pandemic affected business? There was a period in spring 2020 when we shut the doors, but we did curbside sales and delivery. Once we all started to understand the virus, we opened the hardware store back up, but we required masks, did multiple daily cleanings and posted a sign for social distancing. We did apply for the first round of PPP loans and were awarded that as an offset to what initially was a lack of sales. But ironically, if we look at the first year of COVID, our sales ended up rather substantially because many of the people that have second homes here relocated here. Everybody started to get bored, so they wanted projects to do.
How has the supply-chain disruption impacted your business? Initially, there wasn't really too much of an impact. But we were affected as businesses started to reopen—especially some of those businesses with manufacturers that had shut down and had a hard time getting their plants back online quickly. Then a lot of products were held up—and probably are still held up, in some cases. We are starting to slowly see some areas improve, and our wholesaler continues to do a good job of sharing the status of the suppliers and the supply chain. But prices have gone up significantly. Metal products and paint are categories where there have been a lot of price increases.
What products have been most disrupted by supply-chain issues? Anything metal-related or plastic-related. Normally, we would get most of our grills for the upcoming summer season in December, but there's a good portion that we have not yet received, and probably won't until March or April.
You're expanding your store. Business must be good. We are a small hardware store, so we're not going to be able to compete on price with the big-box stores. Our strength is customer service and attention to detail. Also, we're very involved in the community, helping others and nonprofits. We try to greet every customer who comes in the store. Many of them I know by name. We really have tried to go above and beyond in our commitment to customers.
Staff Writer, Kiplinger's Personal Finance
Emma Patch joined Kiplinger in 2020. She previously interned for Kiplinger's Retirement Report and before that, for a boutique investment firm in New York City. She served as editor-at-large and features editor for Middlebury College's student newspaper, The Campus. She specializes in travel, student debt and a number of other personal finance topics. Born in London, Emma grew up in Connecticut and now lives in Washington, D.C.