Tax-Free Weekend for Back-to-School Shopping
Fight inflation with a tax-free weekend. Twelve states are holding (or starting) sales tax holidays this weekend!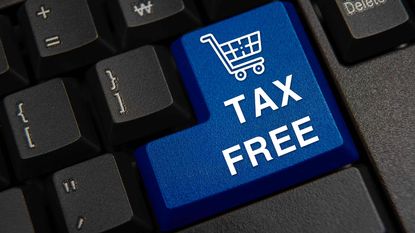 (Image credit: Getty Images)
Is inflation wreaking havoc on your family budget? Want to save some money on your back-to-school shopping? If so, see if your state (or one nearby) is holding a sales tax holiday this weekend. As every parent knows, the bill for new clothes, shoes, backpacks, and other schools supplies can get very high, very fast. And when you add high inflation to the mix, it's just outrageous. So, any discount you can get helps. That's why some states cut you a break on back-to-school shopping by holding a tax-free weekend (or week) before the school year starts.
If you purchase qualifying items during one of these tax-free periods, the store won't tack on sales tax at the register. A few of these back-to-school sales tax holidays have already come and gone, but August 5 to 7 is the most popular weekend for them this year. In most cases, the sales tax holiday starts on a Friday and runs through the weekend. However, the exact start date, duration, and qualifying items differ from state to state. So, if you live in (or near) a state with one of these tax-free weekends going on now, make sure you know the right time and scope of the available sales tax exemption before you head out for your back-to-school shopping.
To get you up to speed, we've identified the 12 states with a sales tax holiday for back-to-school shopping running through (or starting) this weekend (August 5 to 7, 2022). There's also an overview of the sales tax exemption for each state and links to additional information. (Unless otherwise noted, the exemptions cover both state and local sales taxes.) The school year will be here before you know it…and we hope you can save a few bucks on taxes before it arrives during one of these tax-free weekends.
Sales tax rates and averaged combined state and local sales tax rates are from the Tax Foundation as of July 1, 2022.
Senior Tax Editor, Kiplinger.com
Rocky is a Senior Tax Editor for Kiplinger with more than 20 years of experience covering federal and state tax developments. Before coming to Kiplinger, he worked for Wolters Kluwer Tax & Accounting and Kleinrock Publishing, where he provided breaking news and guidance for CPAs, tax attorneys, and other tax professionals. He has also been quoted as an expert by USA Today, Forbes, U.S. News & World Report, Reuters, Accounting Today, and other media outlets. Rocky has a law degree from the University of Connecticut and a B.A. in History from Salisbury University.