Back-to-School 2018: 12 Best Laptops for Students
It still feels like summer, but make no mistake: Fall is coming.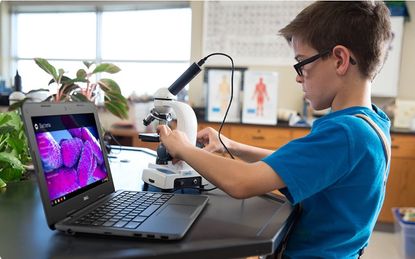 (Image credit: Courtesy Dell)
It still feels like summer, but make no mistake: Fall is coming. And that means the 2018 back-to-school shopping season is ramping up. That typically means a trip to pick up pencils, pens, notebooks, a ruler and a calculator … but increasingly, it also means scouring stores for the best laptops to get the kids through the school year.
Laptop access used to be a "nice-to-have" – now it's a necessity for college and high school, and it's increasingly important for primary-school students, too. The days of hand-written assignments are dwindling; we've switched to neatly formatted and printed … or even submitted online.
The stakes for back-to-school shopping are higher as a result. You've gone from $50 worth of office supplies to potentially spending more than $1,000. Striking gold isn't easy, either; finding the best laptops means sorting through literally hundreds of models – a more complicated process than deciding between blue and black ink.
Here are 12 of the best laptops for back-to-school 2018. Some of these picks focus on overall general quality, while a few are focused on specific areas such as high-end power, gaming and value.
1/12
Microsoft Surface Laptop
Computers that run Microsoft's Windows operating system have some significant advantages, including the largest selection of compatible software and the widest choice of form factors – everything from traditional clamshell laptops to 2-in-1 models that can be used as a tablet.
Perhaps the best Windows laptop to start with is Microsoft's own Surface Laptop. This laptop delivers a lot, including a bit of value now that Microsoft has lowered the starting price to $799. The 13.5-inch PixelSense display is crystal-clear and supports touch input (it's also compatible with Microsoft's optional Surface Pen stylus). Battery life is up to 14.5 hours, so students can bring it to class without having to lug a power adapter.
The aluminum case is durable, stylish and light, so this 2.76-pound laptop is easy to slip in a backpack. The Alcantara-fabric-covered keyboard adds a splash of color and cleans easily with a damp cloth.
Microsoft also offers student discounts to sweeten the deal.
2/12
Dell XPS 13
Dell's XPS 13 has been winning awards for several years. The company's InfinityEdge display, which minimizes bezels, allowed Dell to cram a 13-inch screen into a form factor the size of a 12-inch laptop. That compact size is great for students. It's also designed with premium materials including CNC-machined aluminum and carbon fiber, so it looks good and is solidly built.
Dell has a new version out, but the 2017 edition still is available, and its $799.99 starting price makes it an affordable option for students. It also includes solid-state storage and seventh-generation Intel CPUs, so performance is excellent. It offers all-day battery life to boot.
The XPS also is loaded with ports, so connecting to accessories, peripherals and an external monitor doesn't mean resorting to adapters and dongles.
3/12
HP Spectre x360 13t Touch
There's a lot to like about HP's Spectre x360 13t Touch laptop.
The starting MSRP of $1,149.99 is a little elevated, but for those extra dollars, you get features including a new eighth-generation Intel Core i5 CPU, 8GB of RAM, 256GB of SSD storage and a digital stylus for drawing or hand-writing notes with Windows Ink.
The display supports touch and stylus input (obviously), and it's a 13.3-inch, full-HD, micro-edge panel with minimal bezels and Gorilla Glass NBT protection. Audio also is a big deal, with quad speakers tuned by Bang and Olufsen.
The Spectre x360 13t is a convertible laptop. Its hinge lets the display rotate a full 360 degrees, so it can be used like a tablet – ideal for using that stylus to take notes. It also can be used in a tent mode to make use of the display-and-speakers setup to stream video.
4/12
Acer Switch 3
The Acer Switch 3 is an affordable Windows 2-in-1 laptop. It uses the same form factor pioneered by Microsoft's Surface Pro – a tablet combined with a kickstand and detachable keyboard cover. But in the case of the Switch 3, the price is $449.99 and the keyboard case is included instead of coming separately.
The touch display is a 12.2-inch panel with WUXGA (1920x1200) resolution that can be used as a Windows tablet. (Writer's note: When I tested one, I managed to eke out eight hours of battery life, but that meant turning the screen brightness a bit and not streaming video.) Pop the kickstand and connect the keyboard case, and it transforms into a laptop.
Modest specs – including a Pentium processor and just 64GB of flash storage – mean you shouldn't try to edit 4K video on this computer. But for students who need an affordable Windows laptop that can run Microsoft Word and browse the web, the Switch 3 can get the job done.
5/12
13-inch MacBook Air
Apple makes some of the most stylish and best-selling laptops on the planet, and they're especially popular with students. Windows laptops may have a wider selection of compatible software, but there still are macOS versions of most popular apps, including Microsoft's Office suite.
The tried-and-true Macbook Air remains a top pick if you're looking for a great Apple laptop for school. The hardware is a little dated (the 13-inch display isn't full-HD and it still uses fifth-generation Intel CPUs), but the MacBook Air handles productivity software with ease. The MacBook Air is under 3 pounds, offers 12-hour battery life and an affordable (for an Apple) $999 starting price.
With an Apple Mac laptop, premium design is a given, while macOS features ease of use and security. Apple offers student discounts, too, and for 2018's back-to-school season, the company is throwing in free Beats wireless headphones with laptop purchases.
6/12
13-inch MacBook Pro
For students who need more power and a better display than the MacBook Air can offer, the 13-inch MacBook Pro is a nice step up that will cost … but won't shatter the bank.
This model was released in 2017, but remains in the lineup as the entry-level MacBook Pro. It's thin, light and offers 10 hours or more of battery life. A seventh-generation Intel Core i5 CPU provides plenty of horsepower, but the star of the show is its bright, high-resolution Retina display.
The 13-inch MacBook Pro starts at $1,299 and is available in Space Gray or Silver.
7/12
Google Pixelbook
In the past five years, a third computing platform choice has gained traction: the Chromebook. These inexpensive laptops are light on hardware specs, but they don't need to be powerful or offer loads of storage because they run Google's Chrome operating system and G-Suite cloud-based apps. New models also can download Android apps from Google Play.
Low cost and the security of Chrome have resulted in Chromebooks taking a big chunk of the K12 education market. They're ideal for students.Any student who wants the Chromebook experience without sacrificing performance and premium style will want to check out Google's Pixelbook. The aluminum slab is just 0.4 inches thick, with a 12.3-inch quad-HD touchscreen, seventh-generation Intel Core CPU, 128 GB SSD storage, backlit keyboard, 10-hour battery and a 360-degree hinge that lets it be used in multiple modes – including as a tablet.
The $999 starting price is high for a Chromebook, but still cheaper than many traditional Windows or Mac laptops.
8/12
Dell Chromebook 11
The Dell Chromebook 11 is a classic example of a modern Chromebook, and a great value. It has an 11.6-inch display, boots up in under eight seconds, runs for up to 10 hours on battery and weighs less than 3 pounds. There's nothing fancy about its specs or appearance, but it has everything needed to run G-Suite apps and it's priced at under $350.
Have a kid who's tough on things? The Chromebook 11 is equipped with rubberized edges to survive bumps and drops, and its display is protected by Gorilla Glass. A 180-degree hinge lets the display be pushed flat without breaking. It also has a sealed keyboard and trackpad to protect against spills.
This laptop, more than most, should be able to survive a few school years.
9/12
Acer Chromebook 15
Most Chromebooks tend to have smaller displays. However, there are full-sized options for those who want a big-screen experience. The Acer Chromebook 15 is winning kudos for its "big Chromebook" approach.
The display is a 15.6-inch full-HD IPS panel, with touch support and wide viewing angles. It's powered by an Intel Pentium CPU with 4GB of RAM and 32GB of flash storage. Battery life is a whopping 14 hours.
The Acer Chromebook 15 is priced at $399.99, which is a pretty good deal considering that big screen, excellent battery life and additional features including a metal lid, backlit keyboard, 802.11ac Wi-Fi, both USB 3.0 and USB-C ports, and a 720p webcam.
Of course, the larger display is bulky. This Chromebook weighs more than most at 4.3 pounds, so you'd better add a good backpack to that back-to-school shopping list.
10/12
HP Chromebook 14 (Best Value)
Chromebooks are the best bet for suitable laptops when the back-to-school budget is tight. And among Chromebooks, the HP ChromeBook 14 stands out for offering good value at an entry-level price.
The full-HD WLED display is 14-inches, which is a nice middle ground between ultra-compact and full-sized laptops. It's powered by a Celeron processor, and has 4GB or RAM. There's only 16GB of eMMC storage, but with cloud-based apps that should be plenty. This Chromebook does have an SD card slot plus USB 3.1 and USB-C ports if there's a need to access larger files locally.
The keyboard is full-sized, there's a 720p webcam and even a pair of B&O Play tuned speakers. Battery life is rated at up to 11.5 hours and the weight is 3.39 pounds. You can't use a laptop like this to run Photoshop or play games, but all in all, it's a pretty good package considering the $249.99 price tag.
11/12
13-inch MacBook Pro With Touch Bar (For the Power User)
Chromebooks are great for basic assignments and web surfing, but some students are enrolled in programs that require much more powerful computing: editing photos, 3D models or video, for example, or crunching numbers on large spreadsheets. These tasks all call for a high-performance laptop with a good display.
There are many candidates for power users, but one of the most popular is Apple's 13-inch MacBook Pro with Touch Bar. Already a compelling choice, it has just been updated with new quad-core eighth-generation Intel Core CPUs, support for up to 32GB of RAM, four USB-C ports and a new True Tone Retina display. And it has the cool OLED Touch Bar, with programmable virtual keys and Touch ID support.
The new 13-inch MacBook Pro with Touch Bar offers high performance in a package that still weighs just 3 pounds and offers 10 hours of battery life – rare numbers in high-performance laptops. With a starting price of $1,799.99, it's not cheap … but at least it's $600 less than the base price of the 15-inch version.
12/12
ASUS ROG Strix Hero II (For the Gamer)
What happens when you have a student who's big on PC gaming? Do you buy two computers – one for gaming, and one for school?
A better solution may be a gaming laptop that can cover both bases.
I've been testing a collection of new gaming laptops, and with new mobile processors and video cards, they're more capable than ever. One that stood out as being a well-rounded option is the ASUS ROG Strix Hero II.
This is a gaming laptop first and foremost, so that means the latest eighth-generation Intel Core i7 CPU and Nvidia's GeForce GTX 1060 video card with 6GB of DDR5 RAM. That's powerful enough to play most AAA titles with graphics cranked up on its 15.6-inch full-HD IPS display – and good enough to drive a VR headset as well. It has a combination of HDD and SSD storage for both speed and bulk storage, tons of ports, and the full-sized keyboard is backlit.
Despite the gaming cred (which also gives it the power needed for high performance computing tasks like image processing), the ROG Strix Hero II is just 1 inch thick and weighs 5.29 pounds. That's positively sleek for a gaming laptop of this caliber. And the ROG Strix Hero II does better than average for this class on battery life too, able to go over four hours on a charge when used for streaming video. With a starting price of $1,699, it's also reasonably priced (for a gaming laptop).
And keep your eye open for back-to-school sales. In most cases, you should be able to find these "best laptops" picks for a little less than MSRP.
Contributing Writer, Kiplinger.com
Brad Moon is a tech industry veteran who contributes to a range of publications including Forbes, InvestorPlace and MSN Money and is an original member of the award-winning GeekDad blog. Over the past decade, he has also written about technology for Wired, Gizmodo, Shaw Media, About.com, The Winnipeg Free Press and others.