13 Great Things to Buy on Sale After the Holidays
The blizzard of sales that hits every holiday season may have come to an end.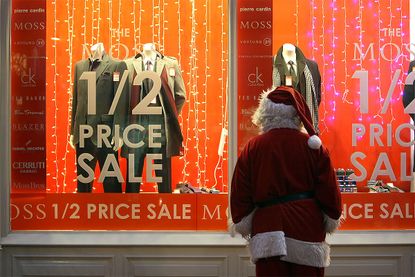 (Image credit: Getty Images)
The blizzard of sales that hits every holiday season may have come to an end. But you can still catch a flurry of deals throughout the rest of the year. And certain items are particularly well priced right after Christmas.
That's part of why it's a good idea to keep your holiday shopping in mind all year long, even when you're still just recovering from this past year's festive frenzy. Since you pretty much know who will be on your list for gift giving, you can come up with ideas for them at any time of year and pick up their gifts when you find a good deal—no matter when that might be. "If shoppers are savvy enough, they can time their spending throughout the calendar year so they hit as many of these sale seasons as possible, which can lead to big savings," says Courtney Jespersen, consumer savings expert at personal finance site NerdWallet.
Here are 13 items that shopping experts say you will be better off purchasing at other times of the year.
1/13
Jewelry
A bit of bling might rank high on many people's holiday wish lists, but if you can put your plans to buy diamonds and other jewelry on ice, you're likely to find a better bargain later in the winter.
"Sales for quality jewelry peak in late January, after the holidays and a week or two ahead of Valentine's Day," says Brent Shelton of deals site DealCrunch.com. "Jewelers and department stores have their biggest and best sales during this time."
2/13
Bedding
You may be tempted to stock up on extra blankets and other bedding during Black Friday sales to get cozy for the holidays. But you can snuggle up to more savings if you hold off until after the turn of the year.
Jespersen of NerdWallet says that many retailers including Macy's, Kohl's, Overstock and Pottery Barn tend to fold their best deals on sheets, towels, comforter sets and other linens into their January white sales. Last year, she reports seeing savings of 50% or more on bedding during those sales, making them well worth the wait.
3/13
The Hottest Holiday Toy
Perhaps this holiday season is a good time to teach the little ones in your life about patience. If they can wait until after the holidays to unwrap the most in-demand toys of the year, such as 2017's Fingerlings Baby Monkey, Hatchimal and L.O.L. Surprise! Big Surprise, you can save yourself the effort of tracking them down and a bundle of cash.
"Many [hot toys] are sold out at authorized retailers [leading up to the holidays], so if you buy now you're likely to be going through a third party and paying well above the list price," says Rebecca Lehmann, manager at deals site BradsDeals.com. "Inventory will be replenished once the holidays wind down, and we might even see discounts at that point. You may not even have to wait long. Last year, we were seeing Hatchimals discounted at Walmart as early as New Year's Eve."
4/13
Cruises
Typically, the holiday season is a popular time to set sail—and the high demand pushes cruise prices significantly higher during that period. "Cruise prices over Christmas can be double or even triple those in the first two weeks of December, which are some the lowest of the year," says Bob Levinstein, chief executive of travel-booking site CruiseCompete.com. "If you have the flexibility to travel when others can't, you can save a lot of money."
Note though that, following the devastation that struck the Caribbean with this year's hurricanes, you actually can find good deals on cruises to the area, even where little to no damage was done. "This year, there is some good availability—and good rates—for those holiday cruises, as some folks have not booked or have cancelled thinking the Caribbean was not available," says Heidi Allison, a representative of CruiseCompete.com. "The Caribbean is open for business… [and] really needs our help, by sending tourists , to recover fully."
5/13
Exercise Equipment
Between Thanksgiving feasts and Christmas cookies, we all know there's more than one fat man packing extra holiday weight in his sleigh. And the time to start thinking about dropping some pounds is likely not until after the New Year.
"Very late December and early January is a better time [to purchase fitness equipment], with millions of people making New Year's resolutions to finally get healthy and drop a few pounds," says Eric Jones, co-owner of deals site BestBlackFriday.com. "Stores know this, and they adjust prices accordingly every single year."
6/13
High-End Computers
Electronics go for incredible deals on Black Friday, Cyber Monday and throughout the holiday season. But if you're in the market for a top-of-the-line computer, you're better off waiting a few months.
"Although there will be select sales [during the holidays] that can help you save some money, the best times to buy newer and more powerful laptops is in late spring and mid-summer during back-to-school sales," says Shelton of DealCrunch.com, "especially for MacBooks and the more expensive two-in-one hybrid laptops."
7/13
1080p TVs
Technology is rapidly advancing and making yesterday's hot new thing obsolete by tomorrow. Such is the story with televisions, where the "1080p" resolution that was once most coveted by TV buyers is now being eclipsed by higher resolution "4K" sets.
"This year, we're expecting 4K TV prices to be so low, they'll come close to — and in some cases match — prices for 1080p TVs of the same size," says Stephen Slaybaugh, consumer analyst with DealNews.com. "As such, if you're looking for a Black Friday TV deal, you'd be better off skipping right by the 1080p deals and going straight for the 4K sets. Even if you don't care about 4K content now, you'll be future-proofed for when it becomes the norm."
8/13
Winter Clothing
You're sure to find discounts on coats, sweaters and other cold-weather clothing during Black Friday and Cyber Monday sales at many retailers. But as the winter wears on, the discounts are bound to head deeper.
"We never recommend purchasing clothing in the early parts of a season," says Jones of BestBlackFriday.com. "Wait until the end of January and early February for clearance deals on winter apparel."
9/13
Holiday Decorations
Let your Christmas spirit spill over into the days after the holiday. You'll enjoy the festive edible treats on deep discounts. And prices on ornaments, lights, garlands, artificial trees and other seasonal items will drop like a lump of coal.
"Post-Christmas clearance discounts will be steep," says Jespersen of NerdWallet. "Shoppers can stock up on wreaths, ornaments and wrapping paper at a major discount, then save them for next year."
10/13
Mattresses
You probably don't expect Santa to shove a mattress down your chimney. But if you were thinking about giving your holiday guests something more comfortable than a futon to sleep on, you might want to reconsider buying a mattress during November or December.
"Mattress deals are not awful during Black Friday — some are quite good — but the deals are better during other months of the year," says Jones of BestBlackFriday.com. "We recommend Memorial Day weekend, with Labor Day being a close second."
11/13
Black Friday Models
On Black Friday, you might find some stores, such as Best Buy and Walmart, selling versions of products (often electronics) that aren't and haven't been available anywhere else. That's because they were designed specifically to be sold at a lower, seemingly discounted, price — a practice which Slaybaugh of DealNews says is becoming more common. So the unique models are likely to offer fewer features than more widely available versions, which may indeed make them worth the cheaper price, but not so simple to compare.
"Thing is, such items were never sold before, so how can they be discounted?" says Slaybaugh. "We're not saying it's impossible to find a good deal; just be sure to check out the specs and know what you're getting before making your purchase."
12/13
Cars
You know all those commercials that show people surprising loved ones with a brand new car for the holidays? Turns out, not the best idea. Even if you could find a bow that big, you're better off waiting until New Year's Eve to buy a car to tie it on.
"Waiting until this day and a little haggling can yield an awesome deal on a new car that you may otherwise not have been able to afford," says Jones of BestBlackFriday.com. "Dealerships not only have monthly sales goals to meet, but they have quarterly and yearly ones as well."
13/13
Final Sale Items
With many retailers struggling and more stores closing every day, you may see a lot of final sale and clearance items during holiday sales, says Slaybaugh of DealNews.
And while such rock-bottom prices may be tempting, remember that you're stuck with what you buy, a particularly unappealing predicament if you're shopping for gifts for other people. "Your gift may not fit, or the recipient may simply not like your choice," says Slaybaugh. "So giving them the option of making an exchange is always a good idea."
Online Editor, Kiplinger.com
Rapacon joined Kiplinger in October 2007 as a reporter with Kiplinger's Personal Finance magazine and became an online editor for Kiplinger.com in June 2010. She previously served as editor of the "Starting Out" column, focusing on personal finance advice for people in their twenties and thirties.
Before joining Kiplinger, Rapacon worked as a senior research associate at b2b publishing house Judy Diamond Associates. She holds a B.A. degree in English from the George Washington University.