How Long Should You Keep Tax Records?
Keep your tax documents at least until the time limit for an audit runs out—and even longer for some records.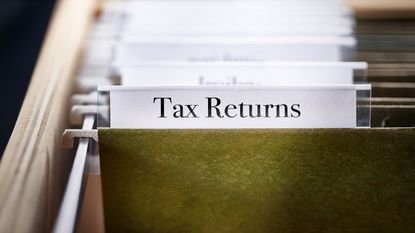 (Image credit: Getty Images)
Now that tax season is over, you can forget about taxes for a while! (Unless, of course, you got a filing extension.) But what should you do with all the forms, receipts, canceled checks and other records scattered across your desk? Do you need to keep them, or can you throw them away (or, should I say, shred them)? The IRS generally has three years after the due date of your return (or the date you file it, if later) to kick off an audit of your return, so you should hold on to all your tax records at least until that time has passed. But you should keep some records even longer, and it's also a good idea to hold onto copies of the return itself indefinitely.
Also think about keeping certain documents for non-tax purposes. For instance, it might be wise to save W-2 forms until you start receiving Social Security benefits so you can verify your income if there's a problem.
Here's a general rundown on how long you should keep certain common tax records and documents. Of course, you can always hang on to them longer if you want…but don't become a pack rat!
Subscribe to Kiplinger's Personal Finance
Be a smarter, better informed investor.
Save up to 74%
Sign up for Kiplinger's Free E-Newsletters
Profit and prosper with the best of expert advice on investing, taxes, retirement, personal finance and more - straight to your e-mail.
Profit and prosper with the best of expert advice - straight to your e-mail.
One Year
Keep pay stubs at least until you check them against your W-2s. If all the totals match, you can then shred the pay stubs. Take a similar approach with monthly brokerage statements—you can generally dispose of them if they match up with your year-end statements and 1099s.
Three Years
Generally speaking, you should hold onto documents that support any income, deductions and credits claimed on your tax return for at least three years after the tax-filing deadline. Among other things, this applies to:
W-2 forms reporting income;
1099 forms showing income, capital gains, dividends and interest on investments;
1098 forms if you deducted mortgage interest;
Canceled checks and receipts for charitable contributions;
Records showing eligible expenses for withdrawals from health savings accounts and 529 college-savings plans; and
Records showing contributions to a tax-deductible retirement-savings plan, such as a traditional IRA.
If, like most people, you don't itemize deductions on Schedule A (opens in new tab), you might not need to hold onto as many documents. For example, if you're not deducting charitable contributions, then you don't need to keep donation receipts or cancelled checks for tax purposes. (Note, however, that people who don't itemize can deduct up to $300 for cash donations to charity made in 2021.)
Six Years
The IRS has up to six years to initiate an audit if you've neglected to report at least 25% of your income. For self-employed people, who may receive multiple 1099s reporting business income from a variety of sources, it can be easy to miss one or overlook reporting some income. To be on the safe side, they should generally keep their 1099s, their receipts and other records of business expenses for at least six years.
If you don't report $5,000 or more of income attributable to foreign financial assets, the IRS also has six years from the date you filed the return time to assess tax on that income. So, save any records related to such income until the six-year window is closed.
Seven Years
Sometimes your stock picks don't turn out so well, or you loan money to your deadbeat brother-in-law who can't pay you back. If that's the case, you might be able to write off any your worthless securities or bad debts. But make sure you keep related records and documents for at least seven years. That's how much time you have to claim a bad debt deduction or a loss from worthless securities.
Ten Years
If you paid taxes to a foreign government, you may be entitled to a credit or deduction on your U.S. tax return—and you get to decide if you want a credit or deduction. If you claimed a deduction for a given year, you can change your mind within 10 years and claim a credit by filing an amended return. You also have 10 years to correct a previously claimed foreign tax credit. For these reasons, save any records or documents related to foreign taxes paid for at least 10 years.
Investments and Property
When it comes to investments and your property, you'll need to save some records for at least three years after you sell. For instance, you should keep records of contributions to a Roth IRA for three years after the account is emptied. You'll need these records to show that you already paid taxes on the contributions and shouldn't be taxed on them again when the money is withdrawn.
Keep investing records showing purchases in a taxable account (such as transaction records for stock, bond, mutual fund and other investment purchases) for up to three years after you sell the investments. You'll need to report the purchase date and price when you file your taxes for the year they're sold to establish your cost basis, which will determine your taxable gains or loss when you sell the investment. Brokers must report the cost basis of stock purchased in 2011 or later, and of mutual funds and exchange-traded funds purchased in 2012 or later. But we recommend maintaining your own records in case you switch brokers. (If you inherit stocks or funds, keep records of the value on the day the original owner died to help calculate the basis when you sell the investment.)
If you inherit property or receive it as a gift, make sure you keep documents and records that help you establish the property's basis for at least three years after you dispose of the property. The basis of inherited property is generally the property's fair market value on the date of the decedent's death. For gifted property, your basis is generally the same as the donor's basis.
Keep home-purchase documents and receipts for home improvements for three years after you've sold the home. Most people don't have to pay taxes on home-sale profits—singles can exclude up to $250,000 in gains and joint filers can exclude up to $500,000 if they've lived in the house for two of the five years prior to the sale. But if you sell the house before then or if your gains are larger, then you'll need to have your home-purchase records to establish your basis. You can add the cost of significant home improvements to the basis, which will help reduce your tax liability. (See IRS Publication 523 (opens in new tab) for more details.) Similar rules apply for any rental properties you own; save records relating to your basis for at least three years after selling the property.
State Record Retention Requirements
Don't forget to check your state's tax record retention recommendations, too. The tax agency in your state might have more time to audit your state tax return than the IRS has to audit your federal return. For instance, the California Franchise Tax Board has up to four years to audit state income tax returns, so California residents should save related documents for at least that long.
Contributing Editor, Kiplinger's Personal Finance
As the "Ask Kim" columnist for Kiplinger's Personal Finance, Lankford receives hundreds of personal finance questions from readers every month. She is the author of Rescue Your Financial Life (McGraw-Hill, 2003), The Insurance Maze: How You Can Save Money on Insurance -- and Still Get the Coverage You Need (Kaplan, 2006), Kiplinger's Ask Kim for Money Smart Solutions (Kaplan, 2007) and The Kiplinger/BBB Personal Finance Guide for Military Families. She is frequently featured as a financial expert on television and radio, including NBC's Today Show, CNN, CNBC and National Public Radio.