8 Benefits for Healthcare Workers, First Responders in the HEROES Act
Parts of the massive federal stimulus passed by the House of Representatives focus on workers on the front line of the coronavirus battle.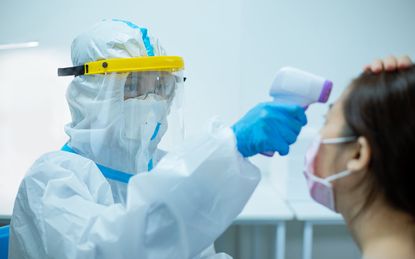 (Image credit: Getty Images)
While the latest stimulus bill being batted around Congress, the Health and Economic Omnibus Emergency Solutions (HEROES) Act, is stalled in the Republican-controlled Senate, the real heroes battling coronavirus on the front lines continue to fight the good fight.
And it's here where inaction -- on the bill, which was passed by the Democratic-controlled House of Representative -- so far fails the health care workers and first responders (law enforcement officers, firefighters, paramedics, and emergency medical technicians) it is designed, in part, to help. But just how is the $3 trillion HEROES Act planning to benefit the front-line fighters? Part of the bill includes a $200 billion Heroes' fund "to ensure that essential workers who have risked their lives working during the pandemic receive hazard pay."
I have skin in this game. My daughter is a registered nurse whose job, in part, includes taking the temperature of anyone coming to the emergency room at the hospital where she works. So you can be darn sure I'm keeping an eye on the HEROES Act for my hero, and other health care workers and first responders. Here's some of what the HEROES Act offers them.
1/8
Bonus Pay for Health Care Workers, First Responders
Health care workers and first responders, including police and firefighters among essential workers, would be eligible for $13-per-hour pay bumps up to $10,000 (on top of their regular salary) as part of the HEROES Act. The pay would be retroactive to January 27, when the COVID-19 public health emergency was declared, until 60 days after the end of the emergency.
The employer would apply for the grants from the federal government to cover the pandemic premium pay for essential workers. The employees would see a separate line item on their paycheck showing this pandemic premium pay. Your boss would not be allowed to reduce any other pay or benefits because of this. The retroactive pandemic premium pay would come in a lump sum soon after your employer gets the grant. Oh, and yes: it would be taxable.
2/8
Child Care Assistance for Health Care and Emergency Services Workers
Included in the HEROES Act is $850 million going to the states to assist essential workers, including health care workers and emergency response workers, for child and adult care help, beginning January 21 of this year. Individual states would decide how the extra funding works; they could directly pay child care (as well as adult care) providers or reimburse workers directly if they pay for care themselves.
3/8
More Health Care Jobs with Student Loan Payoffs
Looking for a job in the healthcare industry without the unbearable weight of student loans? The HEROES Act has a path. Included in the bill is the Public Health Workforce Loan Repayment Program, structured to "assure an adequate supply of and encourage recruitment of public health professionals to eliminate critical public health workforce shortages in local, state, territorial, and tribal public health agencies."
Participants in the program must be accepted into an accredited educational institution or in the final semester of a program leading to a public health degree (health professions degree or certificate or a degree in computer science, information science, information systems, information technology or statistics). Once they accept employment with a public health agency and sign a contract to work there for two years or more, the Public Health Workforce Loan Repayment Program will pay off their student loans up to $35,000 per year of contracted service.
Bonus: Those who have worked in the public health workforce for the last 10 years are also eligible to have their student loans paid off through the Public Health Workforce Loan Repayment Program.
4/8
Disability (and Death) Benefits for Public Safety Officers
Included in the HEROES Act are disability and death benefits for public safety officers affected by COVID-19 while on active duty. Benefits would apply to public safety officers diagnosed with COVID-19 from January 20, 2020, until one year after the coronavirus emergency period is declared over.
5/8
Aid for Firefighters through FEMA
The HEROES Act includes $1.3 billion for the Federal Emergency Management Agency to prevent, prepare for and respond to the coronavirus. Included in that is $500 million to purchase personal protective equipment and related supplies, mental health evaluations, training and decontamination or sanitizing facilities and equipment for firefighters. There's also $500 million for hiring and retaining firefighters.
6/8
Funding for Police Officers
The HEROES Act includes $300 million for the purchase of personal protective equipment for law enforcement, as well as for the hiring or rehiring additional career law enforcement officers.
7/8
Tax Deduction for First Responders
Under the HEROES Act, first responders would be able to take a $500 "above-the-line" tax deduction for unreimbursed expenses for tuition and fees related to professional development or training, or for the cost of uniforms. An "above-the-line" deduction means a deduction you can claim even if you don't itemize.
8/8
Tax Deduction for COVID-19 Front-Line Employees
The Heroes' Act would allow a $500 "above-the-line" tax deduction for 2020 for the uniforms, supplies, and equipment of COVID-19 front-line employees and first responders.
Online Editor, Kiplinger.com
Bob is a Senior Online Editor at Kiplinger.com. He has more than 40 years of experience in online, print and visual journalism. Bob has worked as an award-winning writer and editor in the Washington, D.C., market as well as at news organizations in New York, Michigan and California. Bob joined Kiplinger in 2016, bringing a wealth of expertise covering retail, entertainment, and money-saving trends and topics. He was one of the first journalists at a daily news organization to aggressively cover retail as a specialty, and has been lauded in the retail industry for his expertise. Bob has also been an adjunct and associate professor of print, online and visual journalism at Syracuse University and Ithaca College. He has a master's degree from Syracuse University's S.I. Newhouse School of Public Communications and a bachelor's degree in communications and theater from Hope College.