11 Best Tech Stocks for the New Coronavirus Norm
Numerous technological trends are picking up speed amid a coronavirus-led change in how we live, work and play. These are the best tech stocks to leverage these shifts.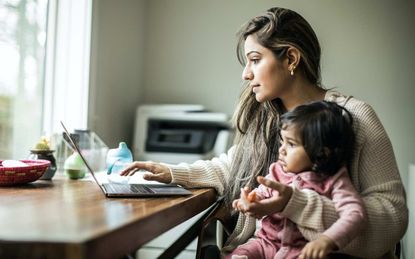 (Image credit: Getty Images)
The COVID-19 coronavirus pandemic has been a disaster for the stock markets. While all sectors have suffered record losses, some have been particularly hard-hit and face an uphill climb to recover. For example, investments in airlines, cruise lines and hotels have their work cut out for them. But it might be an ideal time to pick up certain tech stocks.
Technology companies have long been fantastic buys for investors seeking out growth. That's because many of these firms either latch on to or even create emerging trends, then find ways of turning them into profits: think e-commerce, streaming content and cloud technology.
The same thing is happening now in the midst of the coronavirus outbreak. Several tech stocks are showing their worth as COVID-19 changes the technology industry. Some firms are already enjoying considerable upside amid various shifts, such as the implementation of "social distancing," and should remain aloft as long as those efforts remain in play. In many cases, the momentum is expected to continue as these technologies become part of a "new normal."
Here are 11 of the best tech stocks to buy as the coronavirus outbreak changes the way Americans live, work and play.
Contributing Writer, Kiplinger.com
Brad Moon is a tech industry veteran who contributes to a range of publications including Forbes, InvestorPlace and MSN Money and is an original member of the award-winning GeekDad blog. Over the past decade, he has also written about technology for Wired, Gizmodo, Shaw Media, About.com, The Winnipeg Free Press and others.