5 Great Stocks for the Next Bear Market
After a long stretch of calm, market turbulence has picked up.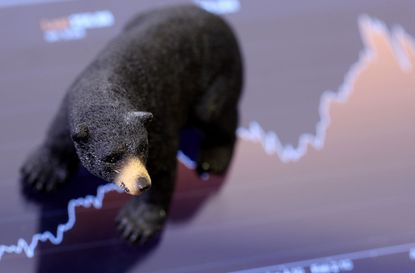 (Image credit: Getty Images)
After a long stretch of calm, market turbulence has picked up. Standard & Poor's 500-stock index tumbled twice in August on worries of escalating tensions with North Korea and political controversies at home. The market bounced back both times, but it remains below its recent high. And some analysts say it may not take much to knock stocks down more.
One reason for concern is simply that the market has risen steadily for months without taking a breather. On average, the S&P 500 falls 5% every 10 weeks and 10% every 33 weeks, notes economist David Rosenberg, of Canadian investment firm Gluskin Sheff. Yet more than 77 weeks have elapsed since the last correction—a reversal of at least 10% from the market's peak. The last such downturn occurred from July 28, 2015 to February 11, 2016, when the S&P retreated 14% from its high. "The calm of late has been the type of calm that comes before the storm," Rosenberg says.
Despite the market's jitters, we don't think a major selloff is looming. Corporate profit growth, a key driver of share prices, looks healthy. And stocks typically don't slide into a bear market (a decline of 20% or more) without signs of a recession, which doesn't look imminent. Nonetheless, some stocks should hold up better than others if the market does slump. Here are five stocks that we like for their potential to hold steady if the market stumbles and for their attractive growth potential. None look excessively priced. And they yield more than the market average of 2%, with dividends that are likely to keep rolling in, even if the market plays dead for a while.
Data is as of August 24, 2017. Click on symbol links in each slide for current share prices and more.
Senior Associate Editor, Kiplinger's Personal Finance
Daren joined Kiplinger in July 2015 after spending more than 20 years in New York City as a business and financial writer. He spent seven years at Time magazine and joined SmartMoney in 2007, where he wrote about investing and contributed car reviews to the magazine. Daren also worked as a writer in the fund industry for Janus Capital and Fidelity Investments and has been licensed as a Series 7 securities representative.