The 7 Best ETFs for Retirement Investors
Mutual funds almost go hand-in-hand with retirement investing.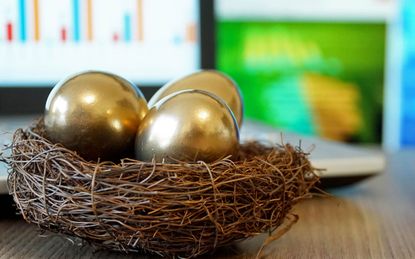 (Image credit: Getty Images)
Mutual funds almost go hand-in-hand with retirement investing. And why not? The modern mutual fund predates exchange-traded funds (ETFs) by more than six decades. Most 401(k) plans hold nothing but mutual funds. So it's reasonable to link one with the other.
But don't sleep on exchange-traded funds. As you'll soon find out, while many of the best ETFs out there are tactical strategies and great trading vehicles, some of them are dirt-cheap, long-term buy-and-hold dynamos that can give investors what they need in retirement: diversification, protection and income.
Many (though not all) ETFs are simple index funds – they track a rules-based benchmark of stocks, bonds or other investments. It's an inexpensive strategy because you're not paying managers to analyze and select stocks. And it works. In 2018, the majority of large-cap funds (64.5%) underperformed Standard & Poor's 500-stock index – the ninth consecutive year that most of them failed to beat the benchmark.
Today, we'll look at seven of the best ETFs for retirement. This small group of funds covers several assets: stocks, bonds, preferred stock and real estate. Which ones you buy and how much you allocate to each ETF depend on your individual goal, be they wealth preservation, income generation or growth.
Data is as of Aug. 28. Yields represent the trailing 12-month yield, which is a standard measure for equity funds.
Senior Investing Editor, Kiplinger.com
Kyle is senior investing editor for Kiplinger.com. As a writer and columnist, he also specializes in exchange-traded funds. He joined Kiplinger in September 2017 after spending six years at InvestorPlace.com, where he managed the editorial staff. His work has appeared in several outlets, including U.S. News & World Report and MSN Money, he has appeared as a guest on Fox Business Network and Money Radio, and he has been quoted in MarketWatch, Vice and Univision, among other outlets. He is a proud graduate of The Ohio State University, where he earned a BA in journalism.